Our friends at our sister site Gottabemobile collected some of the best reviews of the Samsung Galaxy Tab which is being released this month on the major wireless carriers as well as a Wi-Fi version for Best Buy. Until now we have not had any knowledge of an AT&T release date, but we at least have a rumored date of Nov. 21 for a whopping $649, which is $50 more than Verizon, the previous highest price model in the US. See screen shot below of the "evidence".
UPDATE: The Nov. 21 availability date and $649 price was confirmed by a Best Buy sales person in the mobile department of the Best Buy store in Hickory, NC.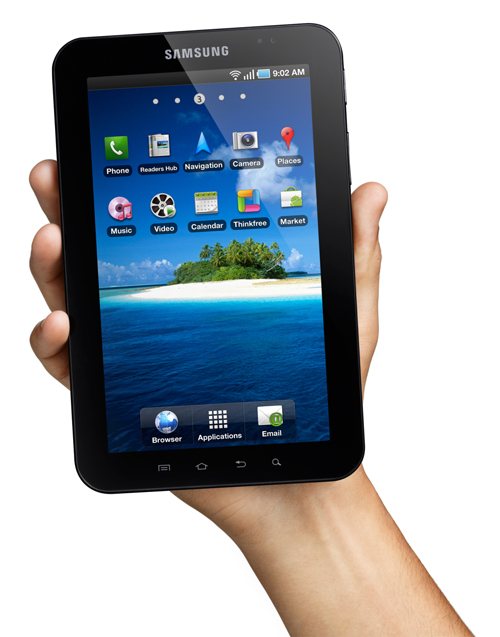 If after reading the reviews you want to spring for one, then you can find it at the following locations:
Verizon Wireless has it for $599 with a regardless of whether you get a two year contract or a month-to-month contract.
Sprint will have it for $399 but not till Nov. 14.
T-Mobile also has it for $399 with a two year deal.
Finally Best Buy is selling the Samsung Galaxy Tab with just Wi-fi and no wireless service at all for $599. It is not yet available.
AT&T Rumored at $649 on November 21.
Here is the AT&T press release and leaked screenshot evidence is below.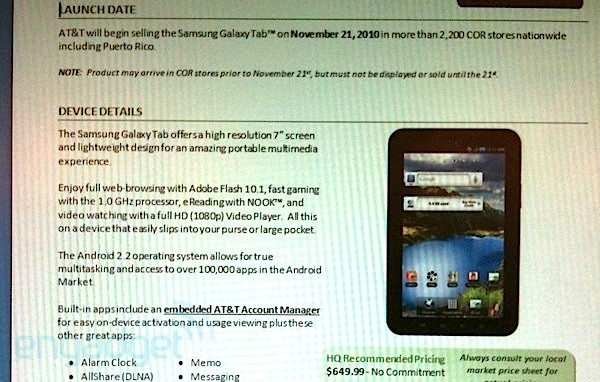 Here is UMPC Portal's review show video in two parts. First part one:
Here is part two:
via Gottabemobile
Advertisement