Today, at the IFA 2010 conference in Berlin, Samsung officially revealed the Samsung Galaxy Tab.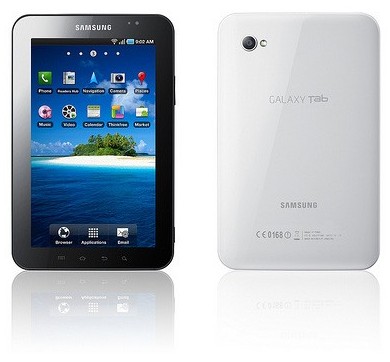 After Samsung released a teaser video and accessories have been leaked, many people have been patiently waiting for the official announcement of the first, real competitor to the Apple iPad. The 7-inch Android tablet has quite a few features that help it stand out against a flood of tablets coming to market.
Samsung Galaxy Tab Specs:
7-inch TFT LCD with 1024 x 600 resolution
Cortex A8 1.0GHz Application Processor
512MB of RAM
Android 2.2 (Froyo) OS
16GB or 32GB internal storage
Micro SD expansion for up to 32GB of external storage
Front-facing 1.3-megapixel camera
3.0-megapixel rear-facing camera with autofocus and LED flash
3G data/voice (voice via speakerphone or bluetooth)
802.11n WiFi
Bluetooth 3.0
Gyroscope sensor, Geo-magnetic sensor, Accelerometer, and light sensor
Swype
4000mAh battery
30-pin dock connector capable of handling HDMI, USB, and docking accessories
One interesting note is that Samsung claims in their press release that video chat over 3G will be available. This may be accomplished with an app like Fring, or a built app specifically for the Galaxy Tab. While FaceTime on the iPhone 4 running on AT&T's network doesn't allow video calls over 3G apps like Fring for the iPhone and Android are able to operate. As far as which U.S. carrier will sell the Galaxy Tab, there are no announcements, but rumors suggest that Verizon Wireless will be the exclusive carrier.
Samsung also included special Samsung Apps that are tailored to an Android tablet experience. Included in the Samsung Apps are Music Hub, an email client, Readers Hub, Media Hub, and Social Hub. The tablet also supports Flash 10.1.
The Samsung Galaxy Tab will be launched in Europe in a few months. A US release is expected to come soon after. For more information, check out Samsung's Galaxy Tab page or Engadget's hands-on video. There is also a software tour of the device from HDBlog and a hands on from Android Central embedded below.
Via Engadget
Advertisement