The White Convertible Book Jacket Case from Incase is one of the best folio style cases we've seen for the Apple iPad. Other than a few minor flaws, this case has now unseated our previous top pick for an Apple iPad case; which was also from Incase.
The Basics
The Convertible Book Jacket is a leather case that comes in five different colors (black, white, charcoal, vermilion, and deep violet). It holds the iPad in a snug folio style jacket that makes the user feel like she's holding a large book. It has openings for every port and button. And it has a sturdy and thick cover to protect the iPad screen. Inside the case is a patterned suede finish that won't scratch the back or the screen. On the inside of the cover there are grooves so that the case cover can be folded back over itself and the case can nestle into the grooves to hold it up at three angles as a stand. The elastic band is pulled over the front when the case is closed to keep it from falling open.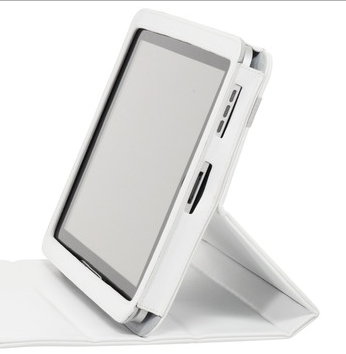 Our Opinion
This is a great case. If you don't like the white, then there are other attractive colors. If it holds up as well as the Incase Book Jacket Case has held up with heavy use over the last six months, then you will have a nice looking case for a long time.
We didn't like the fact that it was a little unstable at the highest angle, but we think that is mostly due to the leather not yet being broken in. Also the cover has a little curve to it, which may be due to the same problem.
There was a slight discoloration on the inside of the front cover along the edge. But this is a very minor problem that didn't detract from the usefulness of the case. The Convertible Book Jacket Case is a hit. At $59.95 it is a fair price for a great case that is both attractive and useful.
Video Review
Pros:
Attractive
Great protection
Useful as a cover and a stand
Feels like a book in the hand
Access to all ports and buttons
Cons:
A little heavy and bulky
Had some discoloration
Will take some breaking in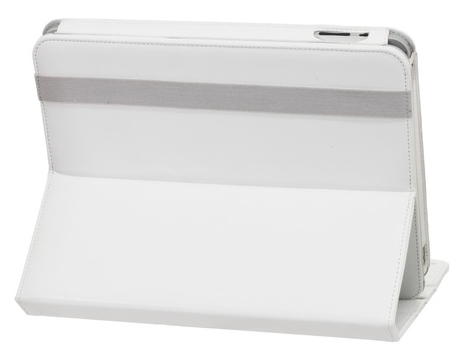 Advertisement