Can anyone get a Samsung Chromebook as their only computer? People on a tight budget might, if they only need something to get online. Others will like using it as their secondary Internet browsing computer. We could see students even using it full time at schools that use Google Apps.
PROS
CONS

Great battery life

Comfortable keyboard
Large trackpad for an ultraportable
ChromeOS simple to use
Easy to sign into account and it shows user content
Matte display doesn't reflect light

Dim display

Cheap plastic construction
Can only install web apps
USB ports difficult to insert and remove devices
VGA output requires a dongle
Strange trackpad behavior when plugged into some outlets
There aren't too many $250 computers that will satisfy all their needs. We recommend that potential buyers install the Chrome browser and use the web apps available in the Chrome Web Store before handing over their cash.
The Chromebook Philosophy
Google made the ChromeOS for people who only need a browser. The operating system becomes secondary to the browser. Web Apps do all the heavy lifting and Google likes it becasue the more we get online, the more money they make from ads all over the Internet.
Install webapps and store files online in Google Drive. Log into any ChromeOS with user credentials and it populates the device with their apps, settings and documents. This makes switching computers easy and erasing a machine to start over simple enough for any one.
Samsung Chromebook Humble Hardware Specs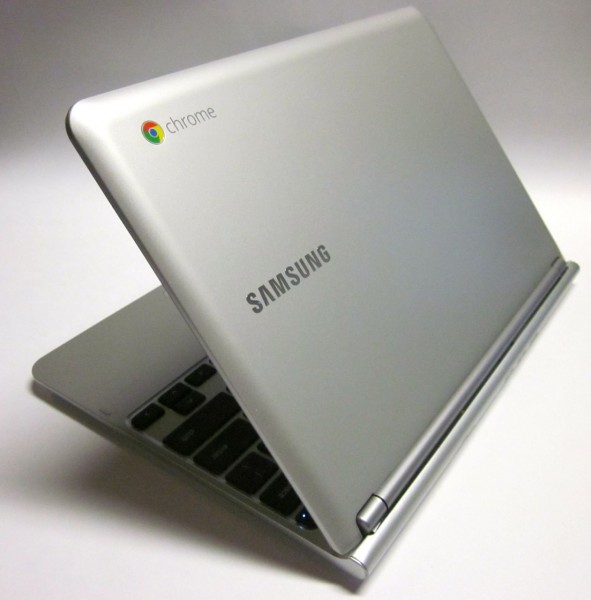 No one will mistake the Samsung Chromebook and its 1.7GHz Exynos processor for a high-end computer unless they're standing across the room. From a distance it gives off a MacBook Air vibe thanks to the thin silver chassis and black chiclet style keys.
Close up the Samsung Chromebook exudes low-end. The plastic feels cheap and flimsy. It even snapped apart when we dropped it from only a foot onto a carpet inside a padded case.
ChromeOS doesn't need high-end specs. The Samsung Chromebook comes with only 2GB of memory and 16GB of fast SSD storage to hold the OS and the few files one needs locally. Users get 100GB of Google Drive storage for two years, pluys 12 GoGo Internet sessions while flying.
Samsung Chromebook Keyboard and Trackpad
The Chromebook sports a comfortable keyboard and better than average trackpad.
Samsung Chromebook Display
The 11.6″ display comes with a 1366×768 resolution, pretty good for the size screen. We like the matte finish on the display that doesn't reflect light, a must considering how dim it looks. Text doesn't look s crisp as we'd like.
Ports and Connections
Along the left side we get an SD card port and a 3.5mm stereo port that functions as a mic and headset connector. Put a headphone or ear buds with a mic in for audio in and out.
The rest of the ports and connections sit on the back edge of the system. The USB 3.0 and USB 2.0 ports, one of each, sit at a strange angle, making it hard to insert or remove devices. We get HDMI out and an SD card slot, but no VGA without a dongle sold separately.
Networking and Wireless Connectivity
Along the back we also find a universal SIM card port, but its disabled on this model. The 3G version of the computer costs $80 more and includes 2 years of Verizon 3G service offering only 100MB per month, enough to check some email and little more.
We also get 802.11 a/b/g/n Wi-Fi and Bluetooth 3.0, but no wired Ethernet.
Battery Life and Charging
Samsung promises over 6.5 hours of battery, a pretty accurate measure when reducing screen brightness to below 70 percent. At full brightness it lasted well over five hours.
We experienced one strange issue that others also experienced. The trackpad jumps around and behaves erratically when plugged into certain power outlets. Changing outlets usually fixes it. We seldom used it plugged in, so it only affected our usage on occasion.
Web Apps
ChromeOS won't let anyone install software, but the web apps available in the Chrome Web Store offer enough variety that we could find acceptable alternatives. Google provides links to their Google Apps like Google Docs, Drive, Calendar and Gmail. They also let users do Google+ Hangouts and  Maps. They offer an offline version of GMail and Docs works offline letting users sync their documents, spreadsheets and presentation the next time they connect.
Gamers will not like ChromeOS. There's plenty for casual games, however. Even creatives can do some photo, video and sound editing. Search the Chrome Web Store and find a lot of interesting apps and extensions.
Here's a list of alternative apps from the Chrome Web Store:
Conclusion
Who will enjoy a Samsung Chromebook? People with simple online needs that want an ultra-portable machine for a bargain cost. Of the Chromebooks now available, the Samsung Chromebook hits the sweet spot. The Acer Chromebook looks too barebones and the Chromebook Pixel looks like overkill for a web only machine. A few others make them, but none look and feel as good as the Samsung Chromebook.
For people who take the leap, look around online and find one for under $230. Make sure the vendor will take it back if the Chromebook philosophy doesn't fit the buyer's lifestyle.
Samsung Chromebook Specs
11.6″ screen with 1366×768 resolution with matte finish
Samsung 1.7GHz Exynos 5 dual core processor
2GB of memory
16GB SSD storage
802.11 a/b/g/n wireless
Bluetooth 3.0
Ports: 1 USB 3.0, 1 USB 2.0, 1 HDMI
SD card reader
Dual stereo mic/headphone port
VBA webcame
2-cell 30Wh battery running for over 6.5 hours
2.4lbs
289.6 x 208.5 x 17.5 mm
100GB of free Google Drive storage for 2 years
12 free GoGo Inflight Internet sessions
Advertisement