In addition to many announcements today, Google unveiled a ton of new information about Chrome OS and the Chromebook or Chrome powered netbook. The Chrome OS will be available on a Chrome netbook which is aimed at delivering an instant on experience that is always up to date, can be always connected with 3G from Verizon and making it easy to share the netbook with your friend.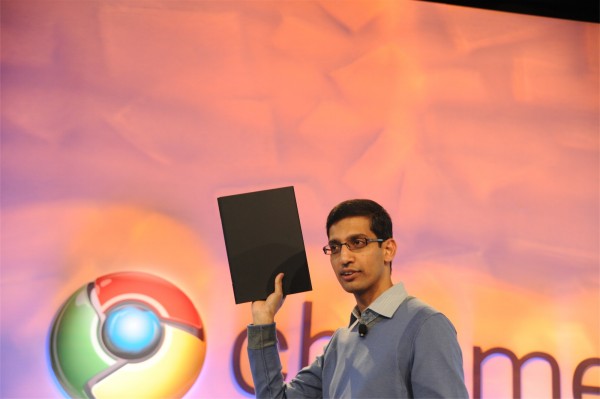 Google calls Chrome OS, "Nothing but the web, Chrome on the hardware." meaning that Google is planning on putting Chrome directly on the hardware without an additional layer of an operating system to get in the way. This allows Google to offer a secure and fast solution for consumers.
During the announcement, Google provided a demo of Chrome OS on a prototype Chrome Netbook giving us an inside look at what you can expect from Chrome OS and a Chrome netbook.
READY IN SECONDS: From the time you open the Google Chrome netbook there are only four steps to take before you are up and running. In under 60 seconds you can get to work and after signing in you are connected to your Google account as well as your apps and data. Much faster than even a snappy Windows 7 notebook and likely providing a similar out of the ox experience to the MacBook Air.
INSTANT ON AND RESUME: When you turn the Chrome netbook on you experience almost instant boot to a usable browser session and if you place the netbook in standby, it is ready to go as soon as you open in. In the demo it was ready to go with a Google Search before the demo users's hands made it to the keyboard.
SYNC: Similar to how Android can sync your data and apps between phones and the Chrome we browser already syncs extensions and passwords, the Chrome OS will be able to sync your information and apps to your Chrome netbook and the web and other devices. Google calls this, "same experience everywhere".
SHARING: Because the system is cloud computing, you can share much easier. Simply have another family member login to the Chrome netbook and they will see all of their information and apps. In a separate user account without access to your information, or you access to theirs. If friend stops over for a visit, they can login to the guest account which launches a full incognito session where nothing is stored. This gives both users peace of mind that their browsing sessions are safe.
OFFLINE ACCESS: If you are offline, say flying across country, you can access apps like the NY Times app as well as work on Google Docs documents offline. When you get connected again,your changes will be synced to the web and merged with the changes made by other users. There will also be offline gaming apps.
CONNECTIVITY: The Chrome OS netbook will be able to easily switch between 3G and WiFi which is great since every Chrome netbook will come with a 3G connection from Verizon with 100MB of data use per month for the first two years. Additional data can be purchased by the Gigabyte or an unlimited day pass for $9.99.
CLOUD PRINTING: Built into Chrome OS is support for cloud printing to any printer on your netbook.
SECURE: Chrome OS has many security features built in to keep you safe with sandboxing and verified booting. For general users this all translates into a more secure interface with less worry about the wrong click installing malware. All of your apps will automatically be updated as well.
The actual devices will be available for purchase in mid 2011 and at that time should support cameras over the built in USB ports. But, if you want to test out now, Google is offering a pilot program to put Chrome netbooks into the hands of real users for testing. The initial devices will be powered by Intel and made by Samsung and Acer.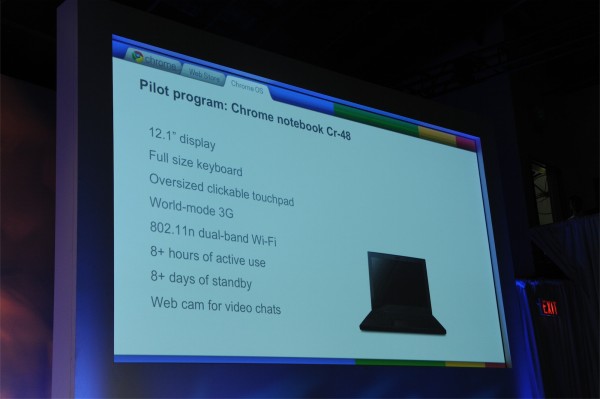 The Pilot Chrome Netbook will have a 12″ screen, full size keyboard with no caps lock and no function keys. It also has no hard drive. If you want to "jailbreak" your Chrome netbook, just remove the battery and flip a switch — it's built right in. To apply, visit the Chrome OS Youtube channel or sign up on the Chrome OS website.
Advertisement