The HP Mini 5103 netbook is the latest business class netbook from HP, continuing on the style and design of the HP Mini 5102 (review), offering users a very portable package with more durability and extra features than we typically see in a netbook. The price is a bit higher for these extra features, but well worth it for netbook purchasers who plan to use the small device for business,
For a look at how the Mini 5103 is different from consumer netbooks, take a look at our 10 Ways Business Netbooks are different than Consumer Netbooks.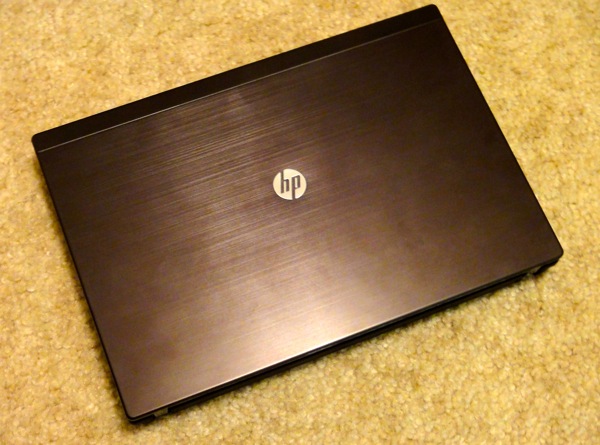 HP Mini 5103 Quick Specs:
The HP Mini 5103 we tested has an Intel Atom N455 processor , 1 GB RAM, a 160GB hard drive, 10.1″ screen (1024×600) and a 4-cell battery. This specific model is outfitted with a capacitive touchscreen that allows you to use your fingers, much like on the iPad or the Acer Aspire 5745PG
Who is this Notebook For?
The HP Mini 5103 netbook is great for use as a companion computer for business professionals and students who want a bit more durability than a consumer netbook can give. The Touchscreen model and optional handle provide additional incentive for education and institutional users to check this netbook out.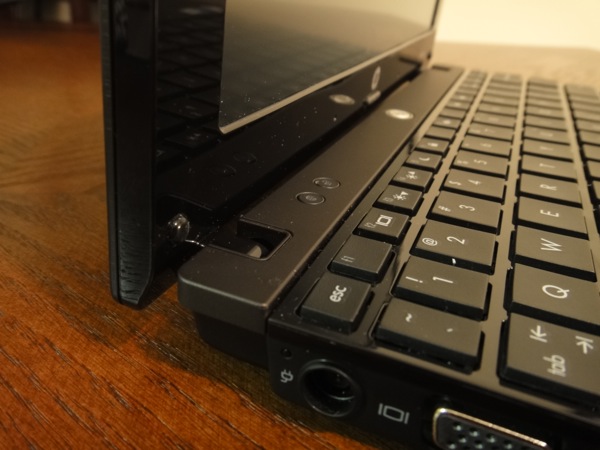 Build and Design:
The HP Mini 5103 is designed to meet the needs of a business user, which means an all metal chassis and special coating on the keys to provide a longer life during heavy use. The Mini 5103 comes with a magnesium alloy lid that does a good job at keeping fingerprints off and provides additional protection. The hinges and the entire notebook feel very sturdy, especially when compared to most consumer grade netbooks. Another business class feature is the inclusion of a spill-resistant keyboard which is great news for accident prone travelers and IT administrators deploying this device in schools.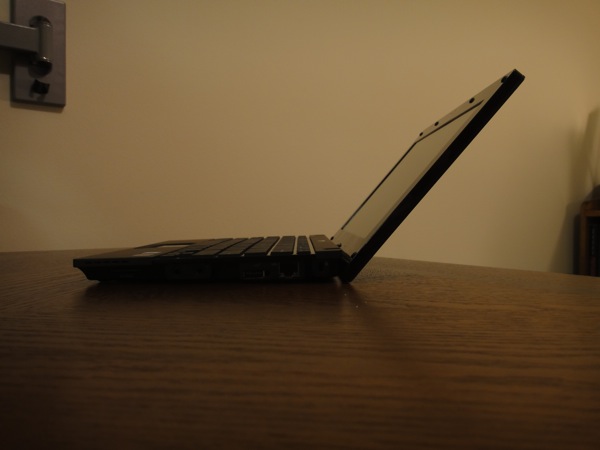 Screen:
The HP Mini 5103 has numerous screen options. There are choices for an HD screen (1366 x 768) as well as the option for a touch screen. The review unit HP lent us is equippped with a 10.1″ 1024 x 600 touch screen display. While we normally would want a higher resolution sreen we found that combined with touch the lower resolution was in our favor; especially with a smaller screen. The screen has good viewing angles and was usable in the car and in an outdoor setting.
When it came to touch, Windows 7 hampered the usefulness thanks to troublesome navigation. We did find that my installing Mirabyte FrontFace, a program that provides a touch friendly interface, we used touch more often. Ultimatley the usefullness of this option will come down to the user's habits. We wouldn't add the touch option ourselves, but there are users who will want it.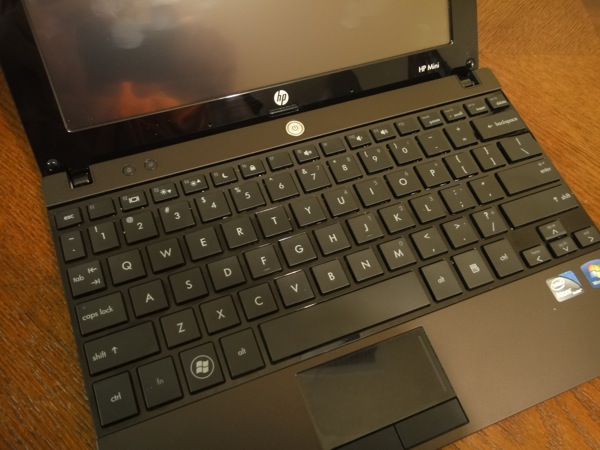 Mouse and Keyboard:
In addition to coming with a durakey coating that extends the life of the key coating by 50% (according to HP) and being spill resistant the HP Mini 5103's keyboard is pretty spectacular. It remains one of the only netbook keyboards which we could type a full review on without giving up much speed or accuracy — or getting a hand cramp. The keys are well spaced, offer good feedback and are not mushy.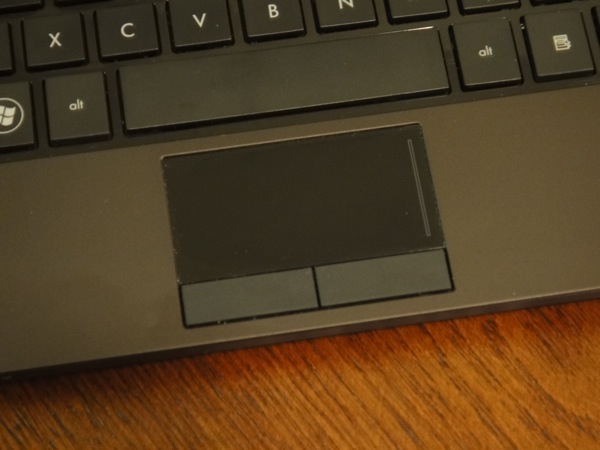 The mousepad on the other hand leaves something to be desired. HP brings over the small mousepad from the HP Mini 5102, which is precise and gets teh job done; but it feels out of place on such a high quality netbook. We really hope that the next business class netbook from HP gets an upgrade to a wider mousepad with integrated buttons that supports two finger scrolling.
Processor and Performance:
The HP Mini 5103 looks pretty similar on the outside to the old Mini 5102 becasue many of the upgrades are internal. Our model comes with a enwer Intel Atom N455 processor that supports DDR3 RAM and you an configure the Mini 5103 with a new dual-core Atom N550 processor which HP claims will deliver a performance bump and enable HD video watching without the need for a broadcom accelerator.
As mentioned, our review unit had a single core processor, and no broadcom accelerator, which meant we had less power inside. Still, we were able to do everything you would expect on a netbook — surfing the web, watching YouTube videos, editing office documents and keeping in touch with business associates.
Storage:
It is worth noting that the HP Mini 5103 comes with a faster 7200RPM hard drive which is equipped with drop protection that will stop the hard drive from spinning if it senses that it is falling.
Heat and Noise:
During our use the HP Mini 5103 did not put off a lot f heat. The fan did run quite a bit even when we were only using Chrome with several tabs, but the heat was never an issue. As mentioned, the fan ran a lot and you could hear it which may bother some users. The noise is noticeable enough that it deserves a mention, but not so loud as to detract form the overall use of the Mini 5103.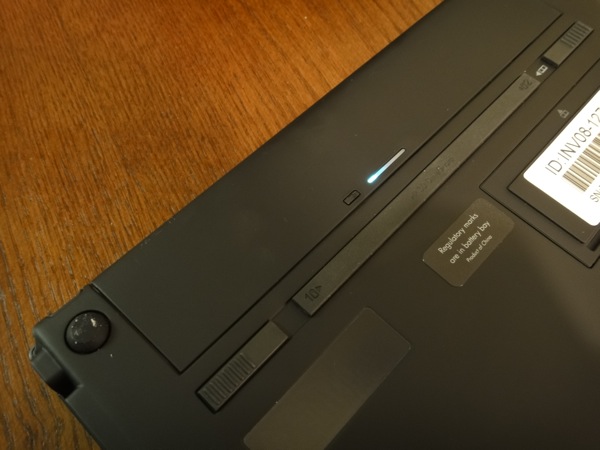 Battery:
The HP Mini 5103 comes with two battery options, a 6-cell which HP rates at 10 hours, and a 4-cell battery which we have and is rated for 4.5 hours. During our testing the 4-cell battery only lasted 2.5 to 3  hours with the screen on full brightness and surfing the web over WiFi. If you dial down the brightness all the way you may be able to get closer to the 4.5 hour rating; assuming you stick to simple web work.
One extra touch we love is that the battery has a built in life indicator so you don't need to boot up to see how much battery life you have left.
Connectivity:
The HP Mini 5103 has more ports than you'll find on some netbooks with more than enough to meet most business users' needs including a USB port that can charge your phone.

Left (left to right): Power, VGA, Vent, USB 2.0, USB 2.0

Right (left to right): SD card reader, Microphone, Headphone, USB sleep and charge, Ethernet, Kensington Lock

Front (left to right): HDD indicator light, Wireless switch
Software:
The HP Mini 5103 comes with some extra software you won't find on most consumer netbooks. First up are the quickboot environments which you can load up as the computer boots for faster access to your information. HP QuickWeb gets you to the Internet faster than booting into Windows. HP QuickLook gets you to your email, calendar and Outlok information and what HP calls Daystarter that offers a fast glance at what's on your schedule for the day. The catch is that for HP Daystarter to work you'll need Outlook installed.
That's a catch because HP is aiming this as a companion PC, a second or third device, that doesn't need an expensive license for Microsoft Office because HP pre-loads Corel Office.  Corel Office lets you edit and share Microsoft Office formatted documents on the go.
Further playing into the companion PC idea is HP QuickSync which allows you to sync folders between up to 3 computers. The idea is similar to Dropbox, but the HP QuickSync tool has no size limitation.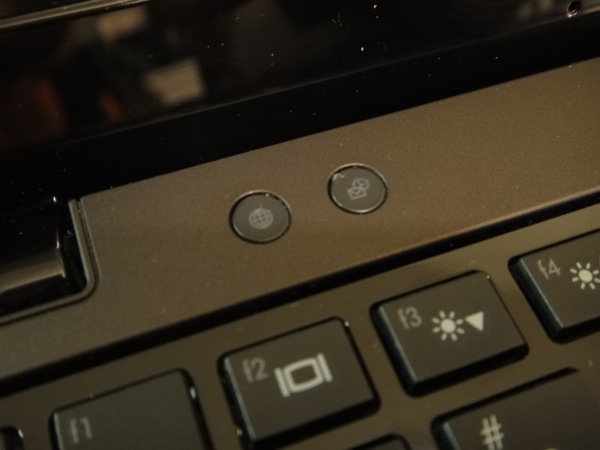 Value: The HP Mini 5103 offers enough extras to account for the higher price over consumer netbooks and is a good choice for students and business users who are looking for a device that will last longer than a traditional netbook.
The HP Mini 5103 is available in various configurations starting at $399 from numerous retailers, or direct from HP.
Conclusion:
HP didn't change much on the 5103 which, other than the small mousepad, we are OK with. The business class netbook performs well and continues to have the best netbook keyboard we've seen. If you need a netbook that is designed to last longer and be more durable then you need to heck out the Mini 5103 — especially if you type alot.
Pros:
Durable design
highly viewable screen – even outdoors
Great keyboard
Extra software
Cons:
HP Mini 5103 Detailed Specs:
| | |
| --- | --- |
| Brand | HP |
| Model | Mini 5103 |
| type | Netbook |
| Operating system | Genuine Windows 7 Starter 32 |
| Processor | Intel® Atom N455 Processor |
| Chipset | Intel NM10 Express Chipset |
| Memory type | DDR3 SDRAM, running at 667 MHz |
| Maximum memory | 2 GB (1 GB with window xp home or windows 7 starter in select models) |
| Memory | 1 GB |
| Internal Storage | 160GB 7200RPM hard drive |
| Removable Storage | Optional HP External USB 2.0 CD/DVD R/RW Drive |
| Display Size | 10.1" diagonal |
| Display type | LED-backlit WSVGA  with capacitive multi-touch |
| Resolution | 1024×600 |
| Graphics Card | Intel Graphics Media Accelerator HD |
| Audio / Visual | High Definition Audio, stereo speakers, integrated stereo microphones, stereo microphone in jack, stereo headphone/line out jack; integrated 2 MP webcam |
| Communications | Marvell Ethernet (10/100/1000 NIC) |
| Expansion slots | Secure Digital slot: supports SD (Secure Digital), MMC (MultiMedia Card) |
| Ports and connectors | (3) USB 2.0 ports (1 powered), VGA, power connector, RJ-45/Ethernet, stereo microphone in jack, stereo headphone/line out jack |
| Input Devices | 95% full-size keyboard, touchpad with scroll zone |
| Software | HP Recovery Manager (Windows 7 only), HP Support Assistant (Windows 7 only), Roxio Creator 10 (requires separately purchased external optical drive), Microsoft® Office Ready, Corel Home Office, HP QuickLook 3, HP QuickWeb |
| Security | HP Disk Sanitizer, Face Recognition for HP ProtectTools, Computrace BIOS support, Drive Encryption for HP Protect Tools, Kensington Lock slot |
| Dimensions | 0.91 (at front) x 10.3 x 7.09 in / 23.2 (at front) x 262 x 180 mm Models with Touch: .98 (at front) x 10.3 x 7.09 in / 23.2 (at front x 262 x 180mm |
| Weight | Starting at 2.64 lb / 1.2 kg (with hard drive, weight will vary by configuration) |
| Power | 4-cell (29 WHr, or 6-cell (55 WHr) Lithium-Ion battery, 40W Smart AC Adapter, HP Fast Charge |
| Expansion Solutions | Optional HP USB 2.0 Docking Station or HP Essential USB 2.0 Port Replicator |
| Warranty | Limited 1-year and 90-day warranty options available, depending on country, 1-year limited warranty on primary battery. |
| Color | Choices: black, red , blue, espresso |
Advertisement