I received my Apple MacBook Air 13.3-inch model via FedEx today and here is my unboxing and initial thoughts as I get my hands on my very first  Mac OS X computer.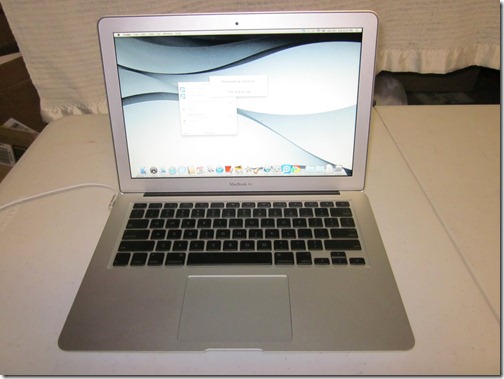 I have never used a Mac for more than a few minutes at a time either in a store or just quickly checking a web site or email on a friend's system. So little things like the power adapter's magnetic connector and the fact that it looks exactly like the iPad power connector were a surprise to me. The real take away is how thin this thing really is. Also, I was surprised at how substantial it felt. I expected it to feel a little lighter than it is even though it is very light.
Finally, the battery life promised is about seven hours. But with screen brightness all the way up and running Wi-Fi while downloading a huge chunk of data for one of my apps that requires an 8.4 GB download in addition to transferring some video to the flash drive and Bluetooth on, the battery lasted around three hours. I will of course try again under more normal use to judge what the battery life is doing more normal activities. I have my doubts that I will get seven hours.
Check back for more coverage and in a couple of weeks I'll post a full review.
Advertisement