With the start of the Major League Baseball post season today, many will want to follow their favorite team or just keep abreast of the whole playoff season while away from their televisions. As always the Internet is a great source for keeping track of the playoffs. We show you how you can watch the MLB playoff games online and on your iPhone, Android and BlackBerry. If you can't watch, we also show you how to get text updates on the MLB playoffs sent to any cell phone.
Following the Scores
While at work, you may not be able to actually watch the games, but you can keep track of the scores and even play-by-play. The best source for this is the MLB.com web site. Each playoff series will have its own page complete with scores, highlights and text of key plays. Or you can hit the scoreboard link to see all the games scores at once. And if you want audio, there are feeds available for each team's announcers, but that is part of an extra subscription service.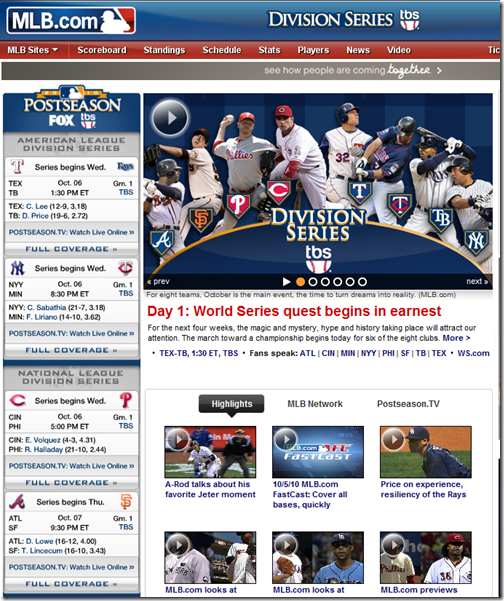 Of course you may be a rabid fan of just one team. If that's the case, go directly to the team page. Here are the direct links online playoff coverage:
Each team's page will have live scoring and other information about their game.
Watching the Games Online
Keeping track of the scores and seeing a few highlights is okay for work, but most people want to see the games themselves. There are two approaches. The first involves the MLB sanctioned Postseason.TV. For just $9.95 a fan can watch the game with up to four different camera angles at one time what they call Quad Mode. And you can pick from up to 8 different cameras. It can be enjoyed by itself or in conjunction with the TV broadcasts to add more to the viewing experience. Twitter users can trash talk with opposing fans and their opinions will be shown on the live Twitter feed during the games. For MLB.TV or MLB.TV Premium customers the video feeds are in HD. Those are the two packages like Postseason.TV only for the regular season. They get access to Postseason.TV too. Below is a screen shot of what the Quad View will look like. There is a video demo at the MLB site.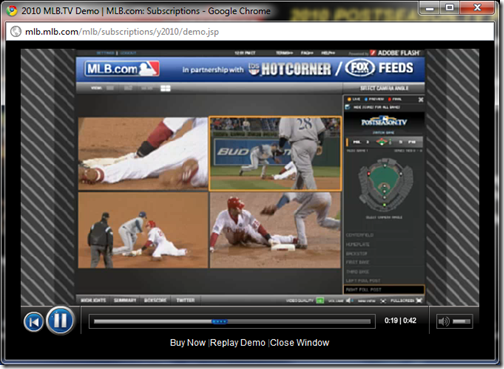 Keeping Track while Mobile
For fans who want to watch or listen to the games but are not near a TV or computer, there are plenty of ways to watch the MLB playoffs on your smartphone. MLB At Bat is baseball's name for their mobile app. They have one available for Android, iOS, and Blackberry.
The MLB At Bat app includes the following:
Enhanced scoreboard – a lot more than just the score
Live video
Live audio – users can pick the home or away announcers
Game highlights
Shortened version for viewing after the game – watch just the action without the stalls between each pitch
DVR functionality – pause, rewind video
Pitch placement
Many other stats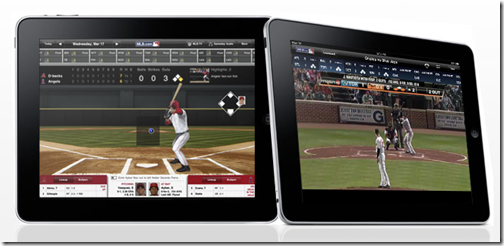 Check back later for a demo of the MLB At Bat iPad app to see if you want to sink $5 into it for the post season. To learn more about what is available on each platform in the MLB At Bat app, go to their info page.

What if you don't have any of those three platforms? There is also a Mobile Web version for other web enabled cell phones. It features box scores, player info, team news and live game audio. For a list of supported devices for Game Day Audio, check out the MLB site. Just hit the link and enter your cell phone number to get the link sent directly to you via text.
Speaking of text messaging, MLB has a text service where you can get Team Alerts, which is a text message with info about your team. They will send a text when there is a run scored, home runs, breaking news about a team or its players, and end of game summaries. It costs $3.99/month.
Player Alerts is a similar service but focuses on a single player instead of a whole team. Finally, there is TeamTXT which is the free version of Team Alert. It is not automatic and does not have as many of the frills. To get the TeamTXT just send a text message with the team name to MLBGO or 65246. For example, if you like the Braves, then send a text with content BRAVES to MLBGO (65246) to get the Braves' current score update. For news send BRAVES NEWS to the same number. And finally for weather information, send BRAVES WEATHER to the number.
Advertisement