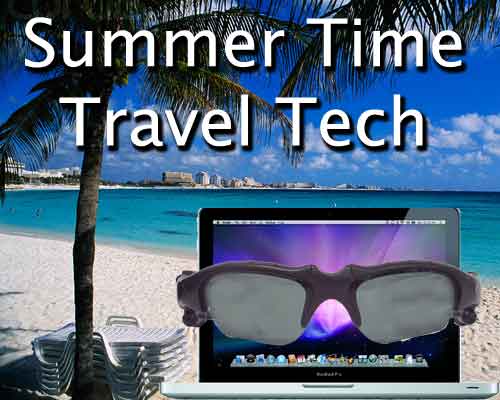 Summer is here! With summer you will likely be going on the road and taking your gadgets with you. We want to give you some suggestions for Summer Time Travel Tech.
Previously we showed you some good notebook computers to take along with you giving you some tips for what to look for in a summer notebook. Then we focused on what should you look for in a great summer camera.
Now we are focusing on technology to help you occupy the time while flying or riding to your destination. We'll look at gadgets that entertain and are more mobile than a notebook PC.
In this installment we focus on entertainment toys that might also help you get online or even do a little work while on the road. The focus is not on a do-it-all device, but we will be looking at a device that lets you check email and get online to check email and social networks in addition to fulfilling the primary role of entertaining you. You might even be able to get a bit of work done while you're at it.
We'll look at several categories of devices that fit these needs; portable gaming devices and smartphones. At the end of each category we will summarize how well it handles our three primary tasks. In part two we will look at netbooks and tablets.
Portable Gaming Device
One of the most popular gaming devices is the Sony PSP, or Portable PlayStation.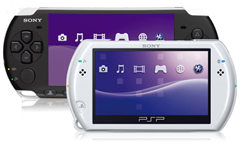 There are really two kinds of PSPs now, the older system which is technically called the PSP-3000 and a newer smaller PSPGo.
The PSP 3000 is larger and plays games on small cartridges that look like mini CDs in a case called UMDs or Universal Media Discs. The retail price for a PSP is about $170. The games retail at $40 but can often be purchased for less.
The PSPGo is the newer version of Sony's PSP system. It is smaller and the games are not stored on UMD but downloaded from an online store. It is more expensive at around $250 retail.
Both PSP systems have the ability to play movies and music. You can browse the web, although the browser in them is pretty rudimentary. You can check email and twitter online. But like the name of the category this is a gaming device so it shines at playing games. If your primary goal is to play games and you just want to be able to do the other things on occasion, then this is your best bet. If you need to ever get any productivity work done, don't bother.
PSP and PSPGo Handles gaming well; can go online but not a great solution; no real productivity support

The next portable gaming option is the Nintendo's DS. Like the PSP the Nintendo DS is primarily a gaming system, although there is a limited ability to get online with some models. That said, you won't be able to do any productivity taskson this device; the focus is on gaming.
The different Nintendo DS models range in price from $130 to $190 at most retailers and games are usually around $30 when first released. One of the drawbacks of the DS systems is having to keep track of a stylus.
Nintendo DS Systems Handles gaming well; some can go online but not a great solution; no real productivity support
A third portable gaming device is the Apple iPod Touch or iPad. Since the Touch is so much like the iPhone, we will deal with it in the Smart Phone category. And the iPad will be part of our tablets category. Just suffice it to say that all of the iOS devices are good for some gaming.
Smart Phones
Smart phones are very popular for productivity and gaming. The primary categories are Blackberry, Android, Palm and of course iOS devices.
Our own Android expert Josh Smith said one of the Android platform's strengths is in the area of GPS, which Josh feels is actually better than a dedicated GPS solution. The ability to Google any business near you by name or type and get their with free turn by turn directions make this an appealing tool for summer travel. Smith added that an app like Yelp for finding dining and entertainment rounds add to the usefullness of an Android device on the road.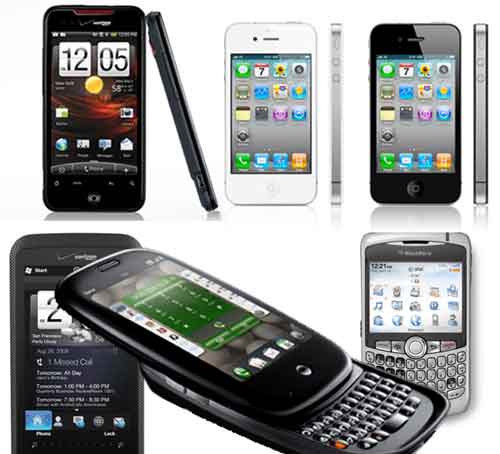 Google Android devices don't have built in Google Docs support but you can download free or paid office apps from the Android market to handle short edits or document collaboration while you are on the road or sitting on the beach.
In the past, gaming may not have been as big a category with Android. But in its short life it has picked up according to Smith. He said, "… with great games like Flight Director and Home Run Battle 3D you can stay entertained on the road." One caveat though. Smith warned, "Beware, gaming will drain your battery life; but unlike some phones you can toss in an extra battery and keep going."
When it comes to BlackBerry devices, unless you are looking for a device that is great at messaging and not a whole lot else, you should keep going. While there is a Blackberry App store, even Pogue agrees that the BlackBerry is not an app phone. For gaming, keep going.
Palm is a device in flux. You should wait until things settle with HP buying the company before investing in a Palm device. And with Windows Mobile waning in popularity and soon being replaced by Microsoft's new Windows Phone 7, it's not a  device to be throwing any money at either. Don't even bother with the KIN, which Microsoft discontinued after just 6 weeks either.
But if you must choose a Windows Mobile or Palm phone, there is a collection of apps that you can buy for both platforms including all of the categories we've been talking about. Games, productivity, and getting online with both is very doable.
Finally, there is the iOS devices. The iPhone 4 is a little hard to find, especially if you are hitting the road soon. If you can wait a month you will have more options as the White iPhone will be available and hopefully Apple will have fixed the reception problems.
The iPhone is a great gaming device. There are a some new games that really take advantage of the higher resolution screen of the iPhone 4. The gyroscope in the new iPhone makes the games that require you to actually move the phone really fun.
I downloaded a game I heard really took advantage of this and was not disappointed. It is called Eliminate: Gun Range. You aim your gun by moving the phone ever so slightly hitting targets for points in a timed game. It is amazing how sensitive it is. The game is fun but a little hard to master. The point is that this app shows what a game can be on the new hardware.
As for productivity, there are a a lot of apps for creating documents and now you can finally pair a Bluetooth keyboard with the phone for editing. With literally over 100,000 apps to choose from, even if only 10 percent are worth anything that's 10,000 apps.
Getting online with the iPhone is easy, so long as you are travelling in an area that has good coverage. Sadly, this is one area the iPhone either excels or fails varying wildly depending on your location.In some areas the 3G coverage is fast and very good, but in others it is nonexistent. The iPhone 4 reception issues are real and should be taken into consideration.
If you were not at all invested in one platform, then it might be that an Android Phone would be your best option right now. Either way, smartphones are a great solution for gaming, getting online, and doing some work while away from home. Add GPS solutions to the mix and they are a plus for a travel tech tool box.
Smartphones – Handles gaming well; can go online if you have a good signal; handles productivity well; add GPS which they do well
Conclusion
At the halfway point in our look at portable gaming devices, one thing is sure. There are a ton of options for playing games. The question is, do you want to play hard-core games or more casual games? If you want the second, I personally would pick a smart phone over a Nintendo DS or PSP because of the flexibility. Smartphones do so much more than just play games which makes them a perfect fit for many casual gamers. Not only do they make and receive phone calls and text messages; in the case of the HTC Incredible or the iPhone 4, they take great pictures and video too. You will want a good camera for your trip, but if you leave it in the hotel or your vehicle, at least you will have a really good camera phone.
On the other hand, if productivity and online tools are just something you might need very rarely and you want great games, go with the PSP or Nintendo DS.
In part two we will look at the netbook and tablets as options in this category of summer travel tech.
Advertisement