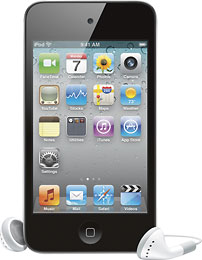 Radio Shack will be giving away $20 gift card with the purchase of an 8GB iPod Touch on Black Friday. There are a number of stores offering similar deals on Black Friday however, and we advise going elsewhere if you're after an iPod Touch deal.
Apple retailers typically don't offer significant discounts on iPods and other Apple gear. Instead, they often throw in freebies to sweeten the deal. The MSRP of the 8GB iPod Touch is $229 and you won't find it much cheaper than this, even on Black Friday.
This is the current generation iPod Touch, which is capable of running all of the most recent iOS4 apps. It comes with dual cameras for HD video recording and FaceTime.
The best Black Friday deal we've found on the 8GB iPod Touch is from Wal-mart, which will be selling for $225 and throwing in a free $50 Wal-mart gift card. Best Buy has a similar deal, but you'll get a $30 Best Buy gift card instead.
According to a leaked Black Friday ad scan we've seen, Radio Shack will sell a minimum of two iPod Touches per retail location with the $20 gift card. Many retailers offer very limited quantities of their Black Friday deals, which means it can often be difficult to actually get the iPod with the free $20 gift card. We typically see minimum quantities for Black Friday deals in the five to 25 range. This year, Radio Shack seems to be offering very limited quantities of its hottest Black Friday deals. Keep in mind that your local Radio Shack may have more units at this price, but your mileage will vary.
For more information about Black Friday and more deals, visit Notebooks.com's Black Friday page.
Advertisement