Apple's big and beautiful 24-inch Thunderbolt display makes a great secondary monitor for your MacBook, but it shipped with a problem for many – a flicker that annoyed users who plugged in their brink new Thunderbolt MacBooks into the thing. Apple just released a fix that should take care of the problem.
You can get the firmware update by following a link that Apple posted in their discussion forums. The direct link offers a DMG file to download and run on your Thunderbolt equipped MacBook.
After applying the file you will likely have to power down your computer and monitor. After a reboot all should be fixed.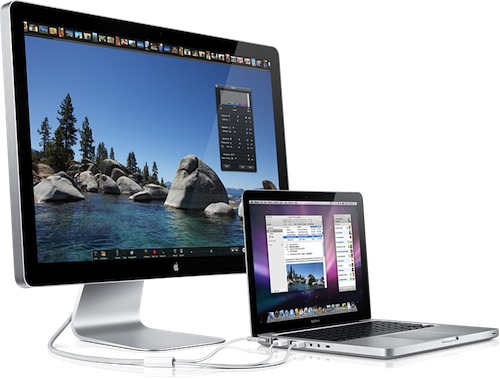 Here's the description from Apple:
The 24-inch LED Cinema Display Firmware Update addresses an issue that may cause intermittent display flickering. This firmware will only install on the Apple 24-inch LED Cinema Display when it is connected to a Thunderbolt-enabled Mac.

IMPORTANT:
This firmware update may not resolve the flickering issue if a Mini DisplayPort extender cable is used.

NOTE:
Some USB and FireWire devices may prevent firmware updates from installing correctly; disconnect non-essential devices and use only an Apple keyboard and mouse to apply the update.
Strangely, this fix won't show up in Software Update yet. We are not sure why. Maybe it is a beta driver and Apple released it for those really bothered by it enough to post in a forum.
This problem now aside, I'd love one of these. It serves two purposes – not just an external display but also a Thunderbolt hub with USB ports as well. Plug one thing in and you get your external hard drive and any other peripherals. At a grand, they seem a bit out of reach for most average consumers, though.
(Via MacRumors : Mac News and Rumors)
Advertisement