Apple has a new update for their Safari browser. Primarily it is a security update with a lot of other minor issues mostly related to web page display and stability. Here are the bullet points from the update notice in OS X's Software Update tool. This is found under the Apple menu in the upper left corner. Users should go get it in order to preserve online security, especially since would-be hackers know about the issue.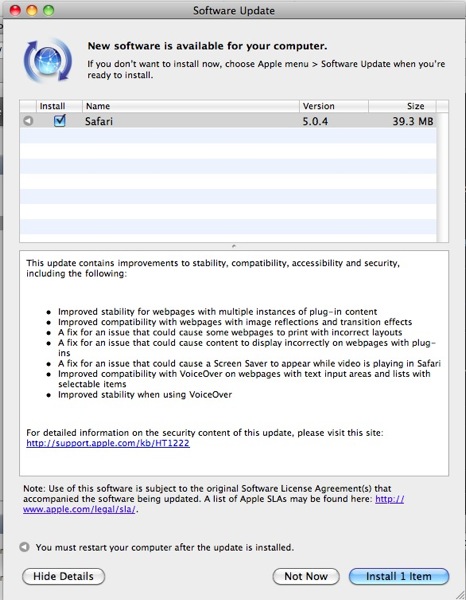 Improved stability for webpages with multiple instances of plug-in content
Improved compatibility with webpages with image reflections and transition effects
A fix for an issue that could cause some webpages to print with incorrect layouts
A fix for an issue that could cause content to display incorrectly on webpages with plug-ins
A fix for an issue that could cause a Screen Saver to appear while video is playing in Safari
Improved compatibility with VoiceOver on webpages with text input areas and lists with selectable items
Improved stability when using VoiceOver
You will notice that none of the above say anything about security. That is because Apple will not reveal what holes they are patching. But hackers can still figure it out by looking at the code that is changed. So get it now.
For Windows users of Safari you will have to update by gong to the Apple Safari page.
This was a busy day of updates for Apple with a very minor iTunes bug fix in preparation for the big iOS 4.3 update which dropped two days ahead of the announced March 11 date. The iPad 2 is coming Friday at 5 PM rounding out a busy week for Apple.
Advertisement