The iPhone is not only a good tool for business, entertainment, and even communication. It is a fun gaming device too. So for those of you who just got a shiny new Verizon iPhone, here are our 12 best paid games for the iPhone. We will also be posting the 12 have also posted the 10 best free games soon. And you might also be interested in our 12 essential accessories and 12 essential apps for the iPhone as well.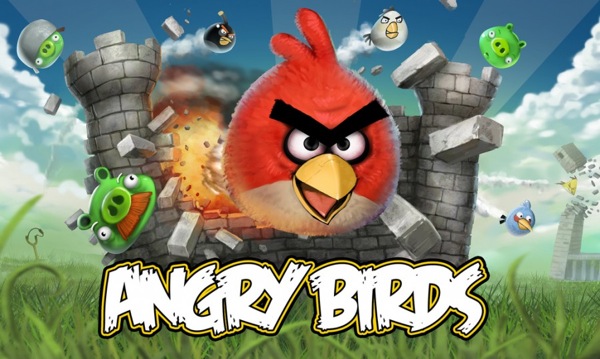 This is the most popular iOS game out and its one of the most popular iOS apps of all time. You launch angry little birds at a house full of pigs trying to knock it down while getting a high score. It is ridiculously addictive and often frustratingly fun.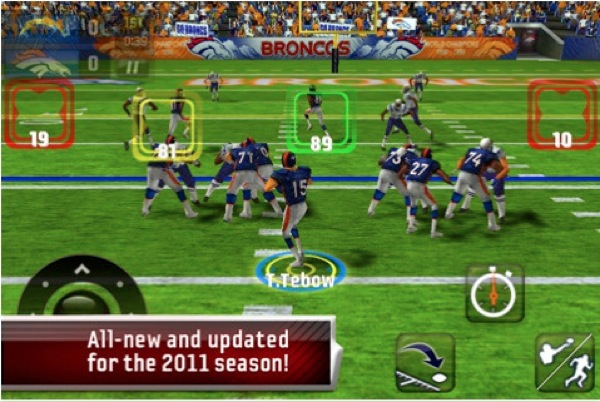 This is the popular football sim game from EA Sports. With the NFL season over now, you can get your football fix by playing this game. It is not as good as the Xbox or Playstation versions, but it is still a lot of fun.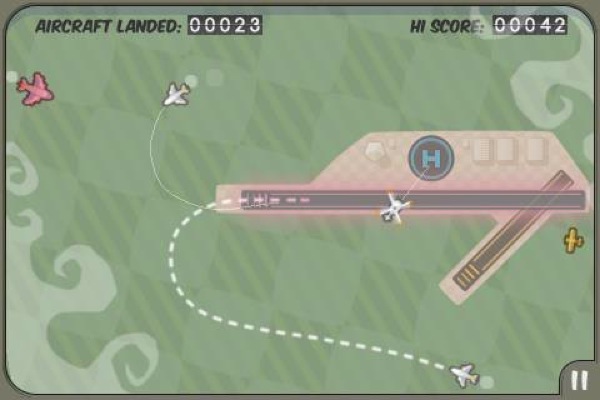 In Flight Control you do your best to guide all kinds of planes, and even helicopters, to a safe landing by dragging a path across the iPhone touch screen onto a runway or landing pad. After a while it gets more challenging with more aircraft on screen at once. The addiction level of this game is very high.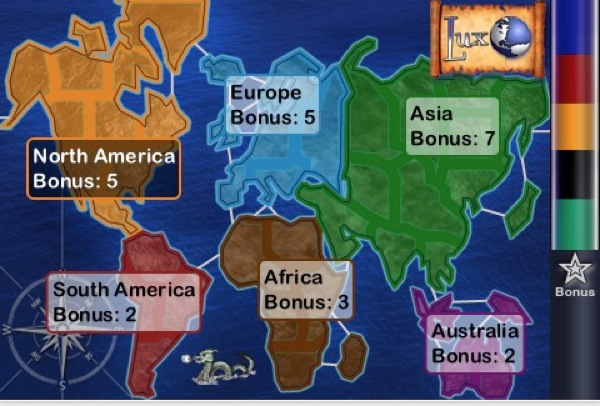 Even more fun than the official Risk version, this clone lets you conquer the world one country at a time. You can even load it up with fun maps made by users. If you like Risk, you will love Lux DLX 2.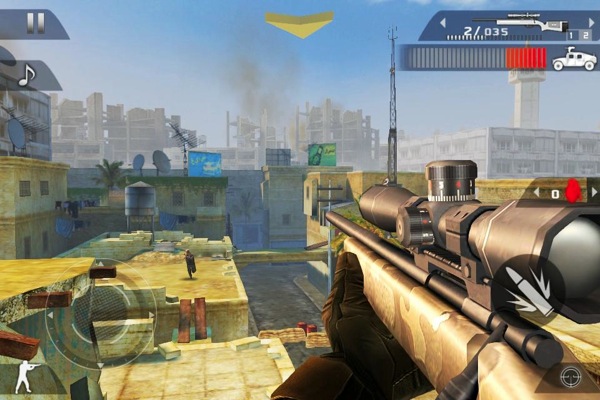 The Modern Combat series is the most enjoyable first person shooter on the iOS platform. Version 2 is just as good. Kill the enemy and win the game.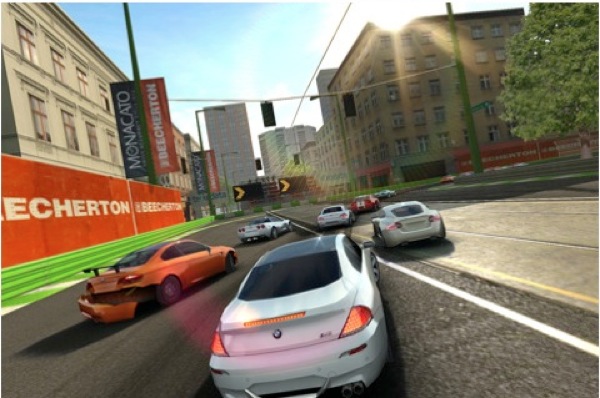 If you like racing sims, this is the best one for the iPhone. There are a bunch of cars to drive including Mustangs, other muscle cars and sporty drifters.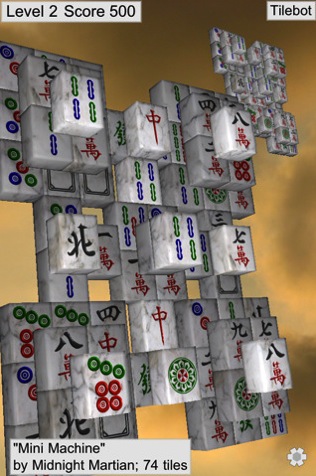 This is the tile matching game that many of us have been playing on computers for years. it actually is a real board game, but most of us know it as a casual computer game. This one is beautiful with nice music and great looking tiles. The board moves around in a 3D environment making it easy to see tiles even if they are hidden when looking at it top down.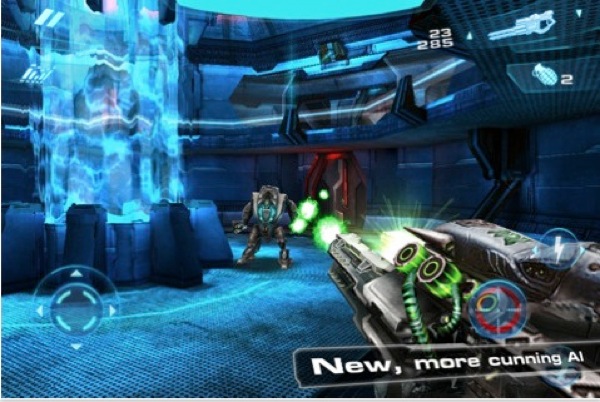 Near Orbit Vanguard Alliance is a first person shooter in space. Killing aliens is a blast, literally!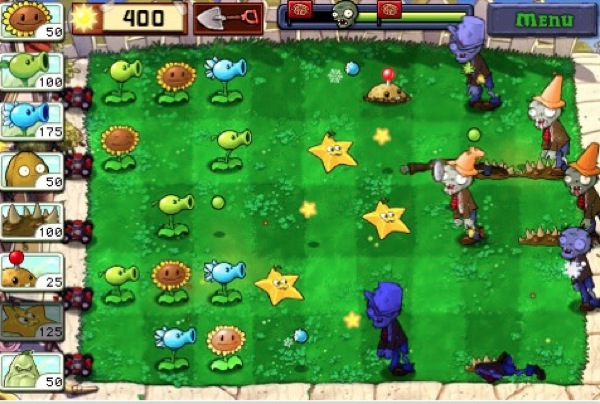 This game is so much fun that we had to delete it to get anything done. It is a tower defense style game where you plant various plants in the yard and they hurl their veggies at an oncoming attack of zombies of varying degree of strength. If one gets to the door, your dead. We love the lawn mowers mowing down the near dead invaders. But be careful as this one will suck you in quickly.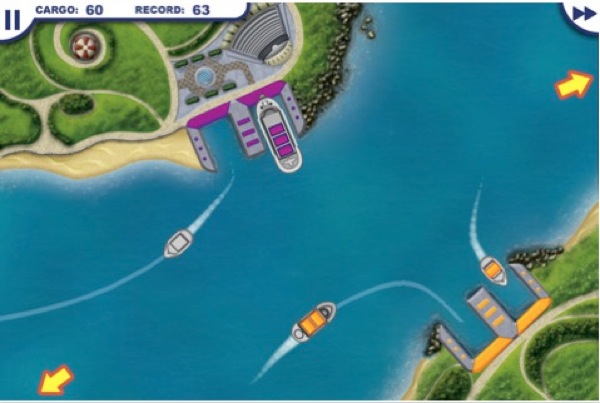 Like Flight Control above, you have to shepherd boats and ships with cargo to port. The thing that makes this one a little more challenging is that you also have to send them on their way. Both are done by dragging across the touch screen.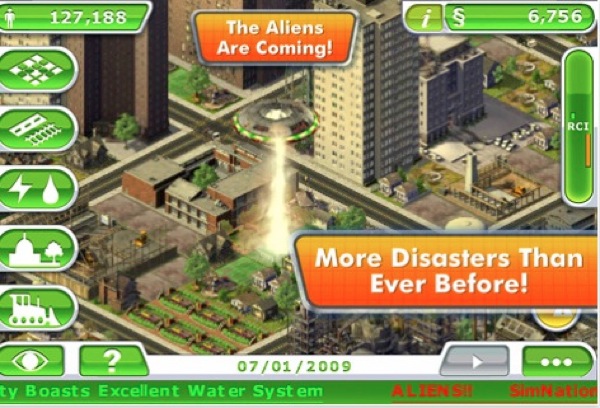 The Sims is fun, but we love SimCity. Besides Doom this was the first game we got hooked on when it came to playing games on a computer. The iPhone version isn't nearly as fun, but close. You are asked to build your own city and keep it from destroying itself or getting destroyed by disasters while making the citizens happy. Or you can play one of the scenarios where the city is built but there is a specific challenge to overcome.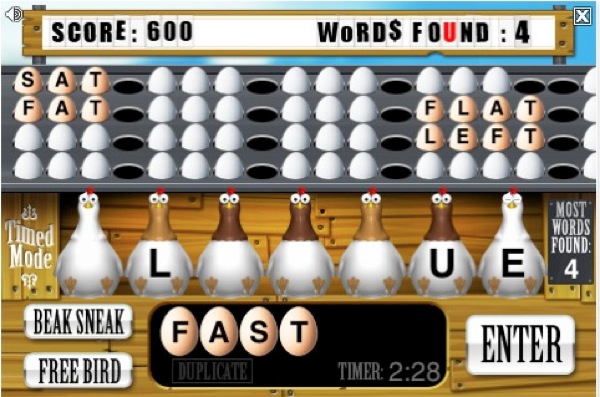 This is a word game that kids love, but we know an adult who can't stop playing it herself. She's a school teacher and uses it with her class as a reward with her iPhone on her document camera projected onto the pull-down screen. She gets her kids to do almost anything by just saying, "We'll play some Chicktionary afterwards."  The game shows seven letters and you have to make as many words as possible in a time limit.
Advertisement