When you look at the map at Fortune's Apple 2.0 report produced by Experian Simmons, you can see that the Heartland of the United States is definitely not iPad country.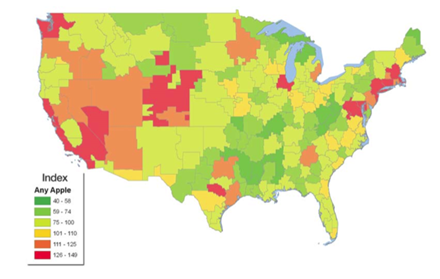 The consumer behavior analysts at Experian Simmons wanted to discover where people were most likely to line up in order to purchase an iPad on launch day, April 3rd.  The ten most likely cities were as follows:
San Francisco-San Jose
Boston
San Diego
New York City
Washington, D.C.
Chicago
Denver
Monterey-Salinas, California
Santa Barbara-Santa Maria-San Luis Obispo, California
Las Vegas
You will notice that only 2 of the ten cities were not on either the West or East Coasts. Looking at the map above, the only other areas that register high are central Texas and the sparsely populated Western United States. The low population density actually throws off the percentage to make the West seem higher than it really is.
The prediction was based on the numbers of people who use iPods, iPhones or Macs.
Being in Silicon Valley, it is understandable that San Francisco-San Jose would be first on the list. The anomalies are Denver and Chicago. But those are large urban areas. According to this map, the rural areas are less likely to have pre-ordered the iPad or picked one up on the first day. So if you are the only guy at the farmers market carrying Apple's magical device, now you know why.
Advertisement