At an event in New York City today News Corp. and Apple announced The Daily iPad app, a new way to read your news. The Daily iPad app is available now and will come with a free 2 week subscription complements of Verizon Wireless. After the free trial The Daily will cost 99 cents a week or $39.99 for a year.
Apple didn't share much about the subscription plans other than to say that subscriptions would be coming to other iPad apps "soon" according to Eddy Cue, vice president of Internet Services at Apple.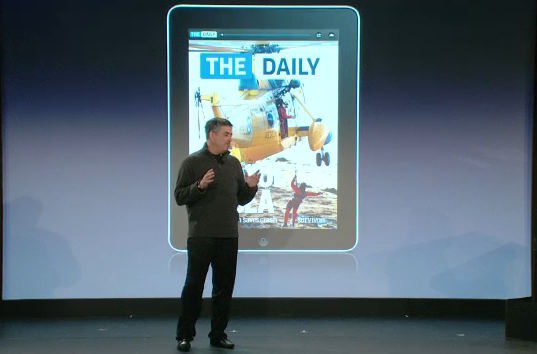 The Daily iPad app will deliver news every morning directly to your iPad, with the ability to push breaking news as it happens. The app has been designed to allow the editorial team to use the best media available to tell the story including text, pictures, video, interactive graphs and animation. The app will be very interactive with touch "hotspots" that allow users to see more information on a page.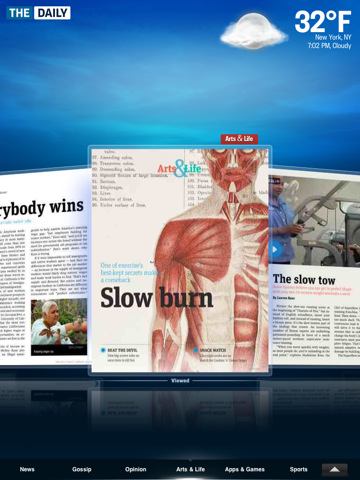 To navigate through the app users will be able to use a carousel that looks like Coverflow and delivers the ability to swipe through stories much like you would move back and forth in a magazine or newspaper. You can set the navigation to autoplay and it will move past one page at a time while you look for something interesting to read or choose shuffle to see stories you haven't read. There will also be professional voiceovers to read headlines as if you were listening to the radio and the ability to see video in this mode.
The Daily app will also allow users to share pages by email, Twitter and Facebook from within the app. When you share an article your friends will be able to read the article online without the need to subscribe.
Speaking of Twitter, The Daily app will be able to pull in Tweets about specific news articles if a user wants to see what people are saying. Additionally the app is able to link out to the web to product pages, resources and more which addresses a big complaint many users have with traditional web reporting on mainstream media sites.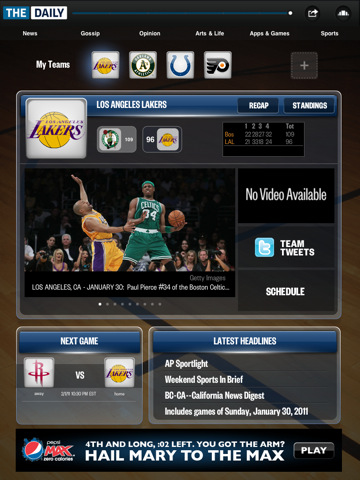 At the announcement the team suggested that Sports will be a big part of The Daily app with the ability to see your team's schedule, scores, pictures and more.
There is a possibility of region specific editions down the line and subscribers can see back issue content by going online. News Corp. hopes to have an internal archive available in the app as it develops.
Advertisement