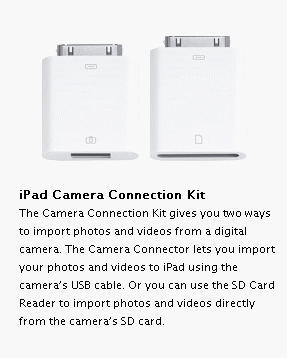 That's right, not only did Apple not include a webcam on the iPad but they left off an SD card reader or USB port which would have made the device great for sharing the pictures you just took. But, don't worry, if you want to hook your camera or SD card up to the Apple iPad you can plunk down some more money to get the Apple iPad Camera Connection Kit.
This accessory will let you use the iPad's dock connector to read an SD card or connect your camera directly with a USB cable. No pricing has been announced for the accessory at this time.
I know Apple is stingy with ports and adding an SD card reader would have made it easy for users to purchase the base model and upgrade storage cheaply, but having an SD card reader that is built in — and therefore always with you — would have been a nice touch. Not a dealbreaker for me, but annoying.
Via CrunchGear
Advertisement