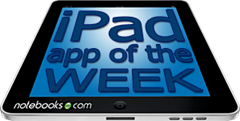 mSpot Movies is a beta iPad app that lets you watch streaming movies over the Internet on your iPad. You pay either a monthly fee or per rental. Prices for rentals are usually about $2.99 to $3.99. The monthly fee is $9.99 for up to 4 movies a month, $12.99 for up to 6 movies and $15.99 for up to eight movies. They do have free samples.
The software and service are in beta at this time. It does have a lot of recent films available, but in a couple of spot searches it couldn't find a few older movies I looked for.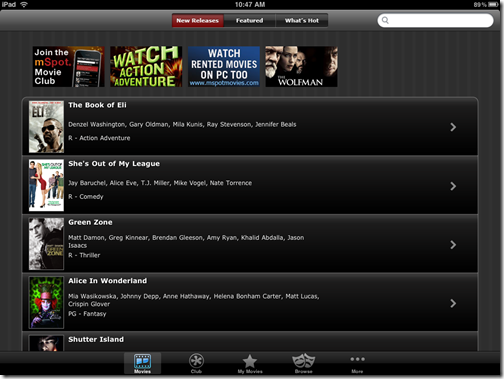 When you open mSpot, you see a list of the new movies available. Notice the tabs at the top for New Releases, Featured, and What's Hot. These are pretty self-explanatory. Across the bottom you have the Movies screen button. This is where you see these three categories of New, Featured and Hot movies. The Club button takes you to the mSpot Movie Club, which is the monthly fee version of the service. The Club movies seem to be older, less popular films. So I would never join the club unless you wanted to watch a lot of movies. The My Movies screen has all the films you have rented. You get 24 hours to watch a movie once it is rented. The Browse button takes you to a list of categories of movies, like Comedy, Action, etc. This is where you discover movies that might not be new, featured or popular.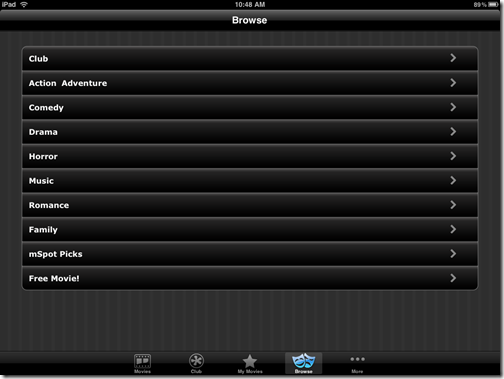 Under More you see your account, the Help screen and info about the App.
mSpot Movies is more than an iPad App. It is also available on your mobile phone and on your computer. When you watch a movie on one device, stop it, and then start it on another, it picks up where you left off. That is helpful if you plan to watch one movie but have to stop on your iPad and later pick it up on your computer.
The quality of the video is not quite HD. It is good, but remember you are streaming video over the Internet, so it will depend on your connection speed. The app measures your network performance and sets the video quality accordingly. Over Wi-Fi at my home it was good. It did seem a little jerky at times. It does seem to work over 3G at least on the iPhone version of the App. mSpot will warn you that you are using data so you should have an unlimited data package or use Wi-Fi to view movies.
To watch on your computer you will need Flash, either IE, Firefox or Safari, and JavaScript.
mSpot is free to download for both the iPad and the iPhone, but as I said above there is either a monthly or per movie fee. It is available in the app store now.
Pros:
Lets you watch streaming movies over Wi-Fi and 3G
Has many recent movies
Video quality is good, if you have  decent connection
Prices for single rentals are not bad
You can use it on multiple devices
Cons:
Club movies are older less interesting movies
Some movies I searched for were not available
You only get 24 hours to watch your rented film
Requires you to save your credit card with the company
Hard to figure out how to enter your card number on the web site
Advertisement