The ZueGoo Case Genius is an iPad case made of leather with some unique features. The case has velcro strategically placed along the case so that user can put the iPad at any angle from about 10 degrees up to about 80 degrees. The fold out stand can be attached to the two strips of velcro along the back to achieve these multiple angles. The attachment is very strong so it won't fall over very easily, and is much stronger than many of the other stand cases which are not as sturdy.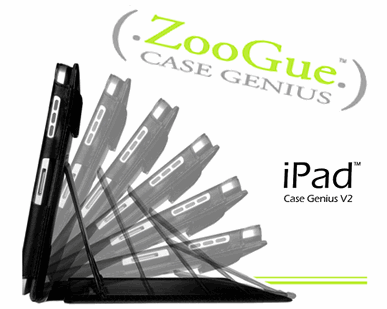 Another unique feature of the ZooGue Genius Case is the two leather straps that have some elastic connecting them to the case. Pull apart the two straps and place them around a head rest in a vehicle or around the handles of a kitchen cabinet and they will hold the case and iPad up in the car or in the kitchen so users don't have to hold it. This frees the user up to wash dishes or cook a meal. In the car the user could work on a laptop while watching video. In conjunction with games that utilize the iPod Touch or iPhone as Controls, this would turn the iPad into a nice gaming console on the road. See the video at the end for a demonstration of this feature.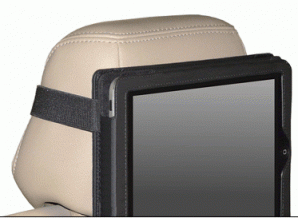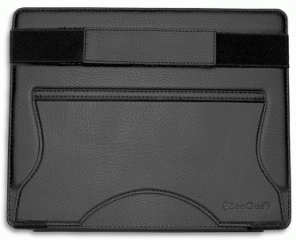 Like all cases, this one allows for access to all ports and connectors. It is thin for a  leather iPad case, especially in comparison to the Incase Book Jacket case we previously reviewed.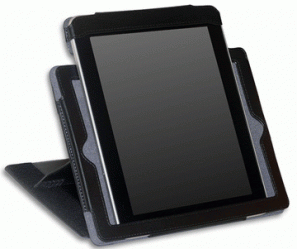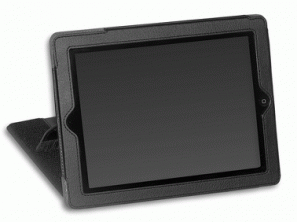 We can fully recommend this case. It is sturdy and attractive, even with the velcro on the outside of the case. It comes in three colors, black (as seen above) grey, and pink (as seen below).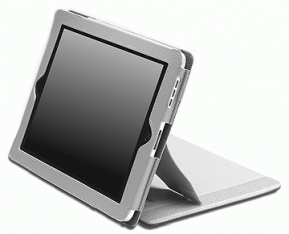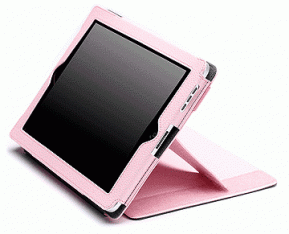 It is $54.98 with shipping from ZooGue.com. For free customers can request an attachment that will hold the iPad in portrait mode while in the stand. This is a big plus as most case stands only hold the iPad in landscape mode. Unfortunately, when the company sent us the case they did not include this attachment, so we cannot tell you how well it works.
If we could make one improvement, we would have placed a tiny piece of velcro to hold the case cover folded back when attached to a head rest or somewhere else. This is very minor and is offered as a suggestion rather than a complaint.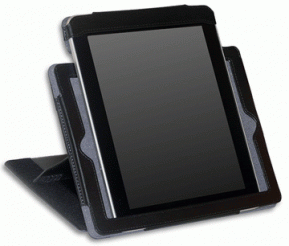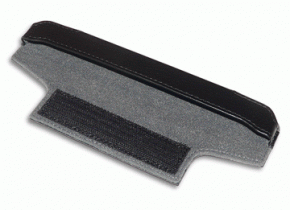 We recommend the ZooGue Genius Case to anyone who likes folio style cases with some caveats. First, the user has to understand that there is some velcro on the outside of the case. But if someone wants a stand case or needs to attach the iPad to a vehicle head rest or some other place to hold while using, this is a great solution in spite of the price. All iPad cases seem to be a little over priced and this one isn't any higher than the others.
Video Review of the ZooGue Genius iPad Case:
Pros:
Thinner than most folio cases
Velcro hold stand firmly in place
Straps to attach to head rest in a vehicle or other places
Optional vertical mode holder is free
Attractive leather finish
Sturdy
Protective without covering ports/connections
Cons:
Velcro on the outside might be distasteful to picker people
We wish there was a tiny piece of velcro that could hold the cover in place while folded back when attaching to a head rest
Advertisement