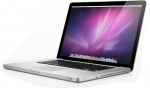 There have been rumors that Apple will update its MacBook and MacBook Pro lineup as early as this Tuesday. The MacBook Pro is sorely in need of a refresh as many specifications and features on these pricey machines are becoming downright obsolete.
Apple builds excellent notebooks and there are a lot of things to like about MacBook Pros, but its offerings have grown stale.
Apple's standard MacBook Pro configurations range from $1,199 to $2,499. The base ($1,199) 13″ MacBook Pro comes with 2GB of RAM, 160GB Hard Drive, NVIDIA 9400M graphics and 2.26GHz Intel Core 2 Duo Processor. That's a whole lot of money for yesteryear's specs.
Of course, MacBooks are the only way to go for those who prefer OSX over Windows 7. While many shoppers are willing to pay a premium for OSX and the bundled iLife applications, they deserve a MacBook that isn't bested by netbooks in any form.
Here's a a few updates you can expect in the next generation of MacBook Pros:
Bigger Hard Drives for MacBook Pros
Apple markets MacBooks and MacBook Pros as mulitmedia machines. Users with even modest movie, photo and music libraries will feel cramped with a 160GB drive. Last year, most netbooks came with 160GB drives, today they usually come with 250GB drives. This means that MacBook Pro owners can haul around less media than those who spent less than a third of the $1,199 price on a netbook. The base MacBook ($999) even comes with a 250GB drive.
At a bare minimum, look for Apple to offer at least a 250GB drive in its new 13″ MacBook Pro. But in order to differentiate it from the MacBook line, Apple should offer a 320GB or larger hard drive.
New Intel Processors
Intel Core 2 Duo processors are more than snappy enough for everyday computing tasks, but there's a whole new generation of Intel processors that Mac users are missing out on. Intel's Core processors can be found in just about every PC manufacturer's notebook lineup. On the high end are Intel's quad-core i7 mobile processors, which are significantly faster than what's available in today's MacBook Pros.
The 17″ MacBook Pros are the most likely candidates for the Core i7 processors, while the 15″ MacBook Pros will probably get Core i5 processors.
Improved Switchable Graphics
The higher-end MacBook Pros come with both power savings graphics (NVIDIA GeForce 9400M) and a more robust GPU (NVIDIA GeForce 9600M GT). In order to switch into power-savings mode or high-performance mode users must make a selection in system preferences, close out of all of open applications, log out and log back in. The process is far from seamless which means you can find yourself playing a choppy video game because you forgot to switch into performance mode. On the other hand it's easy to find yourself with a drained battery because you forgot to switch into power saving mode before leaving the office or heading to class.
There are better solutions out there, including a solution from ATI that will automatically switch between power-saving graphics and a GPU when a notebook is plugged in or unplugged. The best switchable graphics solution we've seen is called NVIDIA Optimus. This solution automatically detects when graphics-intensive applications are launched and enables the GPU on the fly, without having to close applications or log out. It's a truly seamless experience and something we hope Apple adopts.
More RAM for MacBook Pros
The base MacBook Pro comes with just 2GB of RAM and some MacBook Pros can be configured with up to 8GB of RAM, at an eye-popping $600 premium. The next revision of the MacBook Pro may come with a base of 4GB of memory and be available to order with up to 16GB. We hate to see what that much RAM will cost directly from Apple, but at least it'll be an option (hopefully).
What Won't Be Coming to the New MacBook Pros:
Blu-ray Drives
It wasn't that long ago that Blu-ray drives were a $700 premium on PC notebooks. They're now often bundled in with sub-$800 notebooks and offered as accessories on netbooks. However, there's still no software support for Hollywood Blu-ray content on Macs and we don't expect that to change anytime soon. Apple is focused on selling digital content through iTunes that can be played on a variety of Apple devices including MacBooks, iPhones, iPods and iPads. Blu-ray content has copyright protection, which means it can't be legally transcoded into mobile formats.
HDMI
All MacBooks and MacBook Pros come with a single Mini DisplayPort, which requires adapters if you want to hook up a display or TV that requires VGA, HDMI or DVI inputs. Most entertainment notebooks come with HDMI outputs to make it easy to send both video and audio to monitors and HDTVs. While many MacBook owners yearn for HDMI, Apple's created a mini DisplayPort ecosystem.
Solid State Drives
Apple's taken many bold steps when it comes to notebook design, but it's still too early to ditch the trusty and relatively cheap hard drive in favor of speedier solid state drives. There's simply too big of gap between the two technologies when it comes to cost per GB. A 128GB SSD is currently available as a $350 option on the 15″ MacBook Pro and a roomier 256GB SSD can be had for $800.  While some pros might be able to justify the cost, it's  just too pricey for Apple to make SSDs standard equipment on the next generation of MacBook Pros.
Advertisement