Microsoft just patched their Word 2003 and 2007 for Windows and Office 2008 for Mac and Office 2012 for Mac to fix what they called "extremely important issues".
These security patches will bring your version of Office for Mac 2008 to 12.3.3 or Office for Mac 2011 to 14.2.2.
Microsoft explained that the security flaw might allow people to execute code remotely to affect your Mac. If you care to see all the details you can learn about them on a Microsoft Technet security bulletin (link to bulletin for Word 2003 and 2007; see this bulletin for Excel 2003 and 2007) quoted below:
The vulnerability could allow remote code execution if a user opens a specially crafted RTF file. An attacker who successfully exploited the vulnerability could gain the same user rights as the current user. Users whose accounts are configured to have fewer user rights on the system could be less impacted than users who operate with administrative user rights.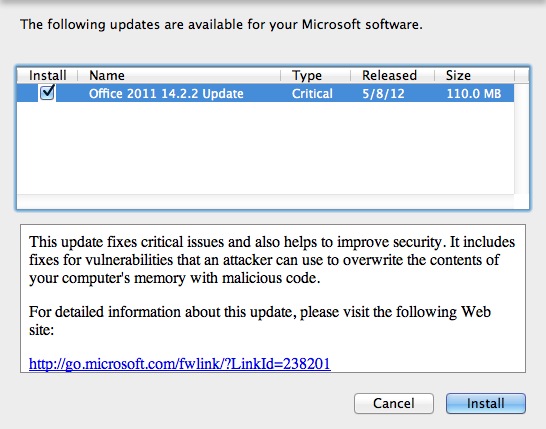 They call this update critical, meaning you need to apply it as soon as you can. You can download the files yourself from Microsoft or use the built-in update feature accessed from the Help menu in Office for Mac or Microsoft's update feature built into Windows Update on a Windows PC.
For those running a Windows PC, while you're in Windows Update, get the other security patches available. Microsoft addressed a total of 23 flaws in Windows various operating systems and software in this month's bundle of fixes.
While many of these security updates fix obscure vulnerabilities that you might never deal with in the wild, it's always a good idea to apply critical security patches like these on all of your software. It keeps your machine clean and avoids infecting other people's systems.
Also, spammers notoriously use vulnerable systems as spam bots, machines used to send out spam on the behalf of the spammer without the user ever knowing it's happening. The only symptom might be a slightly slowed Internet connection or system. Even then you won't notice the slowdown since they often tell the systems to send out the messages late in the evening when you're not sitting at the computer.
Advertisement