If you are looking for a way to protect your MacBook Pro keyboard or for a way to learn common application shortcuts, the KB Covers keyboard covers for Apple notebooks are a great solution that won't feel like you're trying to type with a sheet of rubber between your fingers and the keyboard.
KB Covers carries a number of keyboard covers designed to help you master applications like Photoshop, learn Mac OS X shortcuts as well as clear covers that keep your keys clean. These covers work with the MacBook, MacBook Pro, MacBook Air and there are also models available for the Apple keyboard. We had the opportunity to review the Photoshop, Mac OS X shortcuts and Clearskin KB Covers for this review.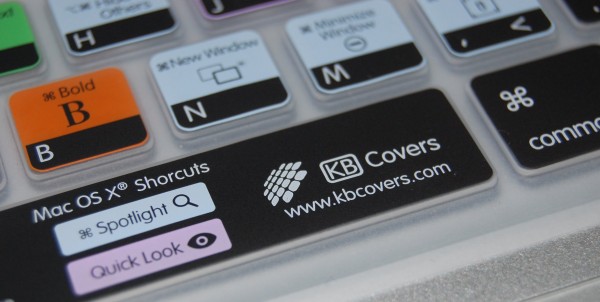 Who are KB Covers For?
KB Covers come in a variety of models to serve a wide range of users. We believe that Photoshop and other specialized application users will be some of the primary customers, but the inclusion of an OS X keyboard shortcut keyboard means that these covers are also a nice accessory for new Mac owners. The Clearskin covers are a good fit for users that want some keyboard protection without obscuring any keys.
Design and Usability
The KB Covers skins are soft and flexible, allowing for a nice typing experience while on your MacBook Pro keyboard. The edges of the keys are somewhat firm which takes some adjustments in typing styles if you don't often hit the center of the keys, but within a week we had adapted to the new feel.
One added bonus is that the KB Covers will dampen your keystrokes a little. You won't be silent, but you should be noticeably quieter in libraries and classrooms.
The colors of the shortcut keyboard covers are uniform and bright, and look like they will wear well over time. Hunt and peck typers may have difficulty when trying to type extended documents with the Photoshop and OS X shortcuts KB Covers due to the extra information on each key, but the best part is you can easily remove the cover if you aren't using it and reinstall it when you finish.
KB Covers Options
KB Covers makes keyboard covers for numerous Mac notebooks including the current and recent generation MacBook, MacBook Pro and MacBook Air. They also have iBook and other specific Mac models.
As far as uses go, KB Covers covers a wide range of programs and games including the following apps.
After Effects
Avid
djay
Final Cut
Lightroom
Logic Pro/Express
Photoshop
Pro Tools
Traktor Pro
World of Warcraft
KB Covers tells us that they don't just slap any old shortcut on these covers. They consult with well known power users to find out the best shortcuts to include for maximum timesaving and efficiency.
KB Covers also handles a number of special uses such as changing the language on your MacBook Air keyboard to your native one. There are also covers to add large type lettering, Dvorak layout and even a blackout cover to force touchtyping.
Recommendation
Keyboard covers aren't for everyone, mainly because even the thinnest skin will be noticeable to people who know their keyboard better than the back of their hand, but the KB Covers skins and covers are some of the nicest we have used. The OS X shortcuts keyboard cover has already taught us a few new tricks and is well worth it for new Mac owners. The various other specialty covers are also a good way to learn shortcuts and become more efficient. The Photoshop KB Cover is also proving indispensable as we test out Photoshop CS 5.5 this week.
Perhaps the best part about these covers is that you can use them while you need the shortcuts, protection or noise dampening; and remove them easily if you need to type for extended periods at home.
Pros:
Fit great
Numerous types ad styles
Very thin
Keep food and small amounts of liquid out of computer
Dampens sound of typing
Cons:
Edges of keys are stiffer with cover on
KB Covers Keyboard Skin Gallery
Advertisement