On Thursday I bought a new MacBook Pro from the Palo Alto Apple store. I didn't really 'need' a new computer, but Apple offered enough significant enhancements to the 15″ MacBook Pro line to prompt me to buy one.
My new MacBook Pro is the top of the line 15″ model available at Apple stores. It cost $2,349 and came with a 2.66GHz  Intel Core i7 processor, 4GB of memeory, 500GB hard drive and NVIDIA GeForce GT 330M graphics with 512MB of memory.
I already have a well-stocked arsenal of PCs and Macs at my disposal, including my three primary machines- an HP Envy 13, HP Envy 15 and MacBook Pro (late 2008).
The HP Envy 13 is a fantastic mobile machine with a gorgeous display. It's very thin and can run all day on a single charge, but it isn't powerful enough to edit videos and handle heavy lifting.
The HP Envy 15 is very powerful, but its not a very good notebook to take on the road if I'm going to be away from a power outlet. With ATI graphics and Intel Core i7-720QM processor, the Envy 15 has plenty of horsepower for complex tasks, video editing and gaming.
So Why did I Buy a New MacBook Pro?
New MacBook Pro Performance:
My new MacBook Pro looks virtually identical to my late 2008 15″ MacBook Pro, but it's a whole different animal.The new Core i7 Processor is much, much faster than the Core 2 Duo in my old MacBook Pro. The Intel Core i7  is a very welcome addition to the MacBook Pro line, even though it took much longer for Apple to roll it out compared to PC notebook manufacturers, many of which introduced Core i7 notebooks back in October 2009.
My old MacBook Pro's performance was generally good, but the notebook was significantly slower than my HP Envy 15. I found that the MacBook Pro was slowing me down when I was editing photo and video projects.
The new MacBook Pro is significantly faster than the old MacBook Pro when running Adobe Creative Suite applications, iMovie and Aperture 3. I haven't run any formal benchmarks yet, but the difference is very noticeable.
New MacBook Pro Display
The primary reason I upgraded to the new MacBook Pro is because it's the first time that Apple's offered an anti-glare display with a high resolution on the 15″ model.
I recommend notebook shoppers opt for anti-glare/matte displays when given a choice. Unfortunately, when my old MacBook Pro (early 2008) bit the dust, Apple didn't offer an anti-glare display on its first crop of uni-body MacBook Pros.
My old MacBook Pro, Envy 13 and Envy 15 all have glossy displays, making them difficult to use in many situations. When using any of them I have to position the displays away from any bright light source, including windows and low-hanging light fixtures.
Most 15″ MacBook Pros, including my old one, come with a glossy display with a resolution of 1440 x 900 pixels. The relatively low pixel count doesn't offer a lot of room for multi-tasking or toolbars. Things felt crowded on my old MacBook Pro compared to my HP Envy 15  (1920 x 1080 pixels) and my Envy 13 (1600 x 900 pixels). A glossy display and lower pixel count are two serious compromises when editing images and video on the go.
As you can guess, I opted for the high-resolution (1680 x 1050 pixels) anti-glare display. I now have 36% more pixels to work with, which makes all the difference in the world when I need to view two Web pages or documents side by side, edit photos in Photoshop or run Aperture 3.
The new MacBook Pro anti-glare display isn't specifically designed to be used outdoors, but I was able to show a bride and groom their photos as I sorted them on a patio in sunny Carmel California.
Improved MacBook Pro Switchable Graphics
The new MacBook Pro features automatic graphics switching, which is far better than the antiquated switchable graphics feature found in previous MacBook Pros.
Old MacBook Pros came with two NVIDIA GPUs, including the efficient NVIDIA GeForce 9400M and  more powerful GeForce 9600M GT. Users would have to manually have to select which GPU to use in the energy saving control panel, quit all open applications,  log out and log back in to complete the switch. I often found my battery drained or my MacBook Pro running slower than expected when I forgot to switch to the appropriate setting. It was a serious pain to switch graphics modes.
The new MacBook Pro relies on power-saving integrated Intel HD graphics to reduce power consumption. The MacBook Pro automatically detects when the powerful NVIDIA GeForce GT 330M GPU is needed and turns it on. When a user quits out of a graphics application or video game the MacBook Pro is intelligent enough to switch back to the Intel graphics. This all happens in the background, which means you don't have to fuss with settings or stop what you're doing to get the performance or battery life you expect.  It is all very similar to NVIDIA's Optimus, a switchable graphics platform found in many new Windows notebooks.
New MacBook Pro Battery Life
My old MacBook Pro's batteries had seen better days, but I'd never been satisfied with the machine's battery performance. Coupled with the old switchable graphics implementation, I couldn't rely on the old MacBook Pro as a truly mobile device.I bought two additional batteries to carry with me when I wanted to use my MacBook Pro, but couldn't risk going without a charge.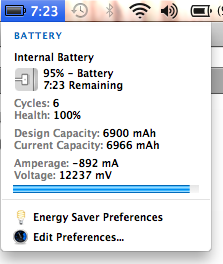 The new 15″ MacBook Pro is rated to last for between eight and nine hours on a single charge. I'm pretty accustomed to real-world battery life being far below manufacturer's claims. But I figured it'd be worth picking up a new MacBook Pro even if it lasted only half as long as what Apple claimed since my old MaBook Pro would barely last for two hours on a good day.
So far, I'm very satisified with the new MacBook Pro's battery life. When running Safari with the display dimmed to minimum, OSX's battery meter reports that the battery will last approximately more than seven hours and 45 minutes. It's unlikely that I'd ever only use Safari for this long coninuously, but it is pretty darn close to Apple's claim of eight hours. Increasing the display brightness to the mid-point in the brightness meter, listening to musics in iTunes, and running Safari and Chrome simultaneously reduces expected battery life to five and a half hours.
Yesterday I completed a full day of work while running around Silicon Valley without having to charge my MacBook Pro. This is the first time I've ever been able to do this with any Apple notebook. It's not enough juice to leave the power cord at home if I plan on sitting still and working all day, but it's a heck of a lot better than my old MacBook Pro.
The one downside of the new MacBook Pro battery is that it cannot be replaced by users (unless you want to get crafty). This may be a challenge on long trips or while working at trade shows.
This new MacBook Pro is the best Mac I've ever owned, but it's not perfect. I'll get into more detail as I continue this review series.
Advertisement