Stick Golf HD is this week's iPad App of the Week because it is a very simple, yet fun to play, golf game.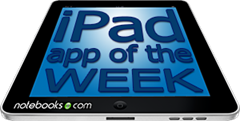 Sometimes you don't want an intense or complicated game while you are taking a break from thinking or working hard. That is where casual games fit in. But even those can be frustrating. If you like golf sim games and just want something to distract you for ten to fifteen minutes, Stick Golf HD does that for you for just $2.99 in the App store. It also has an iPhone version which I imagine would be just as fun, even on the smaller screen.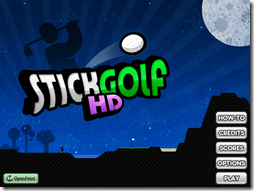 Stick Golf HD comes from Noodlecake games. The idea is you play golf on some colorful courses with very unique terrains, like ice, jagged mountains, and many more. It has multiple levels that are unlocked once you successfully play the initial course at or under par. For those who don't know, par is the number of strokes or shots that the course designer thinks you should reasonably finish that course. Stick Golf HD has 9 holes in each course, which seems to be just about right for a single session. A full 18 mode might be nice for those who want it, but I find that after 9 holes I'm reading to get back to work.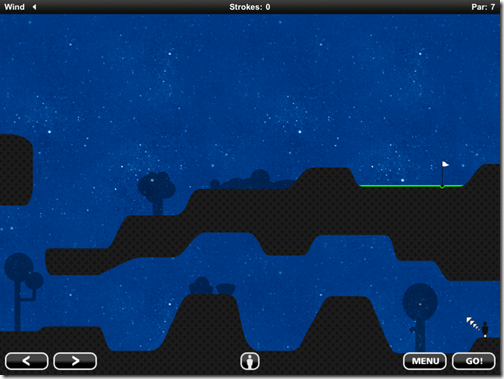 When you go into a course, your tiny stick figure guy has an arrow aiming the direction that your shot will go. You use the arrows in the lower left corner to aim. Then tap the Go button in the lower right to actually strike the ball. Hit Go the first time and it starts the power meter which will move back and forth repeatedly until you hit the Go button again to select your shot's power. All the way to the right is full power and all the way to left will barely move the ball.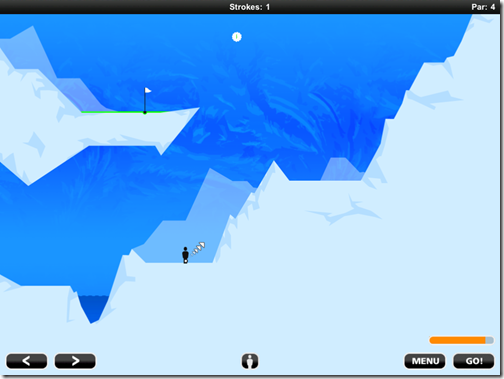 Your ball then travels in the direction you aimed and at the distance that results from the power you select. The obstacles keep you from getting the ball in the hole on the first shot unless you are really good or very lucky.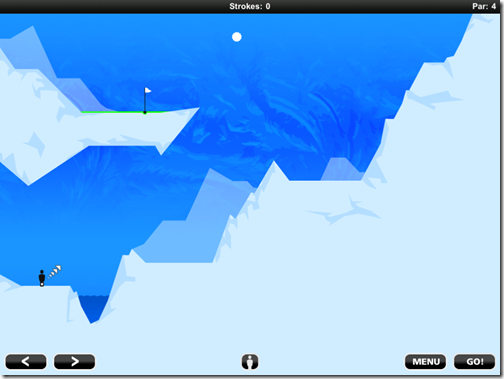 There is not too much more than that. You have nine holes and if you finish the course at or under par then you unlock the next course. Finish that one under part and the next is unlocked.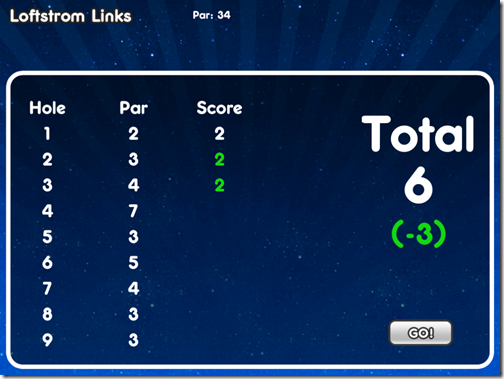 The only options you have is whether to have sound on or off during the game or whether to play Easy or Hard, meaning whether to play with or without wind.
Stick Golf will use the OpenFeint system for keeping and sharing scores.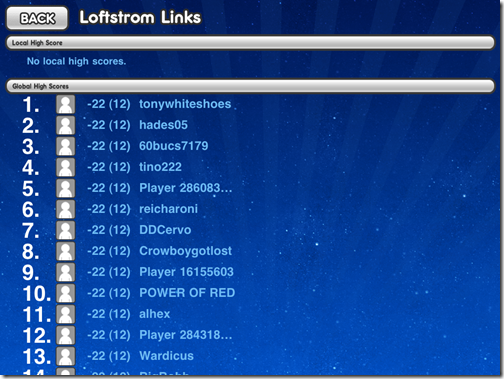 The web site promises some updates including possible practice mode and multiplayer mode, which will be really fun if you have a friend with an iPad.
Pros:
Unique courses
Many courses to choose from once unlocked
Simple to use
Inexpensive
Fun to play
Cons:
Putting is way too easy
Wind on the hard level sometimes actually makes it easier
Advertisement