The Toshiba NB505-N508 netbook is a new Intel Atom powered netbook with incredibly long battery life and a lovely green textured lid that won't collect finger prints. Overall the $299 netbook is worth a look, but you may be hampered by the cramped keyboard.
Toshiba NB505 Quick Specs:
The [amazon_link id="B004G8QZQ0″ target="_blank" container="" container_class="" ]Toshiba NB505[/amazon_link] netbook we tested is powered by the Intel Atom N455 1.66Ghz processor, 1GB RAM and a 250GB 5400RPM hard drive. The netbook has WiFi, Ethernet and a webcam and microphone built into the bezel. The 10.1″ LED backlit display has a 1024×600 resolution that is par for the course with $300 netbooks.
Who is the Toshiba NB505 For?
The Toshiba NB505 is designed for students and home users looking for  portable computer or a second device. The long battery life makes it ideal for students to take to class or to take on a trip without worrying about running out of juice. The keyboard leaves something to be desired, so we'd suggest that anyone who wants to make this their primary computer invest in an external keyboard for use at home.
Toshiba NB505 Hands On Video:
Toshiba NB505 Build and Design:
The build of the Toshiba NB505 is decent, with a sturdy hinge and a nice overall feel, but the body could be a little firmer. With a bit of pressure on the edges, the middle of the NB505 flexed. This wasn't an issue when it came to typing, but it did make us want to treat the NB505 with extra care.
The lid of the NB505 has a soft plastic feel and has dimples like you would find on a golfball. This delivers an eye catching look that is accentuated by the bright green color on our model.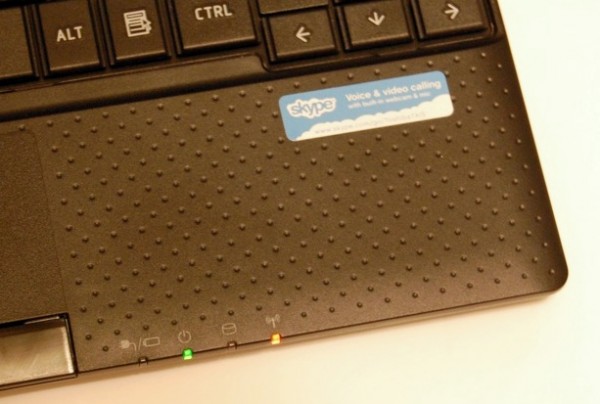 The dotted design carries over to the palmrest area with a soft plastic feel that is nice for resting your hands on without getting sticky like some hard plastic finishes. Overall, the look and feel of the NB505 is nice, we only wish the nicer feel carried over to the keyboard which unfortunately feels a bit cheap.
Toshiba NB505 Features:
The NB505 is a fairly average netbook, but the look and all day battery life help set it apart in a crowded netbook arena. At 2.9 pounds it's extremely portable and powerful enough to tackle your office and web surfing needs.
The inclusion of a memory card reader, webcam and VGA out are also pretty standard on netbooks these days, but round out the overall experience and allow you to make use of the NB505 on a desk with a collection of accessories.
Toshiba NB505 Display: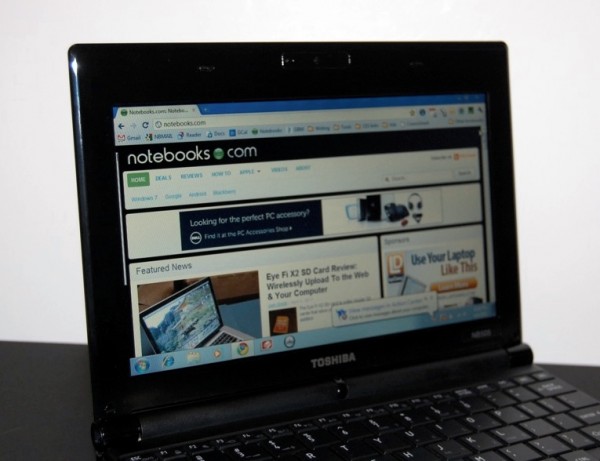 The Toshiba NB505 has a 10.1″ display with a 1024 x 600 resolution. It is LED backlit and has a glossy finish which limits the usefulness in harsh lighting, but it is not as glossy as some netbooks we have used. The resolution is a bit low for our tastes, but again is on par with $300 netbooks.
The viewing angles are pretty good, with a wide angle for side to side viewing that will allow you to share the small screen with another person. The colors quickly fade as you look at a vertical angle, but this isn't an issue in most use cases. While the display doesn't tilt all the way back, it is able to open up far enough that the viewing angle isn't an issue.
Toshiba NB505 Keyboard and Touchpad: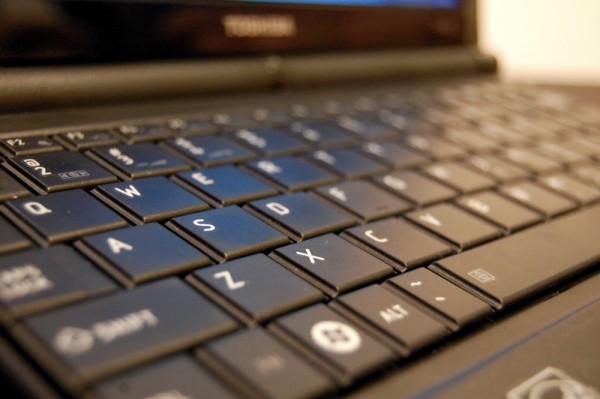 The NB505 keyboard is a rather large disappointment thanks to the rather small keys and cramped placement. While many netbooks have switched over to the island or chiclet style, the NB505 continues to use the standard notebook keyboard which means that there are several sacrifices that come with this old style of keyboard including key placement, spacing and size.
The biggest issue is the small key size, which is compounded by poor spacing and a very plastic feel. The key placement is OK, but it becomes rather tedious to type for long periods on the NB505. The keyboard will suffice for mobile work, but you'll definitely want an external keyboard while you are at home.
The mousepad on the NB505 is decent for a netbook with a rather wide mousing area and two hard, dedicated, mouse buttons that offer a nice tactile feel. The mousepad supports multitouch gestures and is one of the best we have used on a netbook. The two finger scrolling was incredibly responsive and unlike many Windows two finger scrolling experiences, rather smooth.
Toshiba NB505 Processor and Performance:
The Intel Atom N455 processor is powerful enough to handle web or office tasks and even handles local HD content and Netflix streaming. While other methods of HD video worked out well, the NB505 couldn't handle Youtube HD videos.
If you plan to use the NB505 primarily for work, with a little bit of play mixed in, the NB505 has enough power, but don't expect to edit video or photos on the NB505 or other heavy processor needs.
Toshiba NB505 Audio and Speakers
The audio is about what you would expect on a netbook with speakers built in below the palmrest, which is to say sufficient, but not mind blowing. While listening to music we found that the music was usually a bit muffled thanks to the speaker location and lacking any bass. It will suffice on the go, but even in your hotel room you'll probably want headphones for watching a movie on Netflix.
Toshiba NB505 Heat and Noise
The Toshiba NB505 doesn't get noticeably warm during normal usage and the noise is also not noticeable during standard web surfing. While watching Youtube videos, the base did get a little warm, but not warm enough to bother most users, unless you plan to watch 8 hours of Youtube videos everyday.
Toshiba NB505 Battery Life
The Toshiba NB505 comes with a 6-cell battery rated for over 8 hours of battery life. While the NB505 didn't achieve 8 hours, it did reach 7 hours and 25 minutes which is an impressive feat. To test the NB505's battery life, we ran a web browsing test that visited a collection of popular websites over and over with the screen set at 30% brightness, which is a bit darker than we would want, but still very usable when battery life was an issue.
Toshiba NB505 Connectivity:

Right: USB 2.0, USB 2.0

Left: Kensington, Power, Ethernet, Vent, VGA, USB 2.0, Mic, Heaphone
Front: SD card Slot

Rear: Battery
Toshiba NB505 Webcam: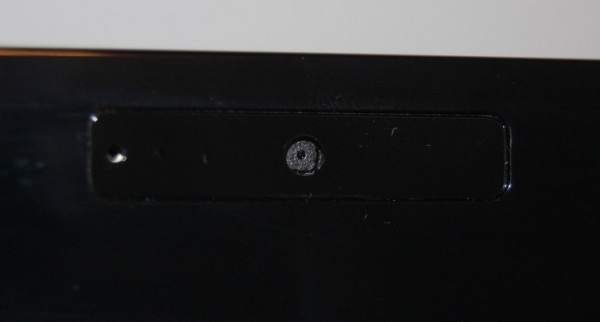 The built in webcam ont eh ToshibaNB505 won't win any awards, and isn't spectacular in low light, but it will work for short chats with friends or family. Below, you can see a sample image taken in a well lit room with the NB505 webcam.
Toshiba NB505 Software:
The Toshiba NB505 comes with a collection of Toshiba software that we like, such as the eco utility that helps you monitor energy use and get a longer battery life, and a collection of software that we don't like.
Norton Internet Security constantly pestered us to update this or click that and agree to renew something or other which was absurd for a netbook which was just turned on. At the least there could have been a trial that lasted long enough for user to see if they wanted the tool. Next up was the Toshiba Bulletin Board software which alerts the user to various updates and system needs. Normally this software tool is OK, but we found it popping up much too often on our test machine.
The final straw, was the collection of various toolbars installed on Internet Explorer right out the box. The usable screen space was chopped dramatically by these extra toolbars which most users won't know how to quickly remove. Thankfully, Google Chrome comes installed straight from Toshiba, but we wonder how many users will click on it first.
Toshiba NB505 Value:
At $300 the Toshiba NB505 isn't the best value. While the notebook looks nice and has pretty much everything you would expect in a $300 netbook, the keyboard is disappointing. If you can look past the keyboard, and appreciate the long battery life and nice mousepad, this netbook might work for you, but there are other options you should consider.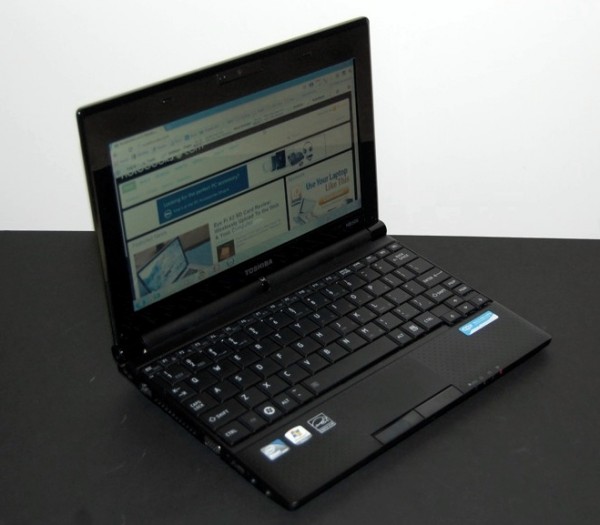 Toshiba NB505 Conclusion:
The [amazon_link id="B004G8QZQ0″ target="_blank" container="" container_class="" ]Toshiba NB505[/amazon_link] is a netbook that does everything that you'd expect to do with a $300 netbook and the design, mousepad and battery life do deliver, but the poor keyboard is hard to overlook when the competition has done much better in this area.
Couple this with the fact that you can find a more powerful and arguably useful AMD Fusion powered notebook like the HP Pavilion dm1z for just $100 more and it's tough out there for a netbook.
Bottom Line: The Toshiba NB505 has long battery life and a great mouse. If you can look past the keyboard and standard netbook limitations this dimpled darling might be a good fit for netbook buyers on a budget.
Pros:
Wide Viewing Angles
Great Mousepad
Look and Feel
Great Battery Life
Cons:
Small Cramped Keyboard
Crapware
Toshiba NB505 Gallery:
Toshiba NB505 N508 Detailed Specs:
Intel Atom processor N455 1.66 GHz, 512KB L2 Cache
Configured with 1GB DDR2 (works at 667MHz, max 2GB)
250GB (5400 RPM) Serial ATA hard disk drive
10.1″ diagonal widescreen TruBrite display at 1024 x 600 native resolution (WSVGA) with a 16:9 aspect ratio and LED backlight
Genuine Windows 7 Starter 32-bit with a 6 cell/48Wh Lithium Ion battery pack
Battery Life (measured by MobileMark 2007): 8 hours, 21 minutes
3 USB 2.0 ports and VGA connection
Size (LWH): 7.48 inches, 10.3 inches, 1.4 inches
Weight: 2.9 pounds
Advertisement