Facebook, Facebook, Facebook! Things are really heating up for the social network especially on the news that it acquired Friendfeed which could provide it a leg up on its competitor Twitter. Why am I starting out a phone review with a news update for Facebook? Well because the Sony Ericsson W518a, which runs on AT&T's network, is all but called a Facebook phone.
On top of its standard duties as a cell phone the W518a offers access to Facebook that most phones can't touch, especially $50 clamshell phones. Users of the W518a can enable a Facebook App which sits on the phones home screen and shows a constantly refreshing stream of Facebook status updates.
The app cycles through updates on its own in standby mode or you can control the flow by pressing Facebook button and using the d-pad or flicking your wrist thanks to the phone's accelerometer. If you want to move one status update over you can flick your wrist and if you want to scroll through several you can just hold the phone at a tilt. One reason I'm so fond of the tilt to scroll feature is that the d-pad on the w815a is very flat and takes a while to get used to. For the first few days I found myself opening the dialer or hitting end rather than switching between status updates. While this got better with time if you have trouble distinguishing the edges of other keys you may want to get a hands on with the phone first or rely on the wrist flick method of navigating.
Since the phone is so heavily focused on Facebook, I feel obligated to comment on the Facebook App. While it does a great job of keeping you up to date with what your friends are doing; when it comes to commenting on their status it isn't very intuitive. While you'd expect that when you're viewing a status update that you could click on it and reply that's not the case. Clicking the center button takes you to an optimized version of your News Feed, from which you can again find the status then click on it to be taken to the user's page where you can comment or write on their wall. This works, but I had expected a more polished way to reply to others. Thankfully the ability to update your status is straightforward and very easy to do. Perhaps we'll see this same ease come to the commenting portion of the app in the near future as Facebook tries to compete with the conversations taking place on Twitter.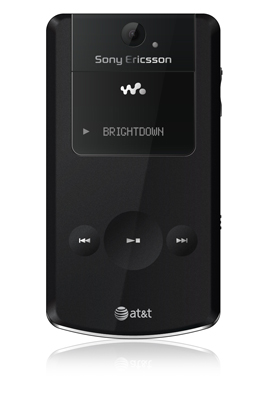 Camera: The image quality is OK in well lit situations but like most camera phones has a tough time in very low light environments. The phone does feature a Photo Fix" option which greatly improves most shots, even those taken in low light, though you'll want your regular camera for anything bigger than a 4×6 taken indoors.
The picture quality is perfect for Facebook though, which is really what this phone's about. After you take a picture with the built in 3.2 MP camera you choose send just like you would on any other phone, but now you'll see an option for Facebook right above the MMS and website options.
Phone body: The W518a is a sleek clamshell style phone with an attractive grey exterior and a smooth dark metal finish on the keys. The rest of the keypad is easy to use, as all keys except the d-pad have a raised area to let you know where they are.
Music: The phone also features external music controls for songs that can be downloaded from Napster and through the Shop Music" link on the phone. I was very impressed by the sound quality and the volume of music that came out of this small phone. The music, which comes out of a small slit on the back of the phone, easily filled a large room even over casual conversation without distorting. The only downside I found here was that the phone does not have a headphone jack, leaving you to rely on Bluetooth headphones, which connect over A2DP, to give you a private listening experience.
Pros:
Facebook friendly.
Loud ringer and music capabilities.
Small size.
$50 cost.
Cons:
No headphone jack.
No raised edges on D-pad.
Replying to facebook comments is harder than it should be.
Conclusion: By combining an instant on Facebook presence with a solid media player and a $50 price tag this is a perfect fit for Facebook Junkies on a budget. Right now you stand the chance to score a free phone as well as many other prizes by using the AT&T Share App on Facebook. If you complete missions like; uploading a summer concert photo, writing a blog post or telling AT&T what your ideal phone would be you stand the chance to win, a Sony Ericsson phone, AT&T gift cards and other prizes.
Advertisement