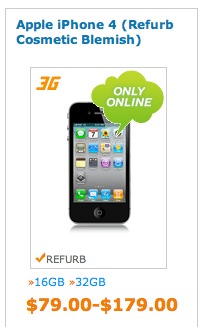 AT&T is offering a refurbished iPhone 4, with cosmetic blemishes, for just $79 as part of a limited promotion. To get this iPhone 4 deal you have to purchase the phone through the AT&T and sign a 2 year contract.
The deal can be found by visiting AT&T's iPhone 4 page and scrolling down to the bottom where you'll find the deal.
These refurbished iPhone 4s are described as having a "cosmetic blemish" meaning there are likely scratches on the case but the device is otherwise in fully working order. The deal is for a 16GB iPhone 4 that has been returned under AT&T's 30-day refund policy and refurbished to as close to new as they can get them. There are also 32GB models for $179.
This deal comes with a 2-year commitment and is only available for customers eligible to upgrade, having fulfilled their previous contract, or to new customers willing to sign a new 2-year contract.
By comparison a new 16GB iPhone 4 can be purchased for $199 and a 32GB model for $299, although there were some iPhone 4 deals during the holidays, those have expired. There are less worn iPhone 4 refurbished models available from AT&T for $99 (16GB) and $199 (32GB).
Advertisement