Not too long ago, Clearwire announced their 3G/4G USB Mobile Modem, and their plans to put WiMax 4G connections in all Intel Core notebooks sold at Best Buy. Sprint is hot on their trail and has just announced its own WiMAX 3G/4G USB WWAN modem.
Allowing users to get online at the fastest speeds mobile devices are offered, the new 3G/4G dual-mode WWAN stick, manufactured by Sierra Wireless, is currently only available through Business Direct and Business Solutions Partners. Full availability is expected to come mid-July.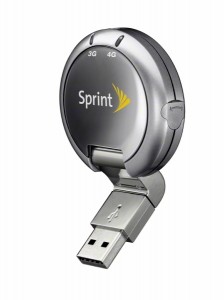 What makes this new modem more special than other WiMAX enabled modem in Sprint's line-up? This USB modem, like the similar one sold by CLEAR, is compatible with Mac OS X (in addition to Windows-based), the operating system found on all Apple computers. The In addition to the Mac compatibility, the Sprint 3G/4G dual-mode WWAN modem has dual antennas, giving you more reception wherever you go. The advantage of a 3G/4G modem over just a 4G modem is that you can use 3G reception wherever Sprint's 4G signals are not available.
The new USB modem is free after $50 mail-in rebate with the purchase of a two-year contract. $59.99 a month will get you unlimited 4G data and 5GB of 3G data.
Via Engadget and MobileCrunch
Advertisement