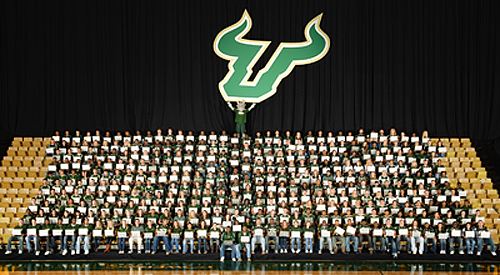 In a move that's likely as much about recruiting new students and student athletes as it is about keeping athletes in touch with their classes; the University of South Florida announced that it will be providing each of its student athletes with a 13″ Macbook Pro. The program will loan athletes a Macbook Pro for the semester so that they can keep on top of their studies while traveling to competitions. As part of the "game-changing" initiative the University of South Florida will also be putting lectures up on iTunes U to help the students stay on top of the classes they miss.
This is a really cool program and reminds me of similar promotions ran at many colleges back in 2000-2001, when notebooks where still high priced computers reserved for a few students; except they weren't Macbooks. I remember almost choosing one university based on the fact that I would have a new school issued laptop every 2 years. My how the times have changed.
The Macbooks will remain property of USF to maintain compliance with NCAA rules governing college athletics which means that students will need to turn them in at the end of each semester. A school official told CNN that if a student prefers to use a Windows or Ubuntu powered notebook, that would be fine and no student would be forced to use an Apple notebook.
According to the press release issued by USF the "six figure" program was funded by the NCAA Academic Enhancement Fund, funds raised at booster auction and a grant from the Verizon Foundation.
Advertisement