Apple recently added a new Compare Macs feature on the Apple Store. This new feature allows customers to see a side by side comparison of up to three Mac models.
Yesterday, the Apple Store featured the infamous yellow sticky note saying, "We'll be back soon." Normally, this means a new or refreshed product. However, once the store was available again, there didn't seem to be any changes. Then, people started noticing the new feature at the top of a Mac product page in the Apple Store. When you click it, it pulls up Apple's in-depth comparison of multiple Macs.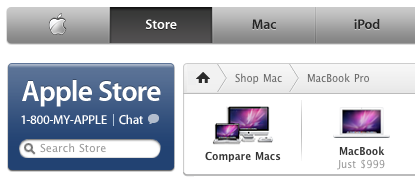 Included in the comparison chart is included software, included accessories, technical specifications, and a configuration summary at the bottom. Unlike most comparison features on other websites, Compare Macs allows you to customize each of the compared Macs, updating the price and configuration summary on the fly. You can even save the comparisons for later reference.
One interesting feature is the detailed explanation of each Mac's effect on the environment. With more and more people "going green", this is an important feature that many companies neglect to consider.
So if you are having trouble deciding which Mac has the best features or value, check out the Compare Macs feature today.
Advertisement