There has been quite a bit of back and forth the last few weeks about the possible shift from Intel to ARM processor in Apple notebooks like the MacBook and MacBook Air. We were skeptical on the initial report and a well sources analyst has also weighed in with a collection of reasons Apple stay Intel for the foreseeable future, but now you can hear it straight from the Chipmaker's mouth. Intel VP Tom Kilroy let slip to Reuters that Apple is a big deal for Intel, Telling the publication that, "Apple helps shape our roadmap" and adding, "they push us hard."
The really interesting thing here is that Apple makes up less than 10% of Intel's net revenue, according to the Intel 2010 Annual Report. Intel's biggest customers are HP and Dell with 21% and 17% of Intel's net revenue respectively. If Apple can, push Intel "hard" and "shape their roadmap" what kind of power does Dell or HP have? And if they aren't shaping the Intel Roadmap, what does that mean for Windows notebooks? It's clear that the Windows notebooks are almost always playing catchup, is it due to taking leftovers from Intel?
Is Intel planning to supply a much larger number of processors to Apple in 2011? That's still up in the air. As of right now, Apple isn't even mentioned in the 2010 Intel annual report.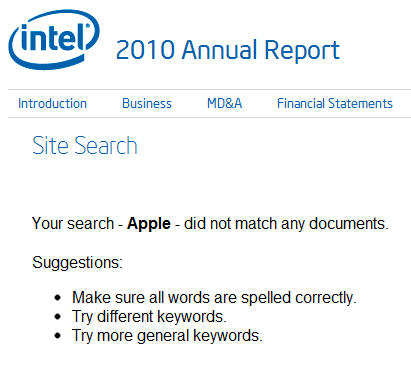 Kilroy goes on to cite many of the same reasons that David Kanter gave in his take of the situation. The biggest issue isn't an allegiance to Intel, but the current power and performance of ARM based processors. While these processors can deliver enough juice to keep your iPad from slowing down, the chips just don't have the power to meet the needs of a MacBook or MacBook Pro user right now.
That doesn't mean Apple will always stick with Intel. If ARM, or even AMD, comes to the front of the line in a few years then Apple would be remiss not to look at a processor change. For this to happen, the competition will need to heat things up, especially with Intel focusing on delivering chips to work in tablets and lower power processors that would be a perfect fit for the MacBook Air.
Advertisement