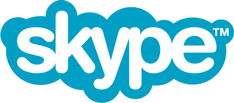 Macworld 2009 is upon us and this years keynote is in a matter of hours, but some companies have decided to share their latest and greatest at the Showstoppers pre-event.
One of my favorite chat and VoIP services Skype announced their new release for the Mac. The Skype 2.8 beta should be available by the time this article is posted here and features a couple significant upgrades.
One of the most interesting and useful features is Skype screensharing. Mac users can now share documents, web pages, and anything else on their screen with other Skype users. Although this is already possible using iChat on OSX Leopard this should yield some interesting results for those who primarily use Skype and for Windows users when Skype adds this feature for them possibly later this year. Currently users can share from a Mac to a PC, but not vice versa.
Other new features include:
Improved chat management: you can sort chats in the drawer and set priorities to chats
Quick Add: it's now much easier to add people to chats
Mood message chat: see mood message updates from your friends as chat messages
Large profile pictures: just like Skype 4.0 Beta 2 for Windows, you can now use images of up to 256 x 256 pixels
Hidden avatars in incoming contact requests: a small minority of Skype users have profile pictures which others may find unpleasant, and so they're now hidden by default in contact requests
Add notes to contacts: you can add notes to a contact in their profile window handy for keeping track of who's who.
Additionally, Skype has announced a partnership with Boingo Wireless to make it quick and easy for frequent travelers to access wi-fi hotspots around the globe and make Skype calls with one password at the rate of $0.19 per minute. I will have a more extended review of Boingo in the future, but for now watch the videos below with a demonstration by Skype.
Download Skype 2.8 Beta for Mac
Skype Beta Demo
Advertisement