Today Windows officially pulled back the veil of "secrecy" on Windows 8 at Build, their conference for Windows developers. I put that in quotes because we've seen quite a lot about it already. If you want to get an early look, then check out their new Windows Developer site after 8PM tonight (Pacific Time).
If you have a Windows Live ID you can get your hands on Windows 8. To be notified by either Twitter or Facebook, go to the above link to the Dev site and click the links to their Twitter or Facebook page and either follow or like Microsoft.
You will see some interesting things in this new build of Windows with Microsoft putting all their eggs in the tablet basket and the new "Metro UI", which changes the look and feel more drastically than any version of Windows probably since the change from Windows 3.1 to 95 more than 15 years ago.
Most associate the Metro UI with the Windows Phone OS and the Zune interface before it. Tiles instead of icons dominate the look. The philosophy of the interface departs from a bunch of icons on a screen representing applications or a menu found from a single Start button. Instead the various tiles will be used to show off information and launch apps.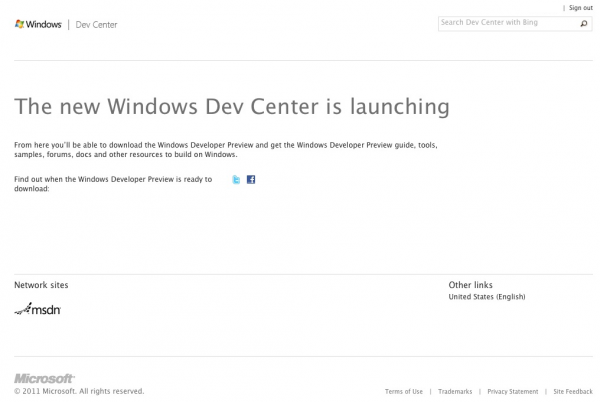 The old Windows 95-Windows 7 style interface will be available much like Apple did when they pushed Launchpad and Natural scrolling in OS X Lion. Apple hid Touchpad but made natural scrolling prominent. We expect Microsoft to make the Metro UI the default with the old interface available for those who wish to return to it.
Here are some of the most important changes that will be part of the new OS.
Touch-centric interface
Will run on ARM processor devices (tablets) but not in first dev release
Reset and Refresh PC will let you go back to factory spec much like restore
multi-touch in most of the OS including IE
Magnifier for the desktop to help people see interface better
Skydrive storage integrated
Mail, Photos, Calendar, and People will get Metro UI
Windows Store for buying apps
NFC enables tap to share function
Antivirus will be built into the OS
Same versions that run on a desktop will run on tablets
The list comes in part from Engadget.
For more in-depth Windows 8 coverage come back to Notebooks.com and also check out our sister site, GottaBeMobile.com where we will talk about the impact of the new OS on tablets and inking with Windows.
For now, get a look at the Windows 8 video below from Win Rumors.
Advertisement