Is OSX 10.9 Mavericks worth the hassle of upgrading? In a word, yes!
Apple changed their practice of charging for operating system updates when they released OSX 10.9 Mavericks in the Mac App Store for free. We downloaded it right away and started playing with it.
Updating takes a little effort even if a user doesn't erase her hard drive and start fresh, like some suggest. Despite the free price, some users may not want to bother with backing up and then waiting for a long download and install process. They might want to skip this version or wait till they get a new computer, but we think Mavericks is worth the hassle and recommend users get it today. Here's why.
Improved Battery Life
The new operating system improved battery life, even on older system, adding up to an hour or more of battery life. Apple's claim of 60 to 90 minutes of additional life specifically mentioned the new MacBook Air released earlier this year, but it will help users of older MacBooks get more battery life too.
The power savings in Mavericks takes place in the background. Users don't need to change settings, but power users may want to see what's happening behind the scenes. They can open Activity Monitor, in the Utilities folder in Applications on a Mac, and click on the Energy tab. This utility lists the running applications and one column shows App Nap, the new feature that tells whether an app is running or "napping," a term which describes how OSX puts apps into a hybrid state. The app's not fully shut down, but not fully running, which saves power.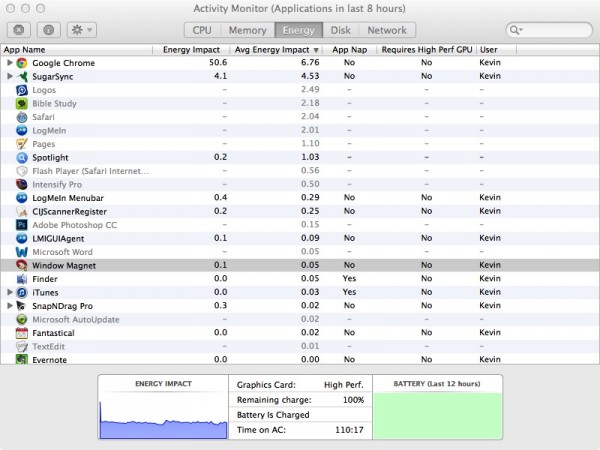 Users can also save more battery life by killing programs that hog a lot of energy. Click the column for Energy Impact to see current state and Avg Energy Impact for the average amount of energy that program used since the last time the person booted the machine. If a program takes up a lot of energy and you don't need it running, click on the small X in the toolbar on the left to kill it.
Multi-Display Support Upgrades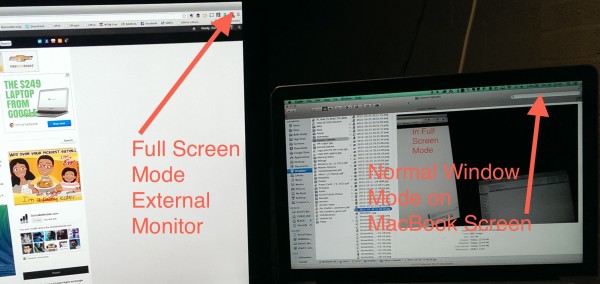 Notebook users can plug their MacBook into a projector or external monitor, like Apple's beautiful Thunderbolt Display, and they will enjoy better multi-display support in Mavericks. What do we get?
Put one display in full-screen mode with no menu bar or dock taking up space and the other can stay in a Window mode with a menu bar instead of going blank like it did in Mountain Lion.
A Menu bar with status icons shows up on each display instead of just one as it did in previous versions of OSX.
Each display holds its own Space and users can swipe with three fingers between the Spaces on one display without affecting the other monitor.
Apple TV works as an external display so users can connect to a television wirelessly and treat it like a second computer monitor. (see the menu image below)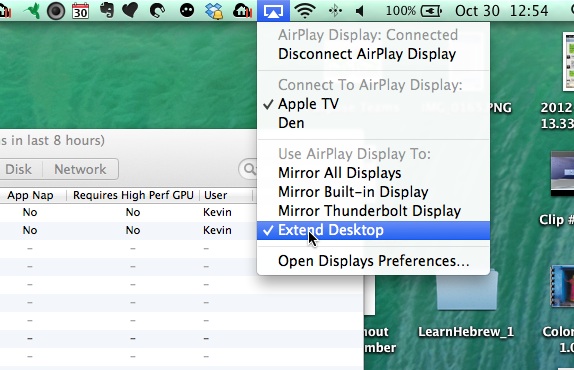 Tags and Tabs in Finder
One new feature in OSX Mavericks makes searching files easier in Finder. Each file can include Tags to help the user find the file. For example, a user can tag every document created for a single project with that project name, like "house plans" or "vacation."
Find a file stored on the drive before upgrading and right-click it. A pop up menu offers an option called Tags… that can add an identifying topic to the file's information. Click the menu item and a new pop up offers a list of previously used tags and some included in OSX. Add new ones by typing in the box or select one available by clicking the menu item.
Now when someone wants to find a file with that tag, they can search for it in the Finder search box, Spotlight Search or they can click on the tag in the left hand side of Finder towards the bottom. All files with that tag will show as if they were in a single folder in Finder.
Users can add tags to files within programs that support the feature, like iWork, iLife and other Apple apps.
iCloud Keychain Sync
Users of the old MobileMe service will remember that it used to sync more than just bookmarks and passwords. It also synced our user settings. We still don't get that useful feature, but we can synchronize credit card info, bookmarks, keyboard shortcuts and passwords on a Mac running Mavericks or iOS 7 devices. To learn how to set things up, head over to GottaBeMobile for all the steps. Also look at another post about the 20 Best OS X Mavericks Features, many of which we didn't cover here.  They'll make you want to hit update in the Mac App Store too.
Advertisement