Apple refreshed its entry-level MacBook with new graphics and improved battery life. These improvements mean there's less of a difference between the white MacBook and 13″ MacBook Pro. But that does't mean you should buy a MacBook just because its spec sheet looks more similar to the MacBook Pro's.
The white MacBook can now run for up to 10 hours on a single charge, a significant improvement over the previous MacBook model which was rated at seven hours.
The new MacBook starts at $999 and is available now at Apple.com. Education customers, including students, will be able to pick up the new MacBook for $950. This is the Apple notebook you're most likely to see promoted at retail partners, including Best Buy between graduation and back-to-school season. If you buy the MacBook at retail, be sure to ask for a student discount at your local Apple retail store or wait for a sale that drops the price below the $999 MSRP. Amazon.com is currently selling the new MacBook for $999, but the online retailer is known for offering discounts on Apple products over time.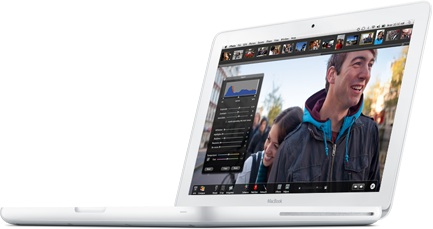 The new MacBook is identical in appearance and has very similar specifications compared to the previous MacBook. It comes standard with a 250GB hard drive, 2GB of memory and 2.4GHz Intel Core 2 Duo processor. The biggest change to the new MacBook is that it comes with NVIDIA GeForce 320M graphics, the same GPU found in the more expensive 13″ MacBook Pro. This graphics solution offers improved graphics and battery performance.
The new MacBook's trackpad features inertial scrolling, something that was recently introduced on the latest MacBook Pros. Intertial scrolling means that pages will continue to scroll after users swipe and slow to stop. The trackpad recognizes gestures from up to four fingers and has no visible buttons. The MacBook's trackpad is now in line with the MacBook Pro's trackpad.
A video of the new MacBook leaked a few days ago, before Apple updated its online store.
MacBook or MacBook Pro?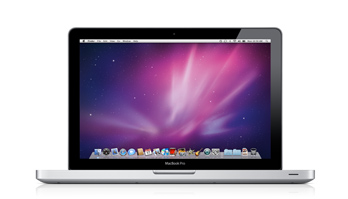 Both the MacBook and the $1,199 MacBook Pro come with a 13″ display, 250GB hard drive and NVIDIA GeForce 320M graphics. The MacBook Pro comes with 4GB of memory (RAM), giving it a leg up on the MacBook, which is only equipped with 2GB of RAM. The MacBook can be custom ordered with 4GB of memory for an extra $100, but we don't recommend that option since it bumps the price to within $100 of the MacBook Pro.
Both the new MacBook and MacBook Pro come with identical software, including the iLife applications.
The MacBook Pro has a few other features that may warrant the $200 price premium besides the aluminum enclosure and extra 2GB of memory.
The most notable difference between the new MacBook and the 13″ MacBook Pro is the external appearance. The MacBook is encased in white plastic while the MacBook Pro has a sturdier aluminum enclosure. Many people prefer the metallic look and are willing to pay the $200premium for that alone. The MacBook Pro is a little thinner and lighter than the new MacBook, but the difference is barely noticeable.

SD Card Reader: If you want to load photos onto the MacBook you'll need a USB cable to plug into your camera or USB card reader. The MacBook Pro comes with a built-in SD card reader that you can pop a card into. Card readers are generally standard equipment on even the cheapest notebooks and netbooks. It's a shame that Apple doesn't offer  a card reader on a $999 notebook.

FireWire 800: The MacBook Pro comes with a FireWire 800 port. This is important for users who already own FireWire drives or want to use a FireWire card reader to import large video and image files. FireWire 800 can also be used to import user data or recover from driver errors. Unfortunately, FireWire 800 is absent from the white MacBook.

Backlit Keyboard: The MacBook Pro has a backlit keyboard that automatically illuminates in a dim room. It gives the MacBook Pro a nice polished look and can be a real convenience, even for touch typists who know their way around a keyboard.

Battery Indicator: The MacBook Pro has a battery meter on its side so you can check and see how full your battery is without turning it on. It's not a killer feature, but it is nice to be able to check this at a glance. It can come in handy for example when running out the door to a meeting or class. If the indicator show's the battery is fully charged you can leave your MacBook Pro's charger behind.
Remote Control Receiver: The MacBook Pro has an IR port that works with Apple's optional remote control. This might not be something you need, but if you need to stand up in front of groups and present you might need to control your presentation with a remote. Of course, you can always buy a presentation remote from a third party such as Logitech, which provides a USB dongle that will work with the MacBook.
The $999 MacBook provides most of the features and functionality found in the MacBook Pro and saves you a couple of hundred bucks. If you're the type of person that plans on using a Mac mostly for web browsing and productivity the MacBook will suit you just fine. If you're a content creator that plans on editing a lot of photos and sharing videos you're going to want 4GB of RAM and would be better suited with the MacBook Pro since it'll be easier to get your content onto it.
Apple's notebooks are relatively expensive to many Windows notebooks. Some people refer to the price premium as the "Apple Tax." But buying any notebook solely by comparing hardware specifications is the wrong way to go. The most important thing to decide is whether or not you'd like a MacBook or a PC. If you want a Windows 7 notebook, there are dozens of models that are more affordable. But if you've decided to buy an Apple notebook there is only one that's priced at a hair under $1,000. This is it.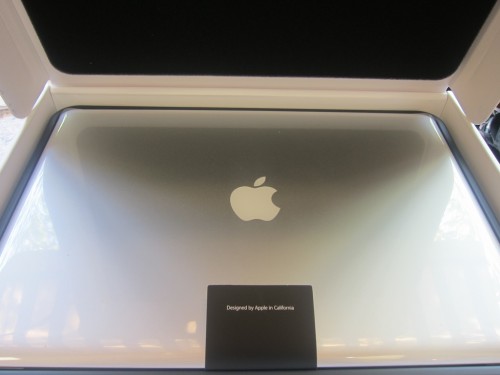 On the other end of the Apple notebook spectrum is the MacBook Pro that I recently purchased. It cost $2,349 and has a lot of nice features, including a more powerful processor, better graphics, more memory and a bigger display. While I can justify the cost since I use it for work, I could certainly perform a lot of the same tasks on the $999 MacBook. It would just take a heck of a lot longer.
If you're a student that has more time than money the white MacBook is probably the way to go.
Advertisement