In a bit of a departure, Apple announced that with the release of the new iPhone 4 they will also be producing a case for the device. This is not that revolutionary since they made one available for the iPad as well, but certainly a change from the old days.
The new case is called a "Bumper" as in "bumper cars." Apple describes the case as a way to "Dress up your iPhone 4 with a Bumper."
Here is a video of Steve Jobs introducing the Apple Bumper iPhone case at WWDC.
The Apple iPhone 4 Bumper case will be available in six different colors – white, black, blue, green, orange and pink. It will have metal buttons for volume and power. The case will be form fitting and made of a combination of rubber and molded plastic. Apple says the "Bumpers add a touch of style to any iPhone 4."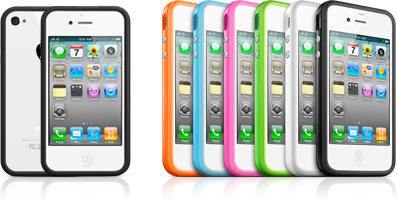 The case Apple made for the iPad is a very popular accessory although I was not a big fan of mine. I returned it after my review. It looks like this one is designed more for looks and protection than function. We'll give it a review when they are finally released, so check back then.
Those upgrading from the iPhone 3G and iPhone 3GS will find that their old cases do not fit the new, slim design of the iPhone 4.
Case manufacturers are already announcing cases that will fit the iPhone 4. They may not be available in time for the June 24 launch date of the new iPhone however. It is a possibility that the Bumper iPhone Case will be one of the few, or perhaps only, iPhone cases available at Apple stores in the near term.
Advertisement