Apple released the latest version of their computer operating system, Apple OS X 10.8 Mountain Lion with more iCloud integration, more iOS-style goodness and fewer security holes thanks to Gatekeeper. Mac owners can download the new update for only $19.95 in the Mac App Store and read more about the features at Apple.

Unless $20 feels like a million bucks to those struggling in the current economy, there's no reason to avoid the upgrade. Some might disagree thanks to the further iOS-ification of OS X.
Apple took this step with last year's update, OS X 10.7 Lion. We got gestures, Launchpad and more. The advance towards an iOS-style computer OS continued with Mountain Lion's release.
Check out the most important OS X 10.8 Mountain Lion features to see if you can find enough to entice you to fork over $20 for an operating system that, at first look, seems a lot like the old one. The changes are more subtle in this release, but these features, however, offer enough usefulness that I recommend getting the update, but not till you prep your computer first.
Mountain Lion Built on iCloud
iCloud is the biggest change in Mountain Lion. It's everywhere and Apple updated their iWorks and iLife apps to take advantage of iCloud. Open the Settings and find the iCloud applet to log into an iCloud account. Users get a free 5GB iCloud account and they can add more for $40 or $100 per year which adds 20GB or 50GB respectively.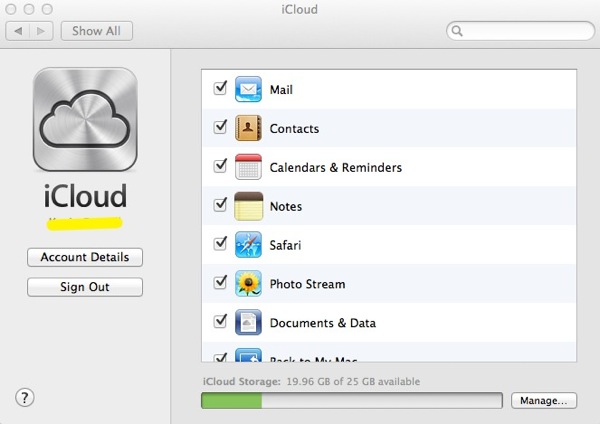 iCloud stores and syncs the following between a Mac and iOS devices:
Documents
iTunes media if the user subscribes to iTunes Match
Appointments
Reminders
Email
Contacts
Photos in the Photo Stream
Remote Access to a Mac via Back to My Mac
Finding a Mac on a Map
All of this syncs across all the user's machines and much of it syncs with an iOS device.
New Apps Borrowed from iOS
Mountain Lion adds a few apps to the toolbox including Notes, Reminders, Game Center and Messages. Notes looks just like the iOS version and thanks to iCloud it shares notes between the two platforms.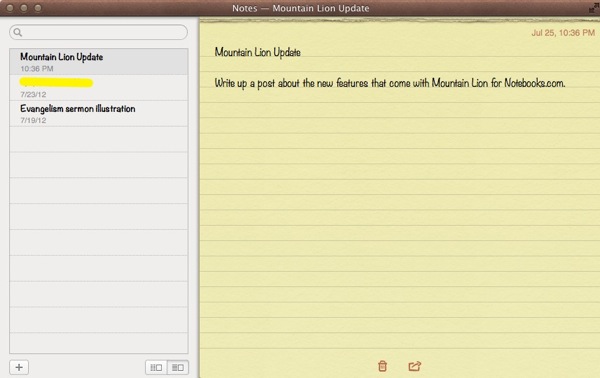 The Mountain Lion version offers a little more user control of the user interface, the look of text and it includes outlining. Otherwise it looks the same.
Apple also ships Mountain Lion with Reminders, the app used to list tasks that users need to do during their day. Game Center gives users the same ability to share progress or scores in games as well as interaction with other game players. OS X games that offer Game Center integration will show up when installed from the Mac App Store.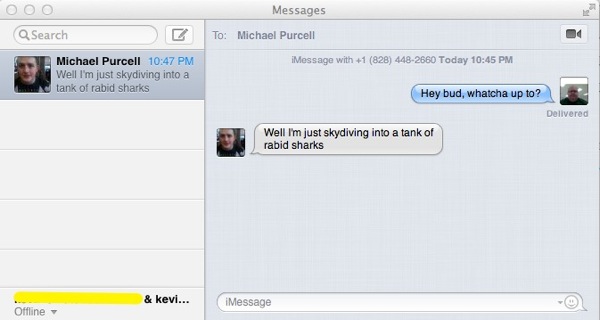 I'm excited to see the new Messages app. I often interact with others using text messages but as I'm at my computer I can "text" people from Messages. It also integrates FaceTime, as seen in the shot above. Hit that little camera icon to FaceTime with the person.
Lots of iOS Built-in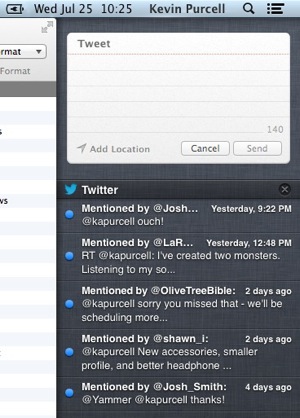 Things like Twitter mentions, appointment reminders, email notifications, and software updates from the Mac App Store show up in Mountain Lion's new Notification Center. Also users can Tweet from the Notification Center.
In the upper right corner of the Mountain Lion menu bar users will find an icon that looks like a bullet list. Click it or do a two-finger swipe from the right edge of a MacBook trackpad or Magic Trackpad and the new Notification Center appears.
Users will see things like Twitter mentions, Messages alerts, reminder and appointment notifications, and software updates. A "Click to Tweet" button gives users quick access to the built-in Tweet feature that pervades much of Mountain Lion.
Twitter Integration and Other Sharing
Twitter shows up in more places in Mountain Lion. In Safari, open the Share button that shows up next to the URL box and choose Twitter to share webpages. Share photos from iPhoto using the same Share button in the lower right.
Users can share things to more than just Twitter. Choose email or Messages as well.
Power Nap
For owners of more recent Macs (2011 MacBook Air and newer and the latest Retina MacBook Pro) Power Nap offers a hybrid kind of sleep state. It doesn't totally shut off so that it can sync with iCloud, receive software updates and backs itself up using Time Machine if enabled. The user must plug their Mac in for this to work during this quasi form of sleep.
Dictation
I love voice diction and used Dragon's Mac solution. Now users get access to this kind of dictation without additional software. Open System Preferences and click Dictation and Speech to engage it. Assign the feature to a shortcut key, like a double-press of the Fn button on the Mac keyboard. From then on the user can hit the button and start talking to their system. It will convert speech to text in any program that accepts text.
AirPlay Mirroring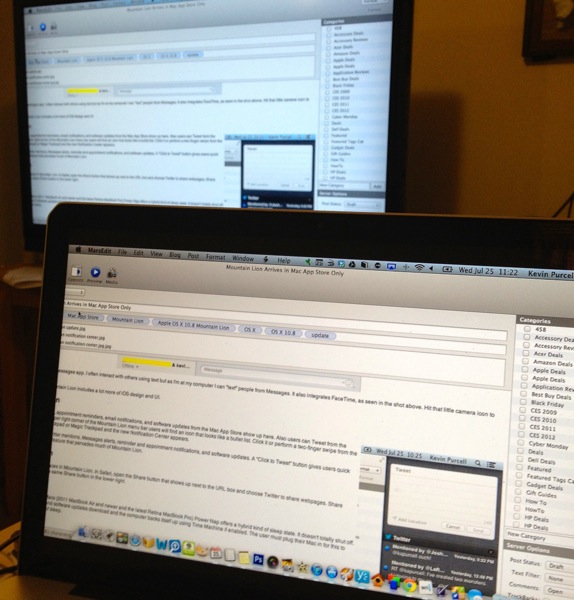 I use AirPlay from my iPad to the Apple TV all the time to do presentations at work. Now users can go from their Mac to the Apple TV as well thanks to AirPlay. By default the user will see an AirPlay icon on the menu bar. It lets him or her click to begin displaying the contents of the Mac screen on a TV or projector with an Apple TV 2nd or 3rd gen hooked to it.
Use AirPlay to do presentations, show friends a video you're editing or share a slide show of pictures taken at a recent event. Today I streamed The Simpsons using hulu Plus on my TV via my MacBook Pro. That's cool since the program gets blocked on my Roku box or Xbox versions of hulu Plus.
Gatekeeper Safeguards the Mac
Apple won't send Rick Moranis to reprise his role in Ghostbusters for you, but they will safeguard users' Macs with Gatekeeper. Developers can sign up with Apple so they can include a special ID in their apps. Mountain Lion looks for this certificate code and doesn't let the user install anything unless the software includes such codes.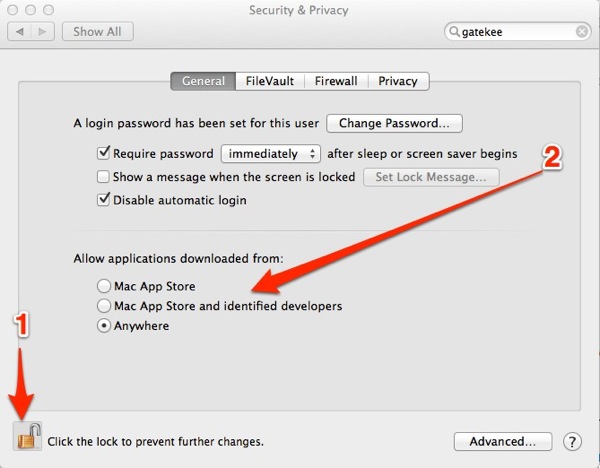 This seems scary for those who don't want central control over all software, like Apple exercises over iOS. Apple has a history of keeping some pretty useful tools out of their app stores. With Mountain Lion Apple doesn't lock down the Mac completely. If a user doesn't want this feature, her or she can turn if off.
From the Security applet in System Preferences, click the lock icon and enter the user password to enable the Gatekeeper settings. OS X offers three options.
Mac App Store software only
Mac App Store and identified developers software only allowing apps from those who signed up for the special security certificate from Apple but didn't submit to the Mac App Store for some reason
Anywhere, which opens things up to any software the user wishes to install regardless of the special ID
Above, notice that I turned this off so that I can install anything. This opens my system to possible infection by malware, but gives me more freedom. At this point, few developers include the ID certificate in non-App Store apps so I had to disengage Gatekeeper security to install some of my apps.
Mail VIP Box Sorts Important Mail
For those who get swamped by email. the new VIP feature sorts important email messages based on certain filters. It stores these missives in a box in the new Mail app in OS X. For example, I set it up so that anyone with a Notebooks.com email address will show up there. Also my family and friends will get more timely responses thanks to the VIP feature.
To see the other new features, check out Apple's complete list of the 200 new items packed into this inexpensive upgrade. Some of the minor new features include:
Auto-save – no more forgetting to save your presentation or losing that term paper when the system crashes
Accessibility improvements for people with special needs
Share sheets that let you send app content to more than just Twitter
Calendar and Contacts improvement
Preview goes cloud with document sharing letting users load PDF files or RTFs from more than one system
Safari gets one unified box for searching and typing URLs
Time Machine backup encryption for added security
Advertisement