After the iPhone 4's reception issues were revealed, Steve Jobs, CEO of Apple, responded with the statement, "Just don't hold it that way." If this solution just doesn't cut it for you, or you aren't willing to wait around for a fix from Apple, there are case options for anyone's budget that will solve the issue now.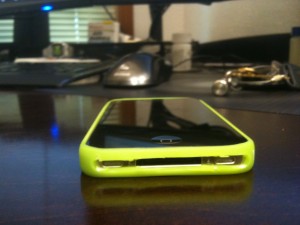 If you are really on a budget, forfeited all of your available cash to buy the iPhone 4 and have basically no money left for a case, don't fret. The iPhone Guru has created a how to on creating your own iPhone 4 case using a $0.99 rubber bracelet. If you're like me, you have acquired a variable assortment of these types of bracelets over the years in different colors. Choose your favorite color, cut out openings for all the ports and enjoy your very own iPhone 4 case.
iPhone 4 Reception issues? There's a wrap for that. Scotchprint Graphics has created a 3M vinyl skin that they claim completely eliminates reception issues as a result of holding the iPhone 4 the wrong way. The vinyl skin comes in clear, eight solid colors, or twelve patterns and has cut outs for all of the ports.

Though fixing one Apple product with another Apple product may seem odd, Apple claims that the iPhone 4 Bumper will fix the existing reception issues. Available in six different colors, the iPhone 4 Bumper was created to perfectly fit the iPhone 4, while leaving all the ports and buttons available.

ElementCase Vapor 4 – $79.95, $99.95 with Carbon Fiber back plate
With a name that sounds as awesome as case looks, the Viper 4 offers a premium case alternative that offers protection, as well as a fix to the reception issues. The case features a 30 gram aluminum frame that is fully lined with rubber for shock absorption. For $99.95, you can pick up the Vapor 4 with a Carbon Fiber back plate for extra protection. The case is available for pre-order in Black/Black and Black/Pink, with more color options coming at a later date. The case with the Carbon Fiber back plate does not appear to be available for pre-order quite yet.
Hopefully, an iPhone 4 firmware update will be released to fix the problem. If not, it appears that almost any case will allow you to hold the iPhone 4 anyway you want.
Advertisement