The Lenovo Yoga 910 two-in-one Windows laptop comes in an attractive aluminum design, with an interesting hinge that reminds me of the Microsoft Surface Book, but without the annoying gap. It also sports a larger 14-inch display and a speedy 7th generation Intel Core i7 processor. The Yoga 910 compares favorably to the new MacBook Pro thanks to the great design and build quality. In fact, I picked The Yoga 910 over the new MacBook Pro with Touchbar even though I planned to buy the new MacBook before Apple announced it earlier this year.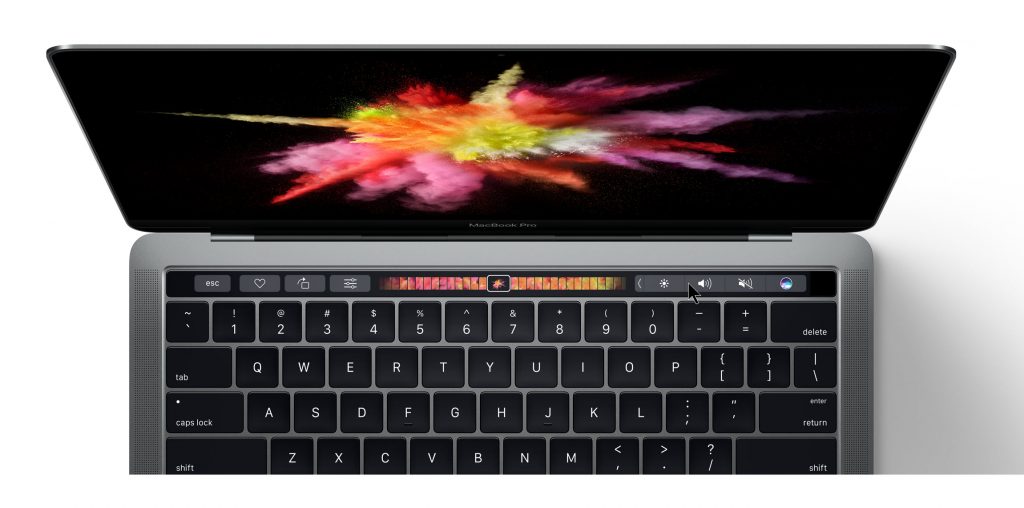 In 2011 I got my first MacBook and I've owned multiple Macs since. I wanted a new 15-inch MacBook Pro to replace my 2014 13-inch model and my 12-inch Surface Pro 4. So, after some research, I picked up the Lenovo Yoga 910. Don't expect a full review of the Windows laptop. Head over to GottaBeMobile.com for that where they concluded:
Lenovo introduced the first Yoga back in 2012. With this model, buyers are getting a solid screen, keyboard, design and a lot of power in a very thin and good-looking package. They've finally perfected the form factor.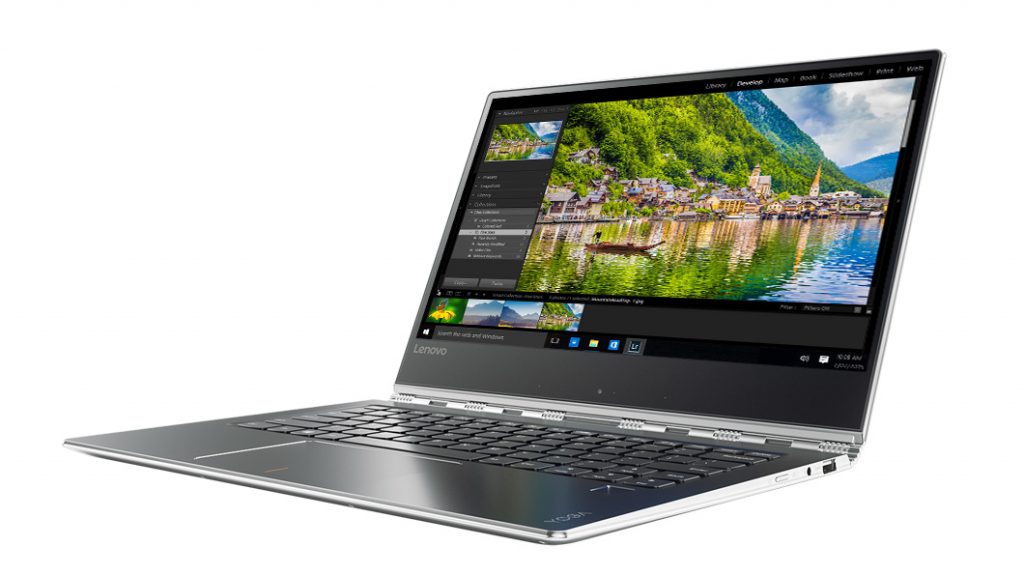 Instead, here's a list of the reason I chose a high-end Windows laptop, like the Lenovo Yoga 910 over the new MacBook Pro with Touchbar.
Lenovo Yoga 910 Design Beats the Boring MacBook Pro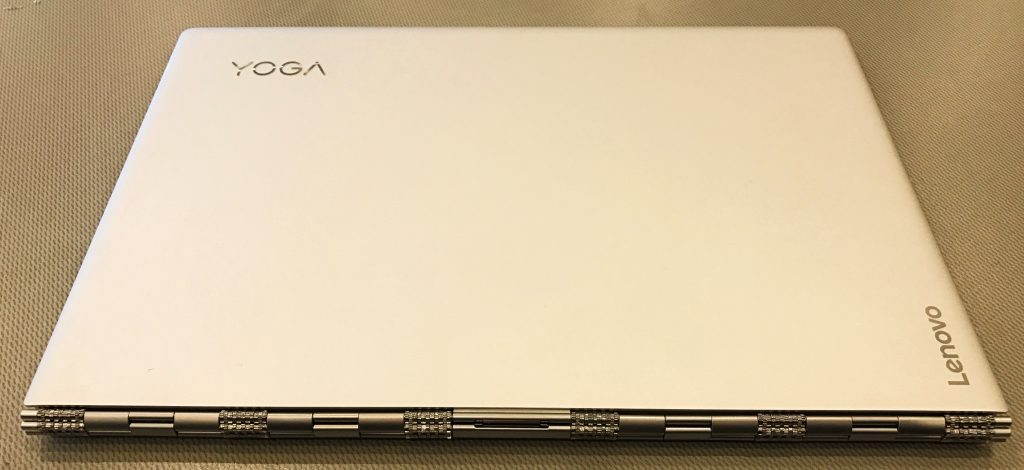 The Lenovo Yoga 910 looks beautiful with an attractive machined CNC aluminum design. It comes in multiple colors, but I bought the silver aluminum that looks like the MacBook design. Apple hasn't updated their design in a significant way in years. That's one reason I prefer the look of the Yoga 910. Every MacBook Pro looks about the same with only size and thickness differentiating the models. The MacBook Air is underpowered and the new MacBook (non-Air and non-Pro) that came out in March of last year.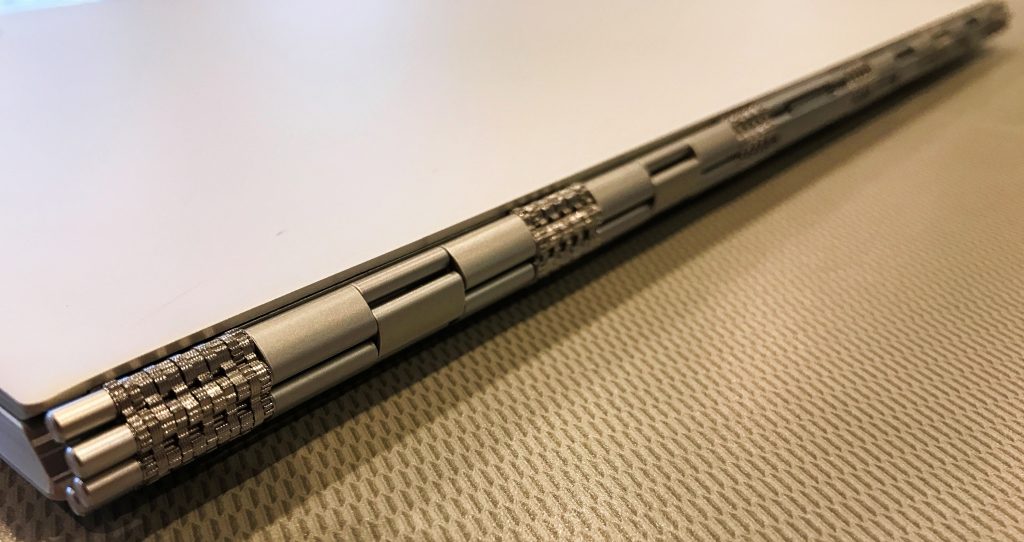 The Yoga 910 looks unique. It's thin and light with an elegant industrial design. It feels good to the touch and the eye-catching hinge sets it apart. People are wowed when they look at this machine.
Around the trackpad, there's shiny silver trim that matches the material in the hinge. You also see it around the fingerprint reader, another nice feature.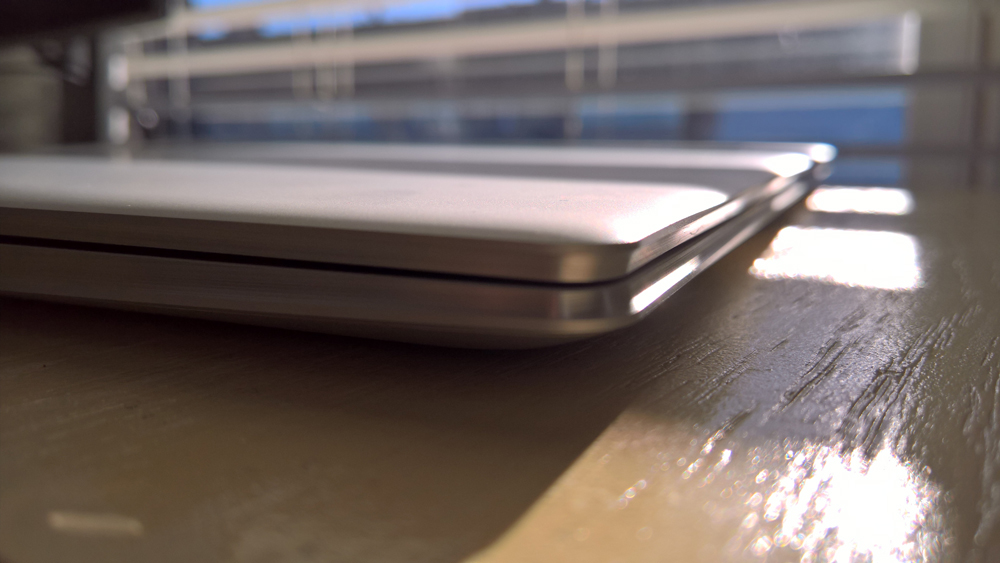 The edges have a hard angle that sits slightly recessed from the keyboard deck and the bottom of the computer. This protects the ports and buttons from snagging as you pull it out of a form-fitting sleeve case. It's more for look than function, however, and it looks good.
Lenovo Yoga 910 Touchscreen Display More Functional
The Lenovo Yoga 910 looks more attractive than the MacBook Pro with Touchbar, but the MacBook's screen looks better than the highly reflective Yoga touchscreen.  That's not to say that Lenovo's display looks bad. It's a beautiful IPS display. I originally bought the 1920×1080 version, but traded it for the higher resolution 3840×2160 for $370 more, since it also doubles the RAM to 16GB and 500GB SSD at Best Buy.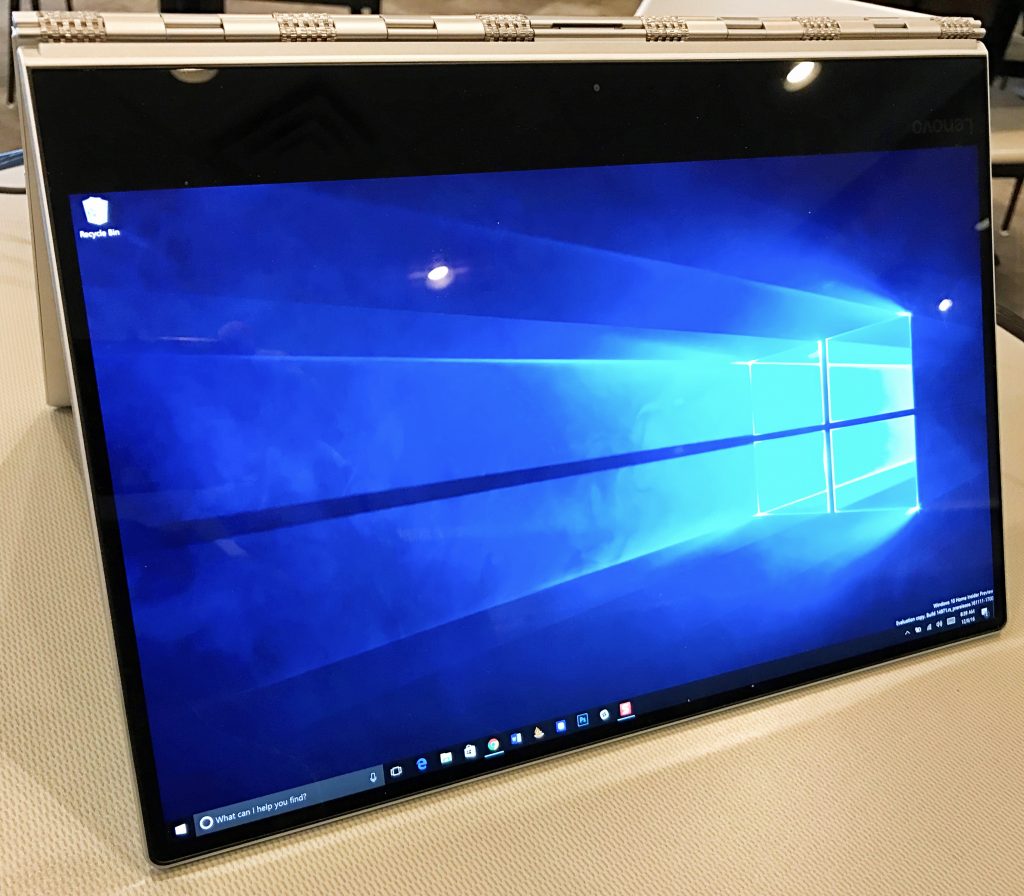 The touchscreen on the Lenovo Yoga 910 gives the user an enjoyable interface, not possible on a MacBook since Apple stubbornly refuses to add touch to their computers. Thanks to the convertible design of the Lenovo, I can use it as a tablet, in tent mode, in stand mode with the keyboard facing down and the screen facing me, and as a traditional laptop.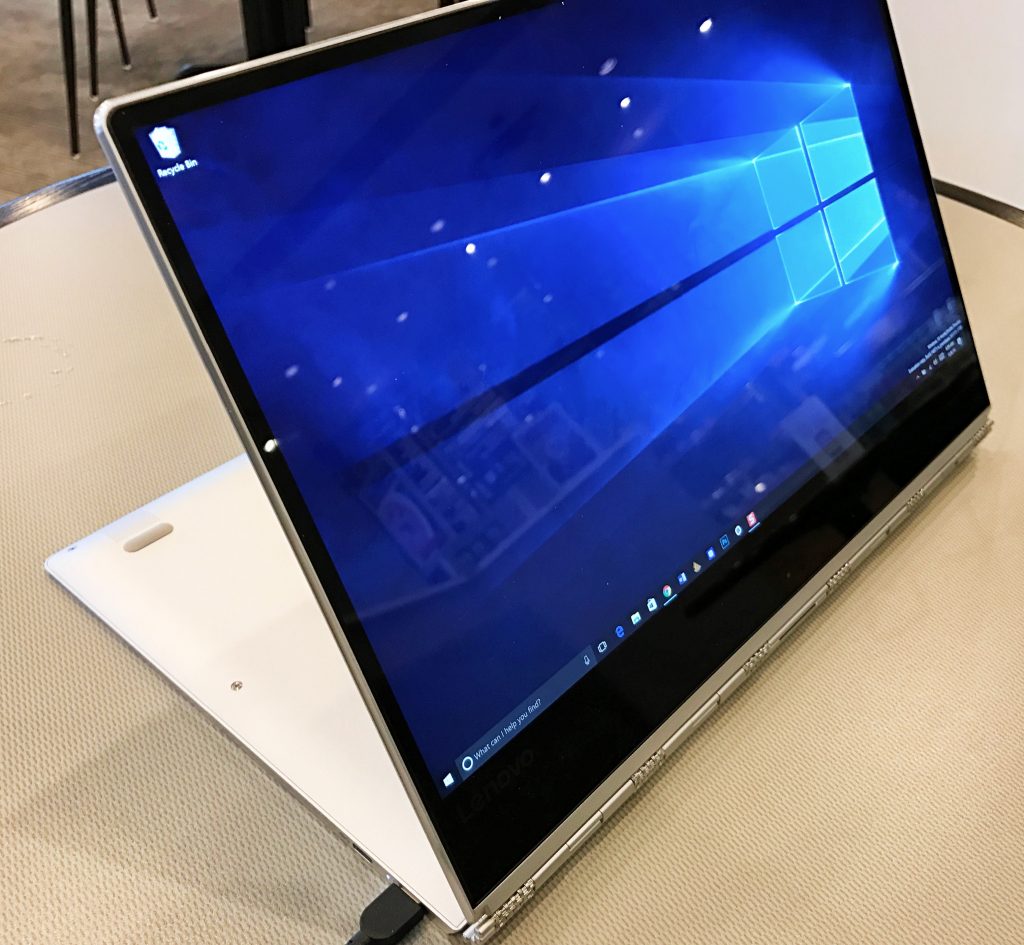 I used to laugh at touch on Windows. In version 7 it didn't work. Windows 8 improved the touch interface slightly, but that was a horrible version of Windows for other reasons. Touch on Windows came into its own with Windows 10 and now I can't stand using a laptop without touch.
I love my iPad Pro, but I also love using a more traditional laptop. And I love using touch on that form factor. It's often easier to reach up and tap on dialog box buttons or to drag and drop icons for files. In a pinch I can fold the screen back and use the Yoga 910 as a tablet sitting up in bed at night or on the couch. A 14-inch tablet is also great for laying on a podium and using to read notes while teaching in my church.
Apple added touch to the new MacBook Pro with the Touchbar. It's a touch screen that replaces the function keys above the row of numbers on the MacBook Pro keyboard. I suspect this new feature won't become really useful until app developers can get their fingers on it and figure out what it can do. Right now, it's a bit of a gimmick. It's not enough touch.
I like the fingerprint reader on the Touchbar, but I have one on the Lenovo Yoga 910. It doesn't support website login or a payment system like Apple Pay on the MacBook Pro Touchbar. However, that's a minor benefit compared to the other weaknesses of the new MacBook Pro compared to my new Lenovo.
Lenovo Yoga 910 Keyboard Beats the MacBook Pro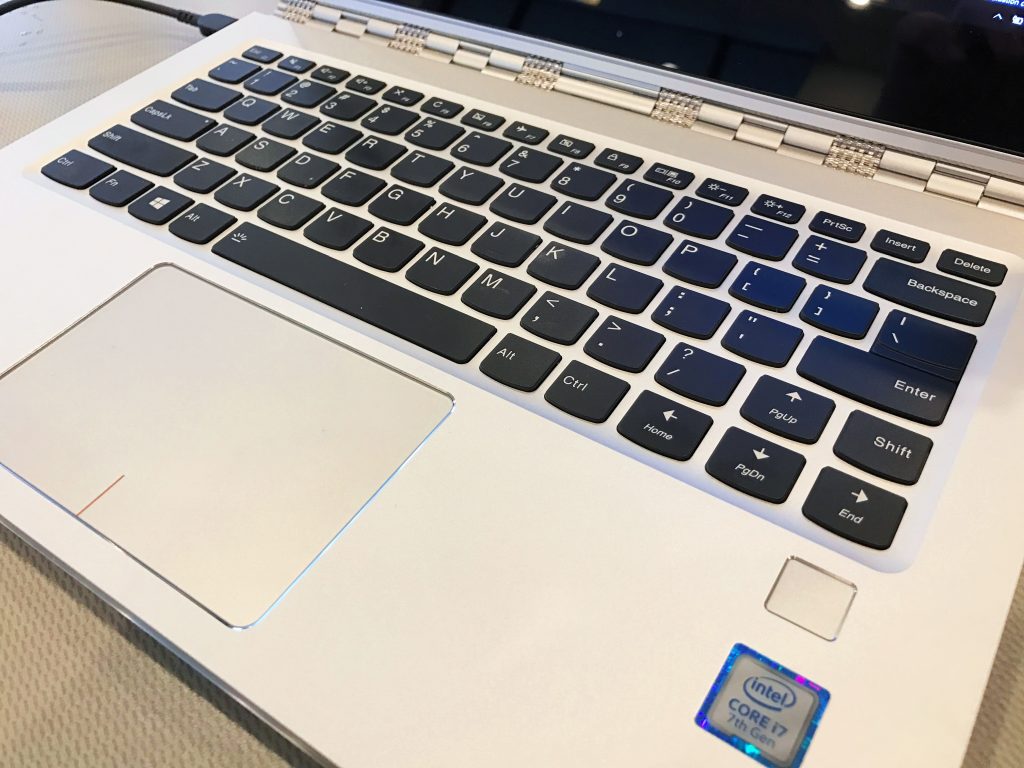 I tried the new Apple keyboard on the MacBook when it came out last year. The new design with little to no key travel works horribly for touch typists. Apple updated the keyboard this year in the new MacBook Pro with Touch and it seems to work better. However, it's still not great.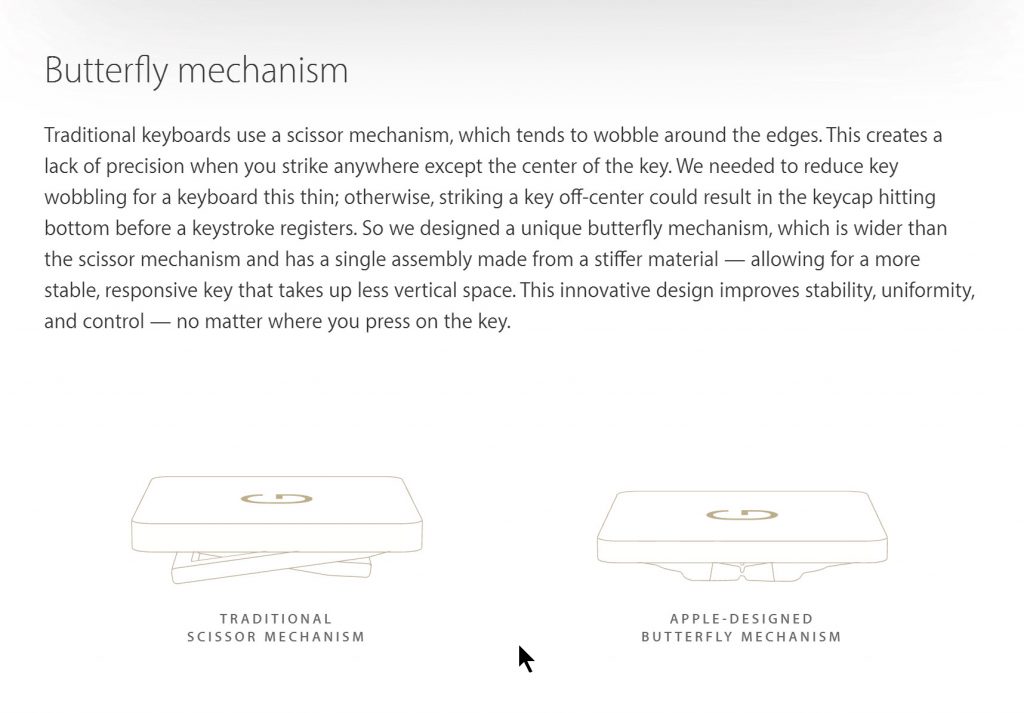 Let's compare the weak Apple keyboard to the Lenovo Yoga 910 keyboard, which works great. I can type for hours. The key travel distance gives nice tactile feedback while touch typing. The key spacing makes finding keys by motor memory easy, except for one problem: the right shift key is right of the up arrow key and it's shaped like all the other keys. Every time I try to capitalize a key that I hit with my left hand by tapping the right shift key with my right pinky, I hit the up arrow instead of the right shift key. I fixed this issue with a program that swaps keys. It's called SharpKeys and users can download it for free.
Lenovo is known for great keyboards and in every other way the Yoga 910 keyboard continues that tradition; however, I hate that I had to fix it for them using SharpKeys. Once I did, the Lenovo keyboard spanks the new Apple keyboard.
MacBook Pro Trackpad Not Much Better
Apple makes the best clickable trackpads in the business and that's no different with the new MacBook Pro with Touchbar. In fact, it's even bigger on the new computer. Traditionally, Windows laptop trackpads suck. However, that's not the case with the Lenovo. It's decent. I judge by how fast I reach for my Bluetooth mouse and, so far, I haven't even after a few weeks.
Lenovo Yoga 910 Performance Beats the MacBook
A lot of people who wanted a MacBook Pro, thought Apple would bump the specs to the latest processor. They didn't. Lenovo did and this system runs processor intensive tasks fast.
I own a piece of software that really taxes the processor during the installation process. It's called Logos Bible Software and includes an immense database that gets indexed and takes hours and, on some computers, days to finish indexing before you can really use it.
My Lenovo Yoga 910 finished the indexing of Logos in half the time it took on the Surface Pro 4. My friend bought a MacBook Pro with Touchbar and maxed it out with the most expensive options he could afford costing over $4000. His MacBook at three times the price didn't run the program any faster.
The MacBook Pro does come with dedicated graphics, something the Yoga 910 doesn't have. If you need that, you'll want a different computer. I don't need it.
Battery Life Compares Favorably
The two computers also offer similar battery life ratings. Apple promises up to 10 hours and Lenovo up to 9 hours. The screenshot below estimates battery life of three and half hours with just over a third of the battery life left. That translates to real-world use of over 10 hours with the screen brightness set to  100%.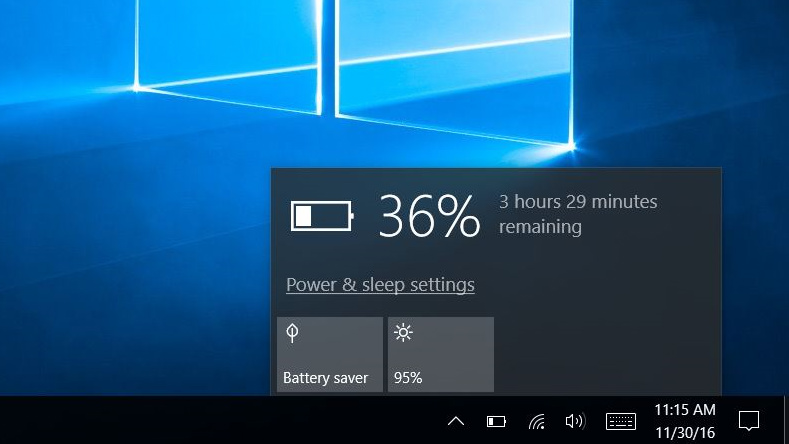 Lenovo Yoga 910 Software
Mac users often see great hardware running Windows and talk about how beautiful the computer looks, but then complain, "But it's running Windows." However, I've decided that Windows 10 and macOS Sierra both work great. Most users will prefer one over the other, but neither runs far ahead of the other.
The macOS Dock and the Windows Taskbar put programs conveniently available.
Careful users are just as secure on Windows as they are on macOS.
You can buy great software (including Adobe and Microsoft) which work the same on both.
Mac includes better creative software, but good free Windows alternatives abound.
Windows machines traditionally come with a bunch of crapware, but Lenovo doesn't muck up the Yoga 910 with much. Apple actually includes a bunch of stuff I don't need, too. So, the software lead Apple used to enjoy is almost erased in Windows 10.
Lenovo Yoga 910 has Legacy USB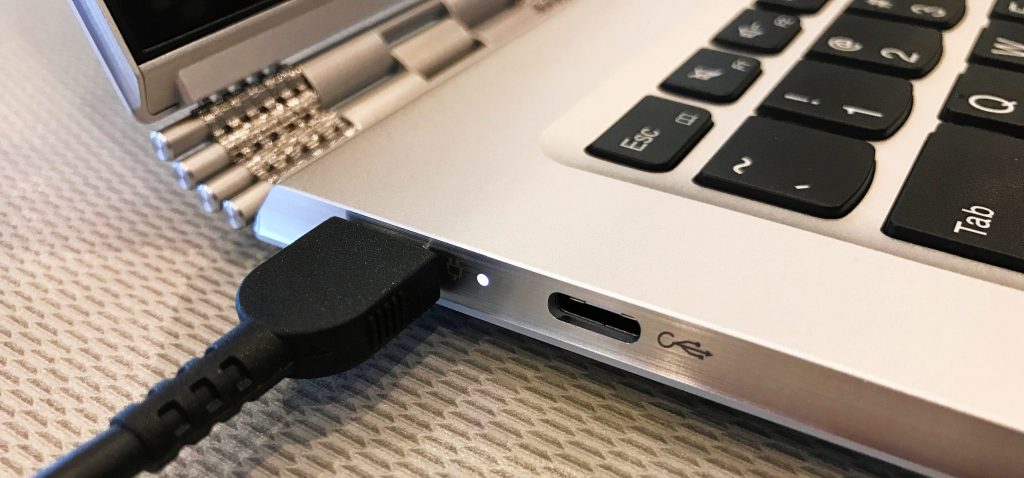 USB Type C is clearly the future. It's universal which means I can charge my phone and trickle charge my laptop with the same cable. I can charge a MacBook, a PC and my tablet with one cable if they're all USB C. Any peripheral with a USB C connection will potentially work on any device that includes USB C ports.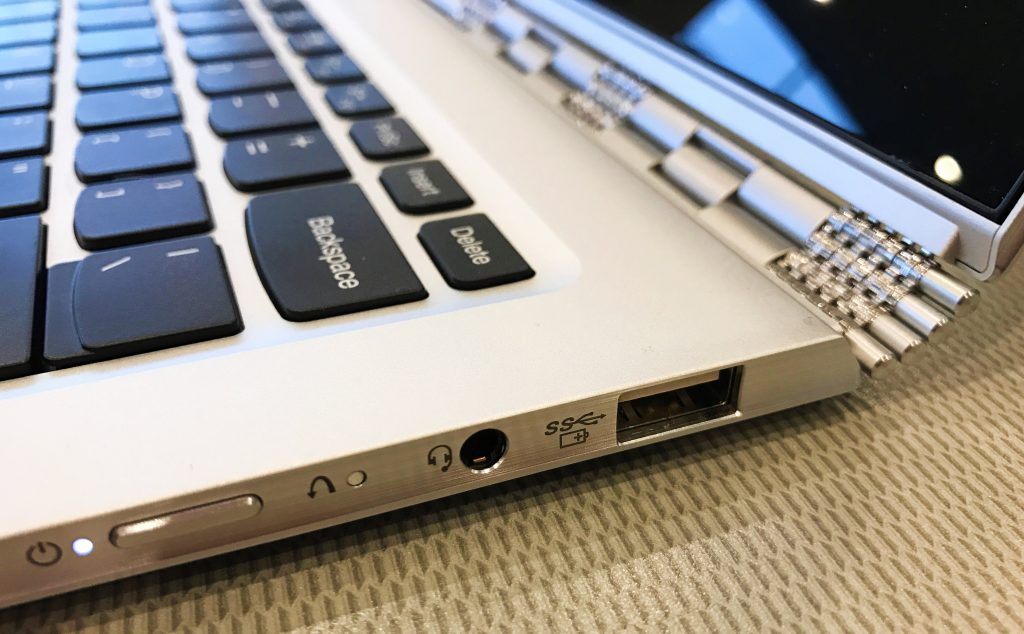 However, we've used USB peripherals for years and I own dozens of them. With the new MacBook Pro, you need dongles to attach these. Lenovo was smart enough to include one legacy USB 3.0 port along with 2 USB Type C ports. It has a foot in the future and the present/past. In a couple of years, I hope we never need another USB 3 or 2 port. We're not there yet, so I like having both.
Lenovo Yoga 910 Destroys MacBook Pro in Price and Value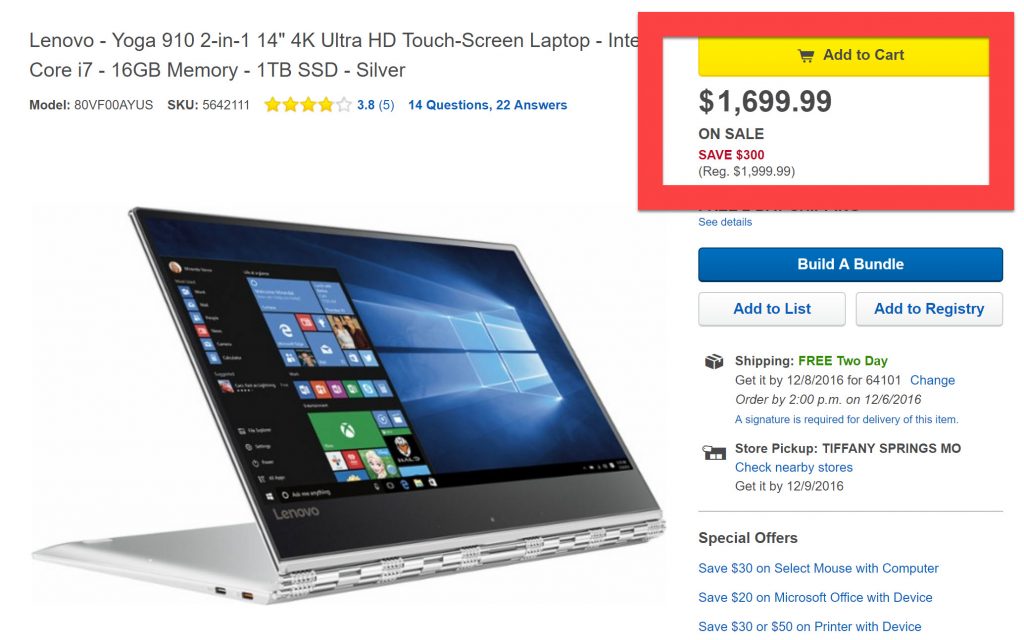 The most important difference between the two system comes in the price and value of each computer. Apple added the Touchbar and bumped  the price higher. The MacBook Pro already costs more than most Windows systems with comparable equipment. Adding this higher price and it's no longer affordable for many people. The most expensive Lenovo Yoga 910 costs $1,699 with a 1TB SSD, 16GB of RAM and a 7th generation Kaby Lake Intel core i7 processor. It has a 4K display and looks great with a beautiful design and the great keyboard, touchscreen and both forward-looking Type C USB ports and legacy USB 3.o ports. That's cheaper than the least expensive 15-inch MacBook Pro with Touchbar.
Advertisement