Apple announced a new MacBook with an extremely thin design and three colors to go with some average specs making it a luxury notebook computer. During their press event on Monday, March 9, Apple also unveiled a new 2015 MacBook Air and MacBook Pro, a cheaper Apple TV with the new HBO Now unbundled service and the Apple Watch.
Let's focus on the most interesting of the new MacBooks, the new ultra-thin MacBook. Apple will deliver the new MacBook on April 10 for $1,299.
New Apple MacBook Design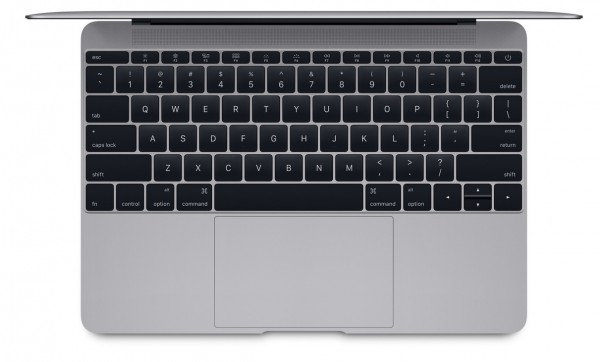 The new MacBook measures just 1.31mm or .52-inches thin, 2lbs. and it comes with a 12-inch Retina display. When Apple first unveiled the MacBook Air, the super thin design wowed people who also wondered if this new design would sacrifice function. That's no longer a question, since the MacBook Air became the standard for ultrathin portables.
In typical Apple evolution, the MacBook Air gets thinner in the form of the new MacBook. It drops the "Air" moniker along with some weight and millimeters. The MacBook Air measure .68-inches at the thickest spot. The new MacBook measures just .52-inches. It's only 2.03lbs while the Air weighs 2.38lbs.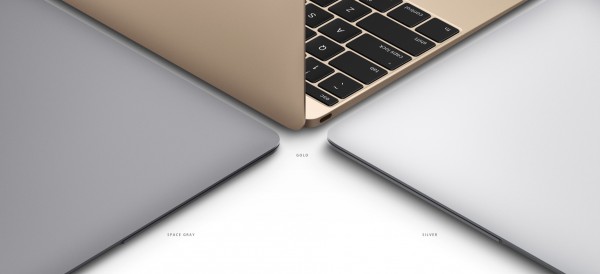 For years Apple's notebooks all came in the same silver aluminum color. They released the iPad and iPhone in three colors and now they're doing so with this new MacBook. It comes in the traditional silver and now gold and space gray.
Force Touch Trackpad
Despite the thin and small size, Apple used a full-sized MacBook keyboard with island style, or as others call it chiclet style, keyboard. They replaced the old trackpad, the standard in laptop pointing devices, with a new Force Touch trackpad. It's the same glass material, but now the full functionality of the trackpad works on all areas of the Force Touch trackpad. It comes with haptic feedback; which means the trackpad vibrates slightly when the user presses it. It doesn't click like the previous trackpads, which might annoy long-time users. It can measure your taps and read the amount of force.
Apple added a new gesture – force. For example, pressing on certain operating system features will react to a harder press differently than they will when the user simple taps. The gave an example of pressing harder to make a game move faster.
New MacBook Price
The budget conscious buyers used to see the Apple MacBook as their best option to save money but still get a MacBook. The new ultra-thin MacBook instead will draw luxury users thanks to the higher price. The introductory level computer costs $1,299 for a 1.1GHz Intel Core M processor, 8GB of RAM and 256GB of flash storage that Apple claims will run twice as fast as their earlier gen drives. An Intel HD Graphics 5300 will power the 2304×1440 resolution Retina Display. Those specs are below average for the price.
Buyers can boost performance to a 1.2GHz Intel Core M processor and 512GB of flash storage for another $300. These aren't user-upgradable, so buy as much MacBook as you can afford.
Compare that $1,299 price to the current introductory MacBook Air and MacBook Pro. The newly updated 13-inch MacBook Pro starts at $1,299 for the a more powerful 2.7GHz dual core Intel Core i5 processor and only 128GB of storage and faster Intel Iris Graphics 6100. For the same level of storage as the new MacBook add 128GB for $200 more. That means we lose the power but gain in portability and storage space.
The newly updated 2015 MacBook Air starts at $899, or $400 less than the new MacBook. It's only 11-inches and doesn't come with a retina display. For a 13-inch model buyers pay $999. That makes the MacBook Air the new "budget" MacBook compared to this new MacBook and the MacBook Pro.
USB-C: One Connector to Replace Them All, Almost
The new MacBook comes with USB-C, a new connectivity technology that makes it easier to plug in accessories and cables. This will replace most ports on the new MacBook. There's no HDMI, USB, Thunderbolt or even dedicated power charger. The electricity travels both directions meaning the computer will still charge external devices, but now the same port will charge the computer. The USB-C will handle all connections through dongles. It does come with one headphone/mic jack.
The USB-C will compare to a micro-USB in size. It's 8.4mm x 2.6mm. This fits inside extremely small devices and makes the extremely thin design of the MacBook possible. What's possibly more important, the USB-C connector connects no matter which way up the plug is. No more trying to figure out which way to plug it in.
Let's hope this will replace all other ports on accessories and Apple's other devices, like the next iPhone and iPad. However, some may not like that they need more dongles to connect to a projector or their old USB devices. They also may not like that they can't plug in an iPhone and charge the computer overnight without some special external adapters. Expect a company like Twelvesouth to make an adapter that fits on the Apple Power Adapter, like they do now for current models using the Twelvesouth PlugBug.
MacBook Pro is More Powerful
The specs on the new MacBook makes it a luxury model, but not Apple's power-user MacBook. The MacBook Pro with Retina Display brings a faster processor and more capable graphics. The new MacBook will not satisfy power users who do a lot of gaming, hardcore video or photo editing, or do processor intensive computing with large databases crunching a lot of data.
Chromebooks appeal to people who just want to get online and do simple computing tasks like word processing, Internet and simple video/photo editing. However, Chromebooks struggle in that last category, while the new MacBook will handle all of those with aplomb. This makes the MacBook the best looking computer for simple notebook needs.
Advertisement