Last night on the catwalk of New York's Fashion Week at Bryant Park, Vivienne Tam and HP debuted the new HP Vivienne Tam Digital Clutch. The new clutch which complements Tam's spring line of clothes has a champagne gold background with butterflies emblazoned across the front.
If you like butterflies or just want your computer to look as good as you do then set your sights on spring when the notebook releases along with Vivienne Tam's newest collection.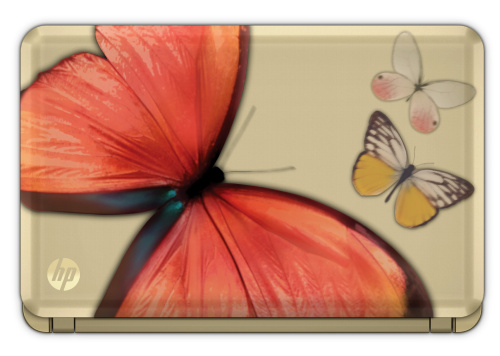 This new notebook is a follow-up to the original HP digital clutch which was an HP Mini 1000, known for its bright red and floral design and premium price.

The new HP Vivienne Tam Digital Clutch looks to be something completely different, with a larger screen and a new hinge at the back. Looking at the comparison shot that HP posted to its flickr account, the new digital clutch looks to sport an 11.6″ screen and a thinner body. It's very likely that this is a new model from HP which makes sense given that the device won't be released until this spring.
Tam told press on hand at the event that, "The new digital clutch design embodies the inspiration for my entire spring collection.  When women around the globe carry HP's digital clutch and wear my clothes, I want them to feel independent and free, like butterflies."
Like the last collaboration expect to pay a premium for a high fashion cover. No further details were provided regarding what's under the hood, but when it comes to fashion it's what's on the outside counts!
Advertisement