Notebooks.com was at Macworld 2011 in San Francisco to check out some of the best apps, hardware, accessories, and peripherals for the Apple ecosystem. We found eleven products that stood out from the show and awarded them Notebook.com's Best of Macworld 2011 awards.
Best iOS App for Home: Appetites
Appetites is a unique take on the traditional cookbook. Built entirely for the iPad–not the iPhone–Appetites is not just your traditional step-by-step written cookbook, it's a step-by-step video cookbook. Rather than a long cooking show, each step in a recipe gets its own video clip. This strategy for the app is great as videos are broken down into small, digestible chunks for the novice chef. Need help preparing a pomegranate? There's a video for that!
After you're done with each step, you can either tap to replay the video or flick to scroll to the next step. Videos are pre-loaded in the app, which means you won't need an Internet connection and videos start playing immediately.
Appetites also comes with a handy recipe feature that will allow you to email your ingredients list so you can head to your neighborhood grocer and prepare meals.
Initially, Appetites will launch with a very limited set of recipes. However, the company is planning to launch 12 video cookbook recipes every month to grow the catalog. Want more recipes? Those will go for $0.99 as in-app purchases. We found Appetites to be a refreshing take on a traditional cookbook that is polished and a joy to use.
Best iPhone Case: FastMac Impact Shield
Made from a bio-degradable soy-based gel, the Impact Shield for the iPhone–along with sleeves for laptops–helps to keep the iPhone protected from impact and breakage. FastMac says that the Impact Shield lives up to its military certification in drop and impact tests. How rugged is it? Well, the Impact Shield is no bigger than a typical iPhone case despite its ruggedness. Rather than wielding around a bulky case, a la OtterBox style, iPhone users are in for a treat as FastMac's solution is sleek and elegant.
The way the shield works in protecting your iPhone is that the interior of the hard plastic case is lined with the soy gel. When an impact occurs, the gel helps to dissipate the force, keeping your precious Apple solution protected. The best part about the Impact Shield is that it offers rugged protection in a very consumer-friendly look and form factor. The FastMac Impact Shield is only $20, which is far less other rugged cases.
Best iPhone Skin or Shield: Wrapsol Ultra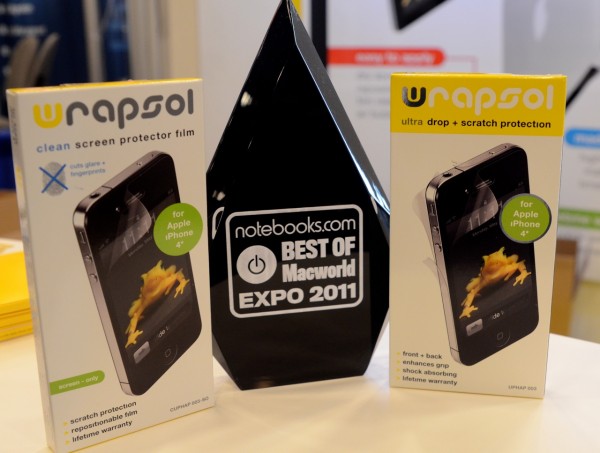 The idea behind Wrapsol's new Ultra case is similar to wraps and skins such as Invisible Shield. However, Wrapsol's wrap promises more protection than the competitors, looks elegant, and is easy to apply. The new Ultra wraps don't require a liquid solution to apply. That means no messy soapy sprays to apply. Just peel the plastic and squeegee the tough panels to the front, rear, and sides of your iPhone. Moreover, unlike the orange peel-like texture on the Invisible Shield, the Wrapsol Ultra has an ultra smooth surface, resembling glass with a barely there appearance. Best of all, whatever bubbles appear at the time of installation will disappear on their own within 24 hours.
Most iPhone skins at Macworld were all about graphics, featuring an array of pop-star and movie inspired graphics. They may be alright if you want the world to know how much you love Justin Bieber, but they won't do much to protect your iPhone.
Wrapsol says that with its Ultra wrap, your iPhone investment can stand up to not only scratches, but also minor drops. The Wrapsol Ultra is available at Walmart and through Wrapsol.com,
Best Mobile App Innovation : Nuance Dragon SDK
Just over a week ago, Nuance announced that its Dragon Mobile SDK was released to developers, empowering them to build high-grade speech recognition into just about any Android or iOS app. Developers can now embed Nuance's code into their apps and rely on Nuance's repository of speech patterns and recognition experience in the cloud.  As with Nuance's own mobile apps, third party apps will capture audio and send it off to Nuance's cloud-based servers for transcription. The results are sent back to the user's handheld.
This move has the potential to shape how apps and user experiences are created, allowing for quicker data entry, selection and navigation. Enabling voice recognition in iOS apps is incredibly easy.  According to Nuance, some developers testing the SDK have been able to add voice to their apps in as little as an hour.
Nuance's voice recognition engine has been employed by a number of third-party apps through a limited pilot. Apps including Siri, Price Check by Amazon, Ask for iPhone, aisle411, Merriam-Webster, Dictionary.com, and SpeechTrans already use Nuance's technology.
At Macworld 2011, Nuance hinted at speech coming to the living room, though the company was secretive in what those applications may be.
Best Mobile Travel Companion: Navigon Inrix Traffic Update and Mount
Navigon is one of the best selling GPS apps on iOS. The German-based company releases regular map updates and software enhancements to its downloadable turn-by-turn voice-guided GPS app, which doesn't need an Internet connection for navigation. The app, available for a flat fee on Windows Mobile, Android, and iOS, was recently updated to provide a number of useful features, including split-screen active lane assistance to help users get into the right lane ahead of time to prepare for a turn. At Macworld, the company announced that it would be relying on Inrix and crowdsourced information to gather traffic data.
Better traffic data means users will be able to drive around traffic jams instead of being stuck in them. Inrix collects traffic data from delivery trucks and other users with an active Internet connection to transmit speed data. Navigon can now calculate the quickest route for you based upon current traffic information, rather than relying on historic traffic data, for local city streets and for major freeways.
Navigon also introduced an elegant windshield mount for the iPhone 4 at Macworld 2011. The minimalist mount has a much lower profile than other mounts we've seen. The mount, which retails for $50, comes with a 5-foot long USB cable and a car charger to keep your phone powered and charging while navigating.
Best iOS App: Jammit App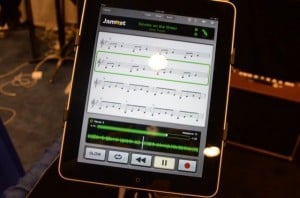 Jammit App is a play along app designed to help aspiring musicians learn their favorite tunes and play along with the artist that actually played them. The real magic of this app is that it features the original master tracks of some of rock's most popular songs. Jammit App has some music industry insiders on staff, who've somehow negotiated the rights to songs from the Grateful Dead, Foreigner, Motley Crüe, The Ramones and others.
The app isolates the users' choice of vocals, guitar, bass, keyboard or drums from the rest of the band. Sheet music is included for each part and they can be slowed down or looped, allowing the user to play along at a comfortable pace. Once the user learns the part, they can rock with their favorite bands and record their jam session.
Best Mac Hardware Upgrade: Other World Computing Mercury Aura Pro Express SSD
Other World Computing's MacBook Air Mercury Aura Pro Express SSDs are designed to increase the storage capacity of Apple's latest MacBook Airs. Many MacBook Air owners find that 64GB, 128GB or even 256GB just isn't enough. The Mercury Aura Pro Express is available in capacities of up to 360GB and can fit in both the 11.6″ and 13.3″ MacBook Air.
The Mercury Aura Pro Express isn't a cheap solution, but the blazing fast data transfer rates and higher capacity make the MacBook Air even better. According to OWC, these drives are 22% faster than the ones that ship with the MacBook Air.
The 180GB version is $499, the 240GB is $579 and the 360GB version is $1,179. The sweet spot is clearly the 240GB version, which would be a very welcome upgrade to the 11.6″ MacBook Air, which maxes out at 128GB direct from Apple.
Best Mac Media Accessory: McTiVia
McTiVia is the best living room accessory we've seen for Macs in a long time. McTiVia allows users to send whatever's on their MacBook's small screens onto their HDTVs. A small box sits next to the HDTV and connects via HDMI. It employs WiFi, which means you don't have to run a cable between your MacBook and TV.
The solution is as simple as can be. It allows users to share exactly what's on their screen, including movies and content that might not be available via Apple TV. McTiVia will stream content at up to 30 frames per second for video files up to 720p resolution.
McTiVia is avaialable for $199 from Awindinc.com/mctivia
Best iOS App & Hardware Combo: Scosche myTrek
The Scosche myTrek is a wireless pulse rate monitor for the iPhone and iPod Touch. The myTrek is worn on the forearm and connects to the iOS device via Bluetooth. Optical LED sensors capture the user's heart rate, which is analyzed by the myTrek application. The device has a couple of buttons that allow the user to control music without leaving the app or touching your iPhone.
The myTrek app keeps a running history of the user's heart rate during workouts. It can be used while running, biking, lifting weights or just about any other strenuous activity.  The Sosche myTrek will be available in time for summer
Best New Mac App: Boom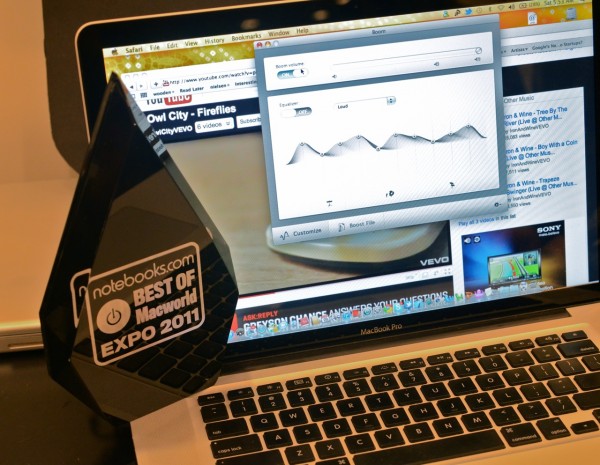 Boom is a simple sound utility for the Mac that helps to increase the sound output of your Mac computer. With more quieter speakers on a MacBook and MacBook Air, Boom is a simple to use, inexpensive $5 program that's accessible from the utility menu bar at the top of your OS X display. For times when you need to increase the volume output of your portable Mac's speakers and don't want to tote around third-party speakers, Boom will help increase the volume output anywhere between two to four times that of your Mac. Simply crank up your default volume control to max, and if that's still not loud enough you can increase the volume control of Boom. The app is great for those who want to watch and share movies on their Mac notebook, or for those who need to do presentations on the go with audio.
Macworld 2011 Best of Show: HyperJuice Magic Box
HyperMac batteries sold like hotcakes until a dispute with Apple ended sales of the external MacBook battery, which featured a MagSafe adapter. At Macworld 2011, Sanho showed us the rebranded HyperJuice batteries, which require the purchase of an airline power adapter. Unfortunately, the airline power adapter doesn't  charge the MacBook's internal battery. That solution isn't as elegant, but the newly introduced Magic Box is.
With a couple of splices, the Magic Box allows users to borrow the MagSafe end of any MacBook's AC adapter and plug it into the HyperJuice battery. The solution tricks the MacBook into thinking its plugged into a wall outlet, which means the battery will charge your MacBook, even when stowed in your bag.
The MagicBox means that all those MacBook users will again be able to stay mobile for several days without plugging in.
Advertisement