Apple released an update for the EFI Firmware on older 2010 model MacBooks. The update allows users to recover their system using the Internet if they have OS X Lion 10.7 and higher installed.
The update also bring other fixes. Users can download the update directly at the links below or by using the Software Update feature built into OS X, which you find under the Apple Menu.
The MacBook Air EFI Firmware Update 2.3 not only enables the Internet recovery of Lion but also fixes a problem where the system might restart if you press the power button right after your computer wakes from a deep sleep. Get the update here.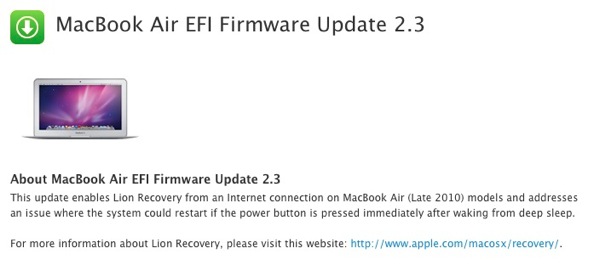 If you have a 2010 MacBook Pro, then you get the MacBook Pro EFI Firmware Update 2.6, which you can download from Apple's support site. It only addresses the recovery feature. 2010 iMac's get an update to version 1.8 with a download found here.
For those who might now remember, the Internet Recover feature of Lion creates a sector on the hard drive that runs a special operating system installation that will connect your computer to the Internet, download Lion from Apple's servers, and install it on your computer. You don't need to carry around a USB or DVD to recover your computer so long as your hard drive doesn't stop functioning.
If you don't have OS X Lion, you can purchase an upgrade in the Mac App Store for $29.99 to gain the ability to restore form the Internet and many other features. If you purchased your 2010 MacBook Pro as a refurbished unit from Apple, it may have come with the ability to upgrade for free.
Advertisement