Less than a day until we expect to see new MacBook Pro models announced 9to5Mac has photos of the new MacBook Pro models showing off the Intel LightPeak port, which Apple has renamed ThunderBolt. We also see confirmation that even the 13″ MacBook Pro will have a Sandy Bridge Core i5 processor.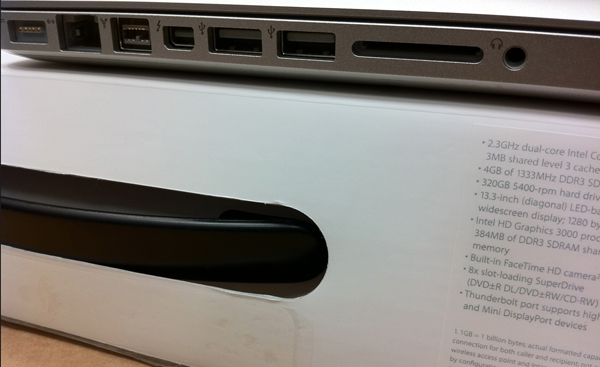 The new connection technology from Intel allows for speeds of up to 10GBps and can be expanded to support up to 100GBps by 2020. The technology is assumed to be revealed at an Intel event tomorrow, shortly before we hear about the new MacBook Pro models.
The idea is that the LightPeak or Thunderbolt ports will allow multiple types of cables to plug into a single port allowing for smaller computers without the typical port sacrificing. The image of the new MacBook Pro includes a portion of the box which says that the Thunderbolt port can be used for high speed "something" and Mini DisplayPort devices.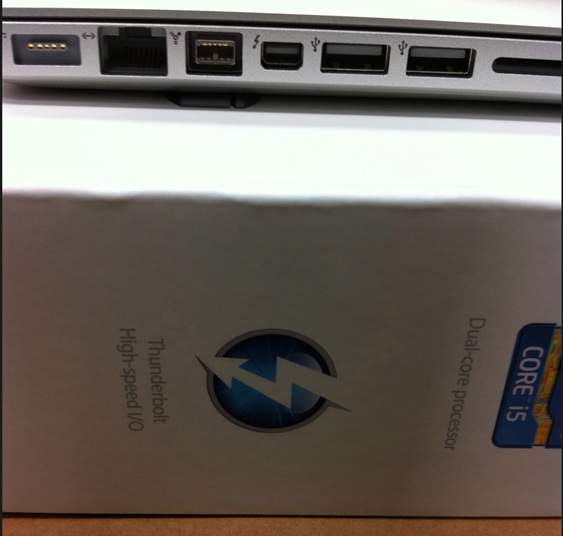 We are also able to see that the new MacBook Pro 13 is likely to come with an Sandy Bridge Intel Core i5 processor, 4GB RAM a 320GB hard drive and a FaceTime HD camera. In addition to the Thunderbolt connection, the addition of a new 2nd Gen Intel Core i5 processor in the 13″ MacBook Pro is exciting. That said, we are a bit disappointed that the new MacBook Pro models will still have a 1280×800 resolution.
Stay tuned for the latest MacBook Pro and Apple Notebooks coverage tomorrow.
Images are from an unknown source and may have appeared first on MacRumors or 9to5Mac.
Advertisement