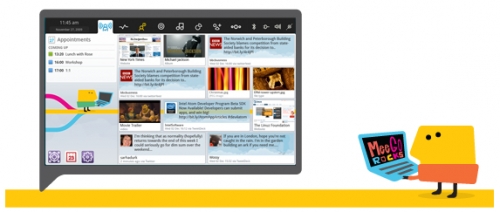 Meego, the new open source operating system brought to you by Nokia and Intel, is ready for use.  Meego is offering three builds in the repository, each supporting different hardware platforms:  Intel Atom netbooks, the ARM-powered Nokia N900 and Intel Atom handhelds on the Moorestown architecture.
From Meego's blog:
The MeeGo distribution infrastructure and the operating system base from the Linux kernel to the OS infrastructure up to the middleware layer. The MeeGo architecture is based on a common core across the different usage models, such as netbooks, handheld, in-vehicle, and connected TV. The MeeGo common core includes the various key subsystems including the core operating system libraries, the comms and telephony services, internet and social networking services, visual services, media services, data management, device services, and personal services. More on this will be described on meego.com over the next few days.

The downloaded images will boot from a USB stick or directly flashed on the device from your Linux PC, but since the MeeGo User Experiences for the usage models mentioned previously are not yet included in today's MeeGo core, these images will boot into terminal.
So basically Meego is using a livecd model to get people familiar with the Meego OS, without having to commit to installing it on their netbooks.  It will be fun to see how Meego (which is a merging of the Nokia Maemo and Intel Moblin operating systems) will work on a netbook.  Will it have all the great functionality of Maemo and Moblin (like great browsing and communications)?  Will people in the US try it as an alternative to Window 7, OS X or even Linux?  Will it grow and evolve into a great OS alternative?
Advertisement