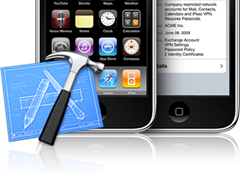 Apple is offering its iPhone Developer's Program members the next version of their iOS. iOS 4.1 is ready for you to download and test on your iPhone but only if you are an Apple developer.
The developer's program is designed for those who are writing apps for the iOS platform and costs $99 per year to take part. Included in this  update is Game Center, a social gaming network" for the iOS devices. Often compared to Xbox Live, the service lets you connect with friends and brag about your gaming accomplishments via the service's leaderboards and achievements.
Engadget reports that in iOS 4.1 the signal bars are bigger on the iPhone but no word yet on if there are any reception improvements with the iPhone 4 update.
What's not included is more disconcerting. Apparently iPad support is not included. Apple said that the iPad will not get the latest version of iOS till fall" meaning any time before December 21st.

Image and news source: Engadget
Advertisement