I was at a local pizza place with my family tonight enjoying some Buffalo chicken pizza when I got a text. It was from our good friends at AT&T notifying me that they have plans to respond to a recent submission I sent from my iPhone about a dropped call. Believe it or not there is an app for that called Mark the Spot (free in App store). I have it on my iPhone and whenever I have a dropped call, poor or no signal, or really slow connection I send AT&T a message via the app.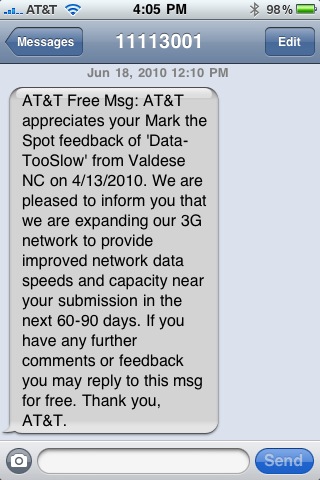 Well they are responding and promised that our little Podunk town in the foothills of Western North Carolina would finally be getting 3G within the next 60 to 90 days. I'm not the only one who received a message since Gizmodo has a similar post today.
The Mark the Spot app is simple to use. Just open it up and select which problem you are dealing with from the menu. You can identify your location using the maps. And then send it on over to AT&T.
Advertisement