At today's Google I/O Developer's conference Android 2.2 was announced and highlighted. This announcement made one thing clear.  Google is coming after Apple in a big way.
Even the way Google highlighted their new mobile OS mimicked Steve Job's announcement of Apple's new iPhone OS. Instead of tent posts, Vic Gundotra, Google's VP of Engineering, called their key points pillars" making me wonder if this was intentional. Pillars are a lot stronger than tent posts after all. While that may have been extremely subtle, the rest of his presentation about Android's new FroYo OS was anything but. It was littered with digs at the iPhone and Apple.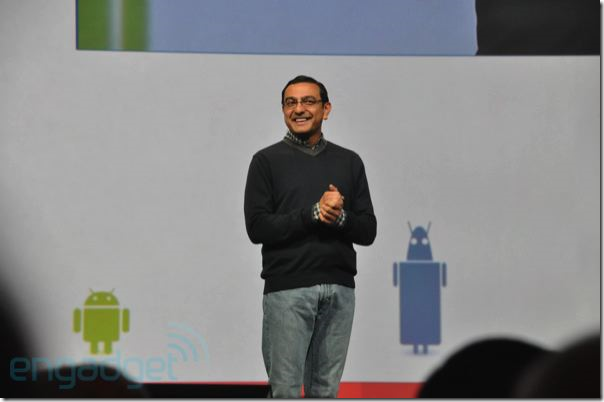 Android's five pillars are as follows:
Speed. Comparing Android to the iPad in a demo of a test, the little cartoon Android beat the pants off his Apple counterpart. Their JIT compiler is 2 to 5 times faster too.
Enterprise Features. Details were a little slim on this, but they are adding 20 new enterprise friendly features like better Exchange support and improvements to device management.
Cloud Services. Google will introduce an API that allows user to send things like games, web sites, etc. to an Android phone
Tethering and Hotspot. Users will be able to tether and use their Android 2.2 devices as an Internet hot spot. They will also be able to push content from your PC to an Android phone and wirelessly install apps and other content like music.
Browser. There are improvements to the browser like access to the accelerometer and camera as well as voice recognition for things like search, right in the browser.
Some will find the support for full Flash 10.1 support. This was one of Gondotra's digs at Apple saying that some people actually want to use Flash on the Internet. Later in the presentation Eric Schmidt interviewed the head of Adobe and talked about the importance of Flash on the Internet. Gundotra was very complimentary of Adobe as well.
What I find most interesting is the wireless sync of things like applications and content. Without hooking the phone up to your computer you can send apps, songs, movies, and even web pages to it. Gundotra made a lot of fun of the necessity to hook up the iPhone to your computer.
Gundotra also made many Android users happy by announcing that users will be able to set their phone to auto-update or to update all apps with a single action. With FroYo users will also be able to store apps on the SD card which is another bit of welcome news.
Since this was a developer's conference, the presentation had something for them. An app developer can go to their app's page and find crash reports. I am sure this will be a big help to people trying to get rid of bugs in their apps and will result in better apps for users.
For iPhone users like me, switching to a new platform can be costly. After all many of us have a lot of songs and content in iTunes. With Simplify Media, a service which Google recently purchased, users will be able to wirelessly stream their content from their computer to the phone so long as it has no DRM. This is not as nice as actually being able to move the songs themselves to the device; it will at least help people get out of Apple's iTunes sandbox.
One further poke at Jobs' presentation, Gundotra discussed how they will include the ability to add advertising to apps. Apple is requiring a huge fee for advertisers. But Google already has advertisers with their Adsense  program. They will be not only giving developers access to those advertisers but they will start off by giving them $100 credit to get started with their ad program.
It is clear that Google is not sitting back. This announcement from Google made it perfectly clear that they are coming after Apple and the iPhone OS. It makes me wonder if this will mean a divorce between Apple and Google and what that means for Google Maps, Google Search and other Google apps on future iPhones.
Advertisement