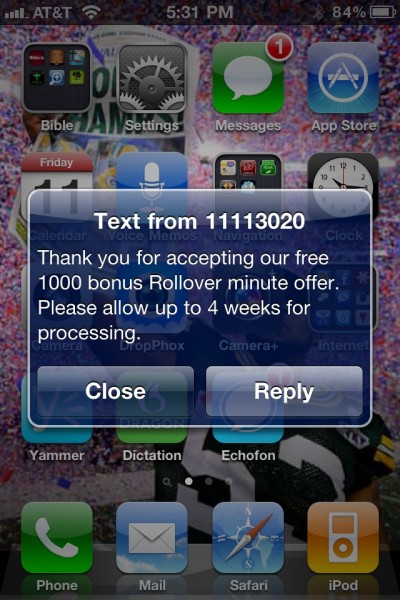 If you are an AT&T customer, as a reward for not jumping ship to Verizon for an iPhone 4, you can get 1,000 free rollover minutes credited to your account just by sending a text message.
Our friends at sister site Gottabemobile shared this earlier. The offer has been sent out to customers via text this week. It is similar to an offer we received regarding a free MicroCell last week.
To reward loyal customers AT&T is giving away these offers hoping to keep us from jumping over to the competition. If you plan to stay here is how you too can take advantage of the offer of free rollover minutes.
Getting the offer is as simple as sending a text message to 11113020 by March 31, 2011. The content of the message should simply be the word YES.
Rollover minutes are those leftover minutes that went unused and are forwarded to your next month's tally. for example if your family has 700 minutes to use on its plan and you only 400, you can rollover the balance – 300 minutes – to the next month. That way if you get chatty and use 900 minutes you can tap into that 300 minute reserve instead of paying for over-the-limit minutes which can be costly.
Advertisement