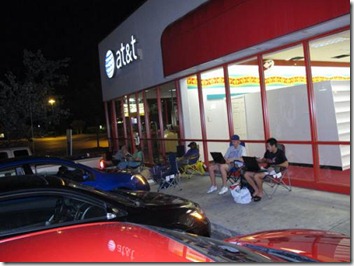 After many failed attempts today I tried to get an iPhone 4 at the AT&T Store launch.
Previously, I couldn't get my order in at Apple.com on the first day of preorders like many others. The next day I tried to reserve one at Best Buy, but that too disappointed me despite being the 13th person to reserve an iPhone and only the third person to reserve a 32GB version I didn't get on in their first shipment. Best Buy estimates that July 2nd is likely the next day they will have any iPhone 4s in stock. My third attempt to was to wait in line at the Apple Store in Greensboro, NC and after just an hour and a  half, I was in the door. However, all I got was yet another reservation.
So with no certain date from Apple or Best Buy other than ordering on line and waiting till July 14th I chose to try my hand at the early morning line at my local AT&T store. The one closest to us wasn't even getting one iPhone today. So I drove back to Hickory and got in line.
Below is the video of my experience. The question is — was it worth the effort and wait?
I was not the only person to wait in line today at an AT&T store.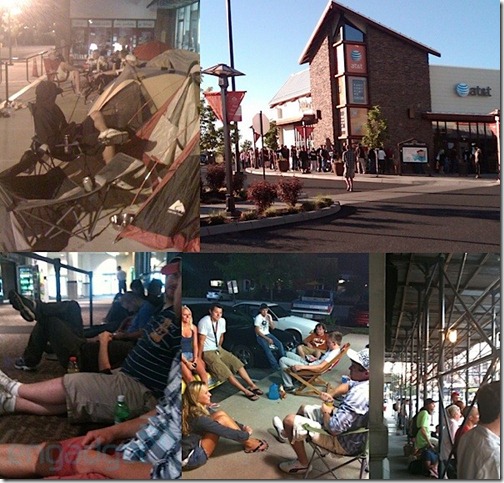 There were a lot of lines at a lot of stores and according to Engadget, most of those stores if not all of them are sold out. The above picture is a collage of Engadget reader submitted photos. The first is from the MacRumors.
I asked the sales people at my store and they said that if you come in between now and mid July the only way you will get a phone is by ordering it. At Apple it will take till July 14th. At AT&T it will be sooner, but not much. It could be anywhere from 5-10 days before your order will arrive at the AT&T store. If that is true, that is quicker than going through Apple.
Now that I have my iPhone 4 I am a little disappointed. I wanted a 32GB model but it was worth it to get it sooner than later. So I will hang onto it. I may try and exchange it if I get an email from Apple or a call from Best Buy. After all you get 14 days to return it to AT&T if you are not happy.
Advertisement