Apple has announced the iPad 2, and if you plan to pick one up, you should get ready by upgrading iTunes to the latest version, iTunes 10.2. The update will also be needed if you upgrade your iPad, iPhone or iPod Touch to iOS 4.3.
Why You Should Upgrade to iTunes 10.2:
If you want to sync your iPad 2 with your computer you'll need the new version, and it also brings one really cool new feature to the iPad and iPad 2 — Home Sharing, which allows you to stream music and videos from your computer to your iPad. Home Sharing will also work on iPhones and iPod Touchs updated to iOS 4.3.
You'll also need iTunes 10.2 if you want to sync an iPad, iPhone or iPod running iOS 4.3 to your computer. In short, this is one iTunes upgrade you would be well served to do it before you go pick up your new iPad 2 or before you update your iPad to iOS 4.3 so that you don't have to wait to use your new gadget.
iOS 4.3 will be available to download on March 11th, but you can download the iTunes 10.2 update right now.
How to upgrade to iTunes 10.2 on Mac:
To upgrade to the latest version of iTunes, click on the Apple icon in the upper left of your Mac and choose Software Update…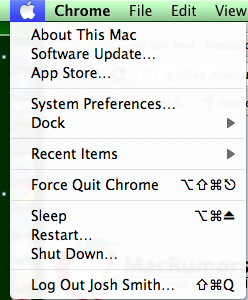 OS X will check for all outstanding updates and present a list of updates you can install. You will see a screen like that shown below. You can install all of the updates, or you can place a checkmark next to the items you want and the others will wait until next time. Make sure you have iTunes 10.2 checked.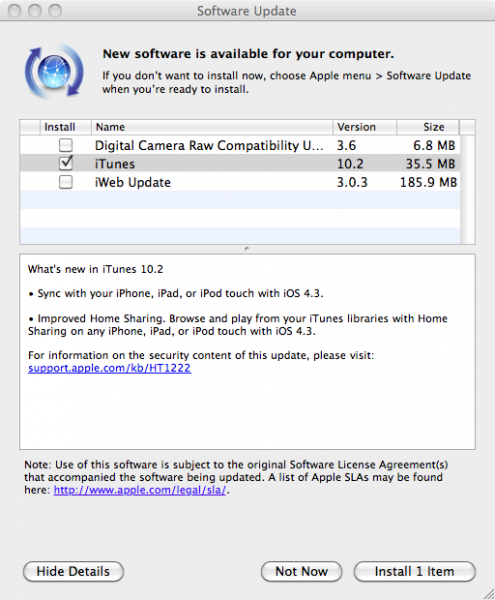 Click on Install in the lower right. When prompted, accept the iTunes agreement. If you are note connected to power you will be asked if you want to proceed, if you have sufficient battery life go ahead and upgrade, if not plug into a power source. OS X will download and install your update and you're ready for iOS 4.3.
How to Upgrade to iTunes 10.2 in Windows:
To upgrade iTunes in Windows, open iTunes and click on Help, then choose Check for Update.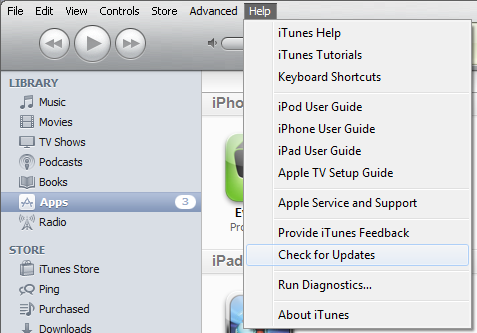 When Windows ask you if you want to update, click Update Now and iTunes 10.2 will be downloaded and installed on your Windows Computer.

When prompted, choose to install the update and then click on the Windows UAC prompt which will appear when your screen dims. Agree to the iTunes license and you're ready to go.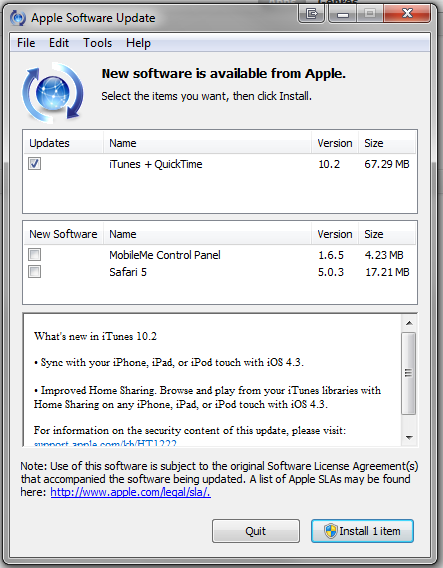 If you have any issues, you can download iTunes 10.2 direct from Apple and install without using the upgrade steps.
Advertisement